University of Chicago chemist Chuan He has been awarded the prestigious Wolf Prize in chemistry for his pioneering discovery of reversible RNA methylation and its role in gene expression.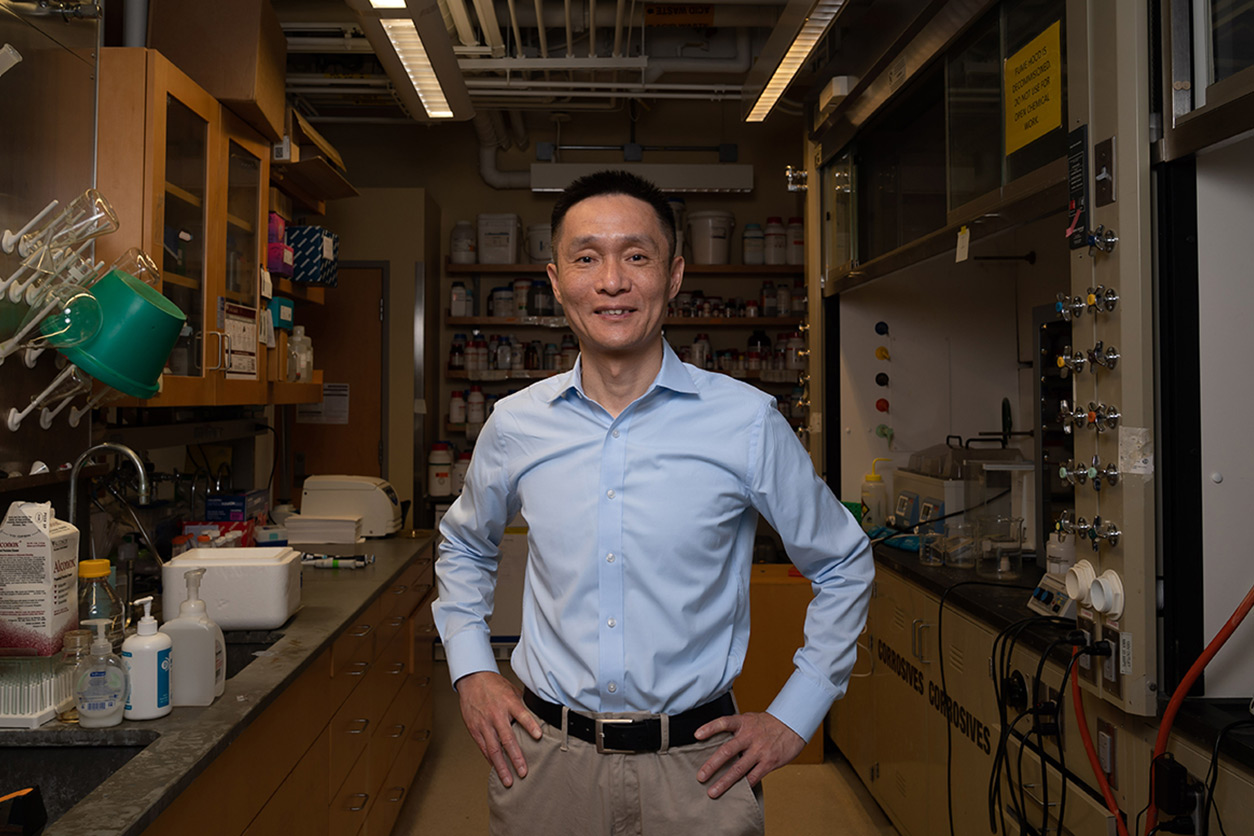 Awarded by the Israeli-based Wolf Foundation, the annual prize honors the greatest achievements in the fields of agriculture, chemistry, mathematics, physics, medicine, and the arts. The award was established in 1978 and carries a $100,000 prize.
"Chuan He is an amazing scientist whose discovery of reversible RNA methylation opened an entirely new field of inquiry about cellular regulation and disease pathogenesis," said Fred Tyson, Ph.D., program director in the Genes, Environment, and Health Branch, NIEHS Division of Extramural Research and Training. "He is incredibly deserving of this recognition, and I am particularly elated that He has integrated exposure into his work as he is a key contributor to the NIEHS portfolio on environmental epitranscriptomics."
Wolf Prize in Chemistry
He shared the 2023 prize with Hiroaki Suga, Ph.D., of the University of Tokyo and Jeffrey Kelly, Ph.D., of the Scripps Research Institute.
In its announcement, the foundation cited the three chemists' "pioneering discoveries that illuminate the functions and pathological dysfunctions of RNA and proteins, and for creating strategies to harness the capabilities of biopolymers in new ways to ameliorate human disease."
"I am just thrilled and honored. I want to thank all my current and former co-workers. They are the ones who made this possible," said He, who is also an investigator of the Howard Hughes Medical Institute and the director of the Pritzker Plant Biology Center. "I also want to thank my collaborators, colleagues, and the University for the support I received in the past 20-and-a-half years. I cannot wait to see the next discovery from my lab."
Groundbreaking RNA research
He was the first to champion the idea that modifications to RNA are reversible and can control gene expression. He's groundbreaking studies helped open a new field in biology known as epitranscriptomics. Epitranscriptomics is described as RNA epigenetics or the collection of biochemical modifications of RNA transcripts that are present in a cell.
In 2011, He discovered a new fundamental mechanism that dictates how our genes are expressed from DNA into reality. Protein-encoding genes in our genome are transcribed into messenger RNAs and then translated into functional proteins.
A process called RNA methylation is critical to both steps. He's team reported the first family of "eraser" proteins, which undo these modifications— proving they can actually be reversible. His team also elucidated key pathways on how RNA methylation regulates gene expression. This research laid down the path for current understanding of how such modifications affect the body and health outcomes, including cancer and many other diseases.
Broadening RNA's reach
His research spans a range of RNA biology. chemical biology, biochemistry, molecular biology, epigenetics, and genomics. He's laboratory currently works towards understanding the pathways of how RNA modifications control gene expression, as well as the impacts on mammalian development and human diseases.
Recently, his team used this knowledge and developed an RNA demethylation approach that appears to be able to significantly increase plants' yield and drought tolerance.
The findings are also making their way into clinical applications in a large number of academic laboratories and a growing number of drug development companies.
"Dr. He's groundbreaking discoveries of reversible RNA methylation and its role as a new mechanism for gene expression regulation have revolutionized our understanding of the role of RNA in gene regulation," said Viresh Rawal, Ph.D., chair of the Department of Chemistry at the University of Chicago. "The Wolf Prize is a well-deserved recognition of his tremendous impact on the field."
He was born in China in 1972. He earned his doctorate in chemistry at the Massachusetts Institute of Technology in 2000. After a postdoctoral fellowship at Harvard University, he joined the University of Chicago in 2002.
(This article was adapted from a Feb. 7 publication by UChicago News written by Louise Lerner, physical sciences news officer.)