A new report released by the National Academies of Sciences, Engineering, and Medicine provides recommendations for implementing new approach methodologies (NAMs) in human health risk assessments. The committee that developed the report, which was sponsored by the U.S. Environmental Protection Agency (EPA), included several NIEHS grant recipients (see sidebar).
Human health risk assessment often relies on data from mammalian studies. However, such data are often limited or nonexistent for a variety of environmental chemicals. Cell-based experiments, fish embryo studies, and models that use artificial intelligence are just a few examples of alternative techniques, also known as NAMs, that can provide insight into the health effects of chemical exposures. NAMs are not necessarily new to science but rather to the field of human health risk assessment.
"This was a request from EPA to try to bridge this gap between the development of these different novel approaches and their application in risk assessment," said Committee Chair Weihsueh Chiu, Ph.D., a researcher at the NIEHS-funded Texas A&M University Superfund Research Program (SRP) Center.
NAMs and systematic reviews
The new report recommends that EPA define relevant Population, Exposure, Comparator, and Outcomes (PECO) statements for studies involving NAMs so they can be used in systematic reviews to determine whether an environmental exposure can harm human health, and if so, to what extent.
"Vital to any systematic review is specifying what populations and exposures are being assessed, to what untreated or unexposed populations the data can be compared to, and what outcomes are being studied — this is known as a PECO statement," Chiu explained. "Many types of studies, particularly mammalian research, have implicit PECO statements. However, no such specifications commonly exist for NAMs."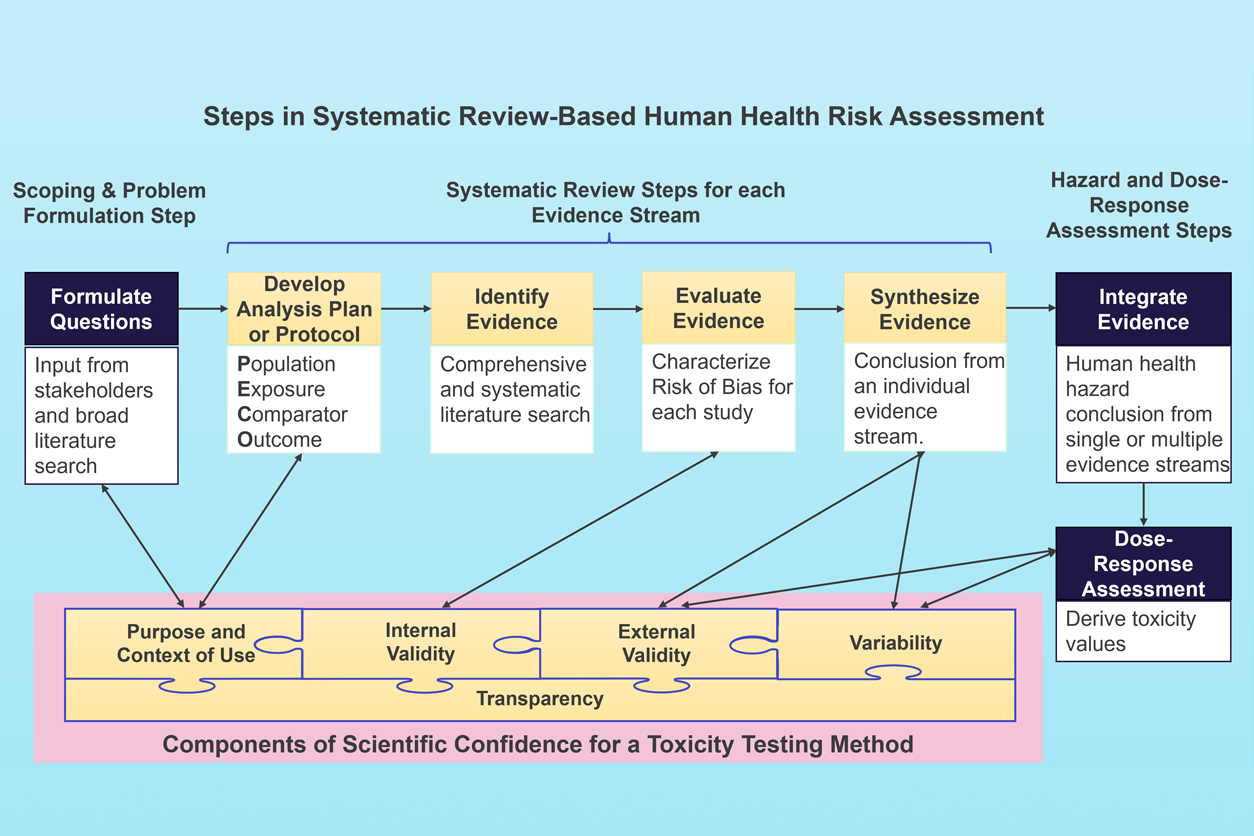 Incorporating NAMs data into systematic review also requires scientific confidence in the methodologies. To improve internal validity, which is one aspect of scientific confidence, the committee recommended that EPA collaborate with the National Toxicology Program, which is an interagency program co-led by NIEHS, and other agencies to minimize the risk of bias.
"We hope that these recommendations will allow for a more seamless handoff between the development and design of NAMs and their ultimate use in risk assessment," said Chiu.
Casting a wider net
Integrating NAMs in risk assessment is crucial for better protecting vulnerable and susceptible populations, including but not limited to children, older adults, and racial minorities, Chiu said. He hopes the report will encourage health experts to explore how results from NAMs research, animal studies, and epidemiology research can together inform improved human health risk assessments.
(Mali Velasco is a research and communication specialist for MDB Inc., a contractor for the NIEHS Division of Extramural Research and Training.)