In May, Robert Sills, D.V.M., Ph.D., was named Acting Scientific Director of the NIEHS Division of Translational Toxicology (DTT), which is dedicated to studying how substances — such as sunscreen ingredients, dietary supplements, and PFAS — influence human health.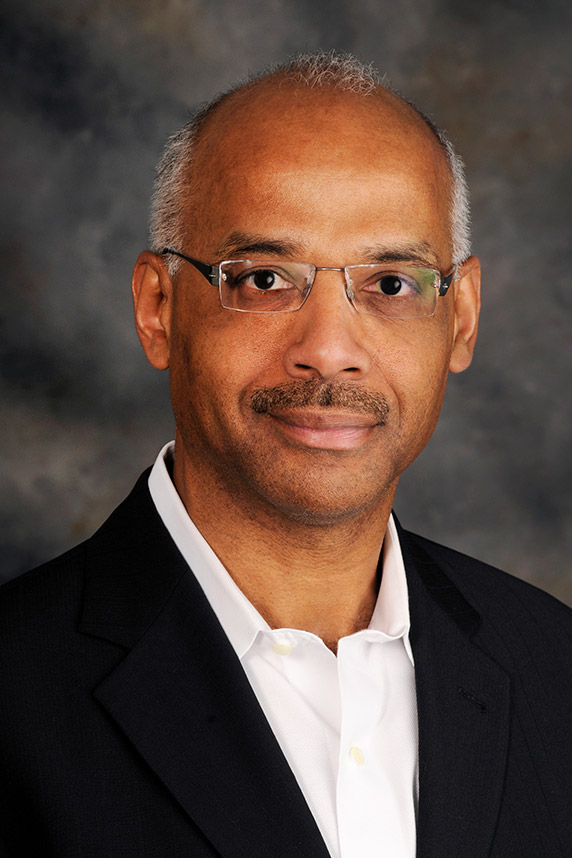 During his more than 30 years working for NIEHS and the interagency National Toxicology Program (NTP), Sills has led several initiatives to improve understanding of how environmental chemicals contribute to disease (see sidebar). In addition, he led creation of the Nonneoplastic Lesion Atlas, the gold standard scientists around the world use when they look at a microscope slide to determine what they are seeing. In 2013, Sills also became the first person of color to serve as the president of the Society of Toxicologic Pathology.
Environmental Factor recently met with Sills to learn more about his career path, his quest for inclusiveness, and his passion for developing global partnerships.
Environmental Factor (EF): Could you share with us how your journey to study environmental health began?
Sills: I'm from Guyana, which is next door to Venezuela and Brazil in South America, and I had an opportunity to attend Tuskegee University to study animal science. While I was there, I wanted to learn more about diseases, so I applied to the vet school. Tuskegee was the only HBCU [Historically Black Colleges and Universities], to have a School of Veterinary Medicine, and it is outstanding. I had planned to become a large animal clinician back home, but then I took pathology, and I really enjoyed it. I did an internship and residency in pathology, and then earned a Ph.D.
EF: How did your graduate studies prepare you for a career in toxicology?
Sills: My Ph.D. focused on assessing the effects of dioxins and looking at the molecular mechanisms underpinning how this pollutant causes cancer. I was very fortunate that my research centered on an environmental chemical because when I joined NTP, I had experience in toxicologic pathology, with cancer as the endpoint. At NTP, I was able to work with not one but thousands of chemicals, so it was a great match.
EF: You have said the field of toxicology needs to be transformed. How so?
Sills: Transforming toxicology is about doing research in a very short period of time to understand how the environment causes diseases. It means using new science and new technologies, and building more collaborations so that we can protect human health. We have to be more timely in making decisions and providing data about potential health effects.
EF: Why is building collaborations so important?
Sills: The environment is a global issue. Climate change is a global issue. I've always had a global perspective, and I think it has a lot to do with where I'm from and knowing the importance of global partnerships. For example, that is why when I served as the president of the Society of Toxicologic Pathology, I pulled together the presidents of societies from all over the world — India, Europe, Korea, Japan — and said to them, 'We have to work together because we have mutual interests.'
EF: Why is the work of DTT so important?
Sills: No other organization will evaluate chemicals that we may be exposed to in water, air, soil, and food in an independent and trustworthy way. Our science holds up because it's independent and scientifically rigorous.
Our role is to listen to the public, hear what they are concerned about, whether it be PFAS or other environmental chemicals, and do the studies that provide solid scientific data regarding public health. For example, a rubber manufacturer may not know or may not test whether a byproduct of its manufacturing process is toxic to humans. We will do the testing and research that others won't because we have the public's interest in mind. Everything we do is about assessing exposures in terms of human health.
EF: What qualities do you value in a leader and how would you describe your leadership style?
Sills: I lead by example. My leadership style is one of inclusiveness — recognizing people for their contributions and understanding that an organization is successful because of everybody's contribution. Diversity is important. In an organization, you need to have the perspective of women, the perspective of men, the perspective of people of color, the perspective of all parts of the organization, from biologists and scientists to administrative staff. Novel ideas are generated because of people's backgrounds.
EF: What's exciting to you about your role as Acting Scientific Director of DTT?
Sills: I'm excited about being able to communicate and make the case that when you think about environmental health, toxicology is key to understanding environmental health. We are the global leader in toxicology, and no other NIH institute is doing toxicology. I enjoy representing DTT staff at the senior leadership level, at the scientific directors' meetings in Bethesda, and bringing their ideas to the table where decisions are being made. In partnership with NIEHS Director Dr. Rick Woychik, it is a privilege to lead this outstanding team-based division composed of the most talented and incredible staff.
(Caroline Stetler is Editor-in-Chief of the Environmental Factor, produced monthly by the NIEHS Office of Communications and Public Liaison.)