NIEHS senior leadership recognized scientists and staff for their efforts to reduce the institute's environmental footprint at the annual Green Labs Programs reception. The event, hosted by NIEHS Scientific Director Darryl Zeldin, M.D., was held June 23 in the Rodbell Auditorium and broadcast virtually on Zoom.
This year, 27 labs and 77 individuals were recognized for their efforts in conducting and supporting environmentally sustainable research. The event was centered on four programs — Green Labs, Green Researchers, Freezer Challenge, and Green Champions — that exemplify resource stewardship.
Several NIEHS researchers and labs were recognized for their concurrent successes in one or more of the Green Labs, Green Researchers, and Freezer Challenge programs.
Georgia Alexander, Neurobiology Lab.
Artiom Gruzdev, Gene Editing and Knockout Mouse Core.
Amy Papaneri, In Vivo Neurobiology Group.
Karina Rodriguez, Reproductive Developmental Biology Group.
Tanya Whiteside, Quality Assurance Lab.
NIH Green Labs
The National Institutes of Health (NIH) Green Labs exhibit a commitment to compliant waste prevention, management, and recycling; cold storage best practices; water conservation; sustainable procurement; and fostering collaboration and engagement. A coordinator for each lab completes an online survey on an annual basis that attests to the lab's practices, which is then scored by NIH Department of Environmental Protection staff in Bethesda. With 15 certified labs in 2022, NIEHS had the third highest number of certified Green Labs of any participating institute, center, or office.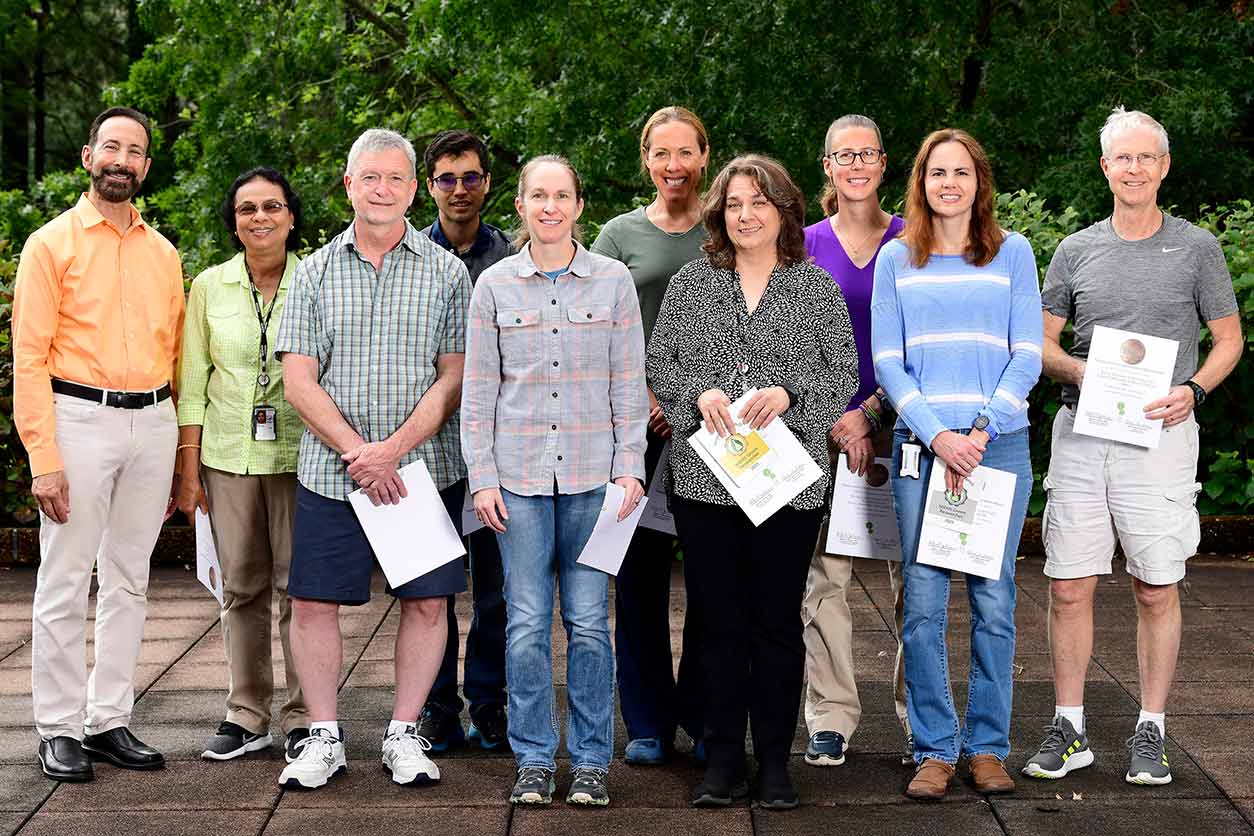 Green Labs — GOLD
Calcium Signaling in Health Disease Group.
Gene Editing and Mouse Model Core.
In Vivo Neurobiology Group.
Molecular Genomics Core.
Molecular Pathology Group.
Mutagenesis and DNA Repair Regulation Group.
Pregnancy and Female Reproduction Group.
Quality Assurance Lab.
Green Labs — SILVER
Flow Cytometry Center.
Neurobiology Laboratory.
Reproductive Developmental Biology Group.
Structural Biology Core.
Veterinary Medicine Group.
Viral Vector Core.
Green Labs — BRONZE
Fluorescence Microscopy and Imaging Center.
NIH Freezer Challenge
Cold storage equipment for scientific research uses a significant amount of energy. One ultracold freezer can use as much electricity as an average U.S. household. The NIH Freezer challenge encourages labs to decrease energy use and increase freezer reliability by applying sustainable freezer management practices. In 2023, seven NIEHS labs participated in the Freezer Challenge, a record high, and saved 17,000 kWh of electricity, equal to 2.3 average U.S. households.
NIEHS Green Researchers and U.S. Department of Health and Human Services Green Champions — DOLES
The 2023 Class of NIEHS Green Researchers and the Database of Laboratory Equipment for Sharing (DOLES) awardees were also recognized at the event. To read more about these two awards, check out this article from our May issue.
For more information on the Green Labs program, contact the Health and Safety Branch.
(Jennifer Harker, Ph.D., is a technical writer-editor in the NIEHS Office of Communications and Public Liaison.)
Steve Novak, shown on the far left, poses for a photo with 2022 and 2023 NIEHS Green Researcher awardees who were present at the ceremony. From left to right, back row: Ryan Snyder, Michael Johnston, Dondrae Coble, Justin Kosak, Alan Jarmusch; middle row: Jonathon Weeks, Georgia Alexander, Negin Martin, Donna Stefanick, Keshav Srivenkatesh, Jackson Hoffman; front row: Lisa Padilla‐Banks, Carmen Williams, Kevin Gerrish, Mack Sobhany, Andrea Kaminski, Veronica Robinson, Vesna Chappell, and Sarah Combs. (Photo courtesy of Steve McCaw / NIEHS)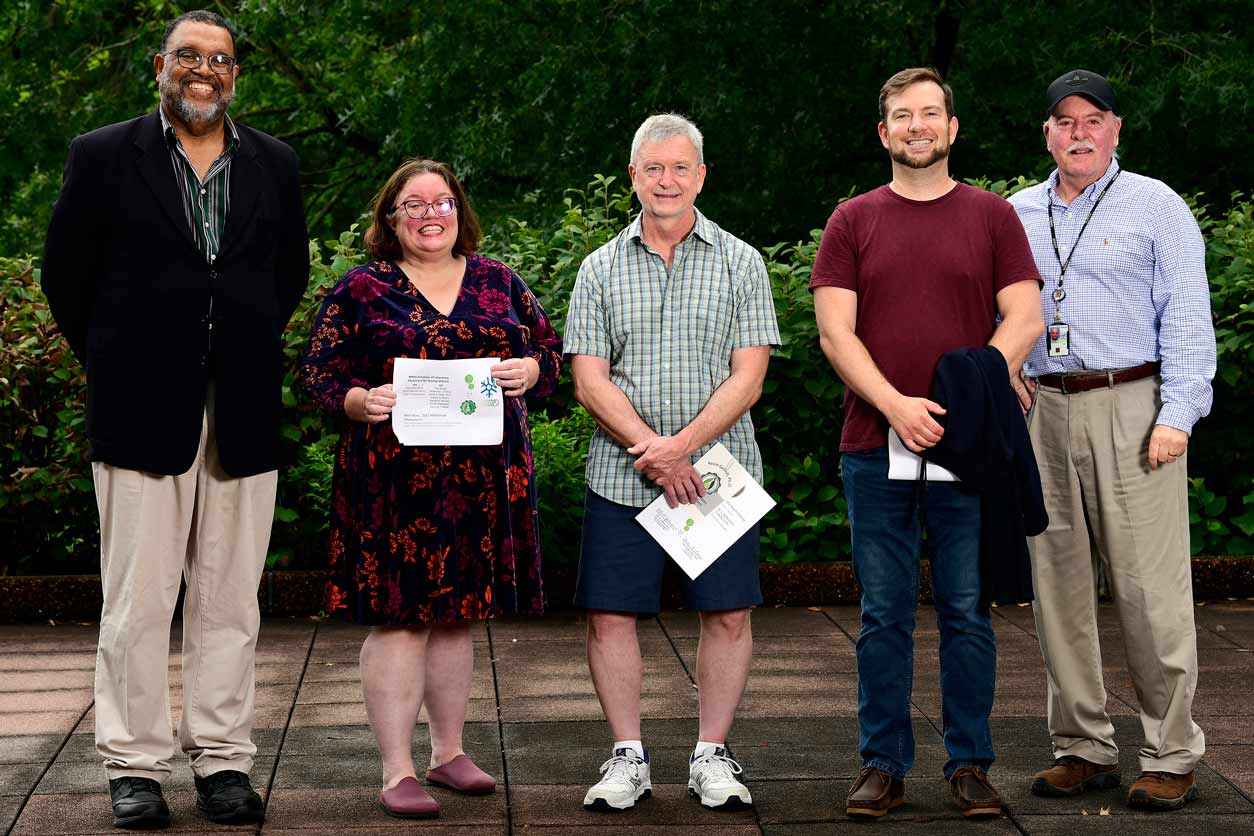 NIEHS Deputy Director Trevor Archer, Ph.D., shown on the far left, poses for a photo with DOLES awardees who were present at the ceremony. From left to right, Cheryl Thompson, Kevin Gerrish, Justin Kosak, and Steve McCaw. (Photo courtesy of Paul Johnson / NIEHS)