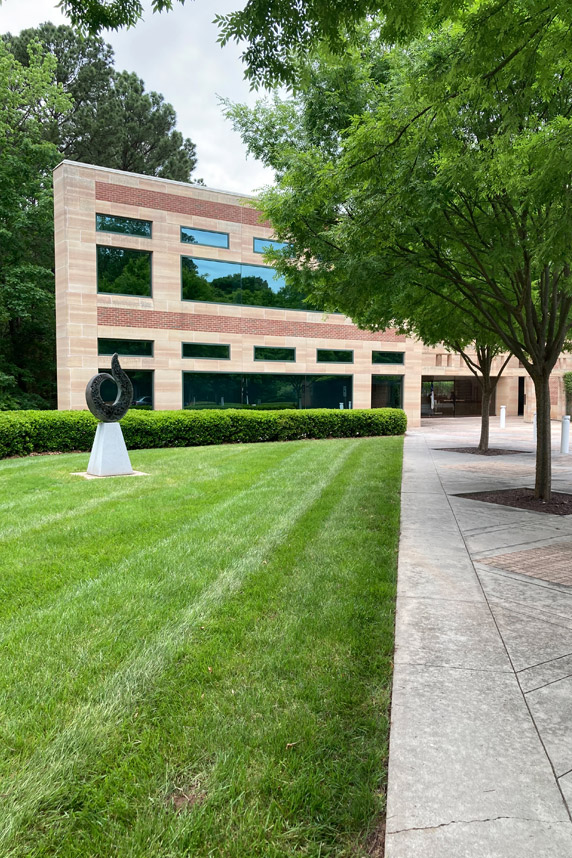 Scientists across North Carolina gathered May 8 in Research Triangle Park for a symposium titled "Quantitative Methods in Life Sciences: Precision Medicine and Environmental Health." Researchers from academia, industry, and government — including several NIEHS scientists and grant recipients — discussed key topics at the interface of life sciences and data sciences.
Speakers highlighted the National Institutes of Health (NIH) All of Us Research Program, environmental data gaps, new methods to better understand the health effects of chemicals, and opportunities for scientific collaboration, among other subjects.
The event was organized by the North Carolina Precision Health Collaborative and co-sponsored by the North Carolina Biotechnology Center, RTI International, and North Carolina State University's Office of the Provost, Bioinformatics Research Center, and Center for Human Health and the Environment, which is funded by NIEHS.
Climate and health at individual level
"The All of Us Research Program has a chance to shape the national science agenda for the country, and I believe it is already beginning to do that," said keynote speaker Geoffrey Ginsburg, M.D., Ph.D., the program's chief medical and scientific officer, who works remotely for All of Us from an office at NIEHS. "Our mission is to create breakthroughs in science, advance health research, and fundamentally deliver on the promise of precision medicine, meaning individualized prevention, treatment, and care."
More than 644,000 people from diverse backgrounds are enrolled in the program, and by the end of 2026, the program plans to have more than 1 million participants enrolled, he noted. A wealth of data from electronic health records, sequenced genomes, surveys, and even Fitbit records will allow thousands of researchers to address important questions about what drives health and disease at the individual level. Ginsburg added that the program plans to also incorporate several environmental components.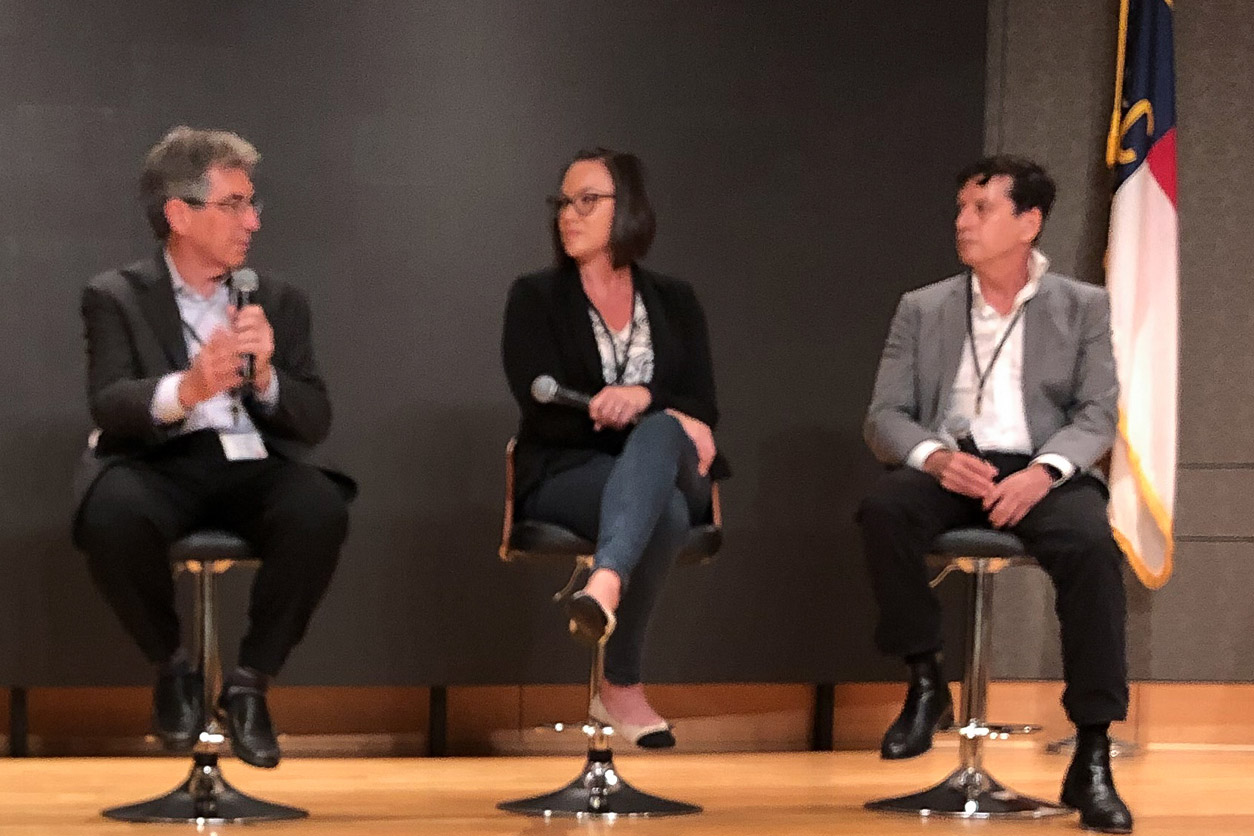 "With our colleagues at NIEHS, we plan to look at how climate, the environment, and social determinants of health can impact health outcomes," noted Ginsburg. "We have an opportunity to develop a paradigm in which we return results to individuals, particularly about the environment, that could lead to actionable changes in lifestyle, in communities, and potentially in policy."
Russell Thomas, Ph.D., director of the U.S. Environmental Protection Agency's Center for Computational Toxicology and Exposure, delivered the symposium's other keynote address, titled "Understanding the Impacts of Chemicals in Environmental Health: A Need for Data or Change in Perspective?". He discussed how new approach methodologies and cutting-edge computational tools will help to fill important gaps in toxicological research.
Expanding scientific partnerships
NIEHS Director Rick Woychik, Ph.D., and David Balshaw, Ph.D., who leads the institute's Division of Extramural Research and Training, participated in a breakout session that focused on research funding and opportunities for scientific partnerships.
"I am very much supportive of cross-federal agency collaboration and other types of research partnerships," noted Woychik. "However, collaboration needs to be as comprehensive as possible."
"Take Parkinson's disease as an example," he said. "For years, much of the focus was on finding genes and gene variants that predispose people to the condition. But at NIEHS, we have also developed compelling evidence that there are environmental exposures connected with Parkinson's. So, as we think about collaborative programs, we should try to tackle complex problems in more multifaceted ways. In the case of Parkinson's, that would mean not just looking at one gene or one environmental factor, but rather how they might interact."
Other participants included Tammy Collins, Ph.D., former head of the NIEHS Office of Fellows' Career Development and current program officer at the Burroughs Wellcome Fund; Courtney Aklin, Ph.D., acting associate deputy director of NIH; Christopher Erdmann, associate director for open science at the Michael J. Fox Foundation; Mary Ross, Ph.D., director of the U.S. Environmental Protection Agency's Office of Science Advisor, Policy and Engagement; and Richard Shoge, Ph.D., chief of the Defense Health Agency's Military Health System Research Branch.
Former NIEHS research fellow Oswaldo Lozoya, Ph.D., who is now a scientific computing principal investigator at RTI International, moderated the session, and he helped to organize the symposium.
Finding ways to share, integrate data
A panel session titled "Environmental Data Gaps" featured two NIEHS scientists and one grant recipient. Alison Motsinger-Reif, Ph.D., chief of the institute's Biostatistics and Computational Biology Branch, and David Reif, Ph.D., chief of the NIEHS Predictive Toxicology Branch, shared their thoughts on the importance of data sharing, linking clinical data with environmental health data, and related topics. Rebecca Fry, Ph.D., who leads the NIEHS Superfund Research Center at the University of North Carolina at Chapel Hill, also participated.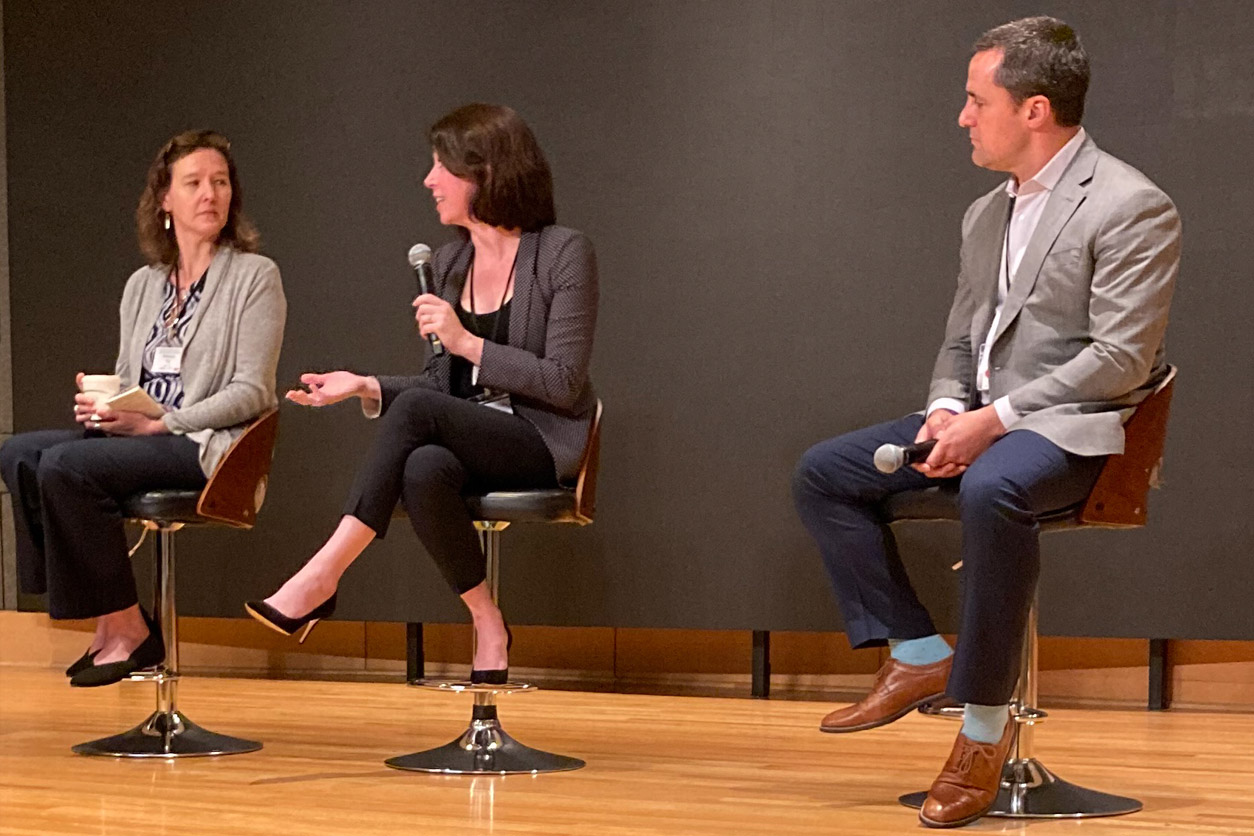 In another session, NIEHS grantee Heather Stapleton, Ph.D., presented "New Approaches in Using Silicone Wristbands: A Wearable Exposure Tool to Support Environmental Health Research." (Read about her related research in this June 2020 Environmental Factor article.)
Also, Frank Chao, Ph.D., a computational biologist in the institute's Predictive Toxicology Branch, presented a poster titled "DrugMatrix PathXGene: A Shiny App for Identifying Relationships Between Apical Toxicological Effects and Transcriptional Response in Target Organs."
(Jesse Saffron, J.D., is Deputy Director of the NIEHS Office of Communications and Public Liaison.)