NIEHS scientists and grant recipients shined at the 2023 meeting of the American Academy of Allergy, Asthma, and Immunology (AAAAI), held Feb. 24-27 in San Antonio, Texas. Presentations ranged from how climate change can influence allergic diseases to the ways wildfire smoke may contribute to asthma.
Exposures and the airway microbiome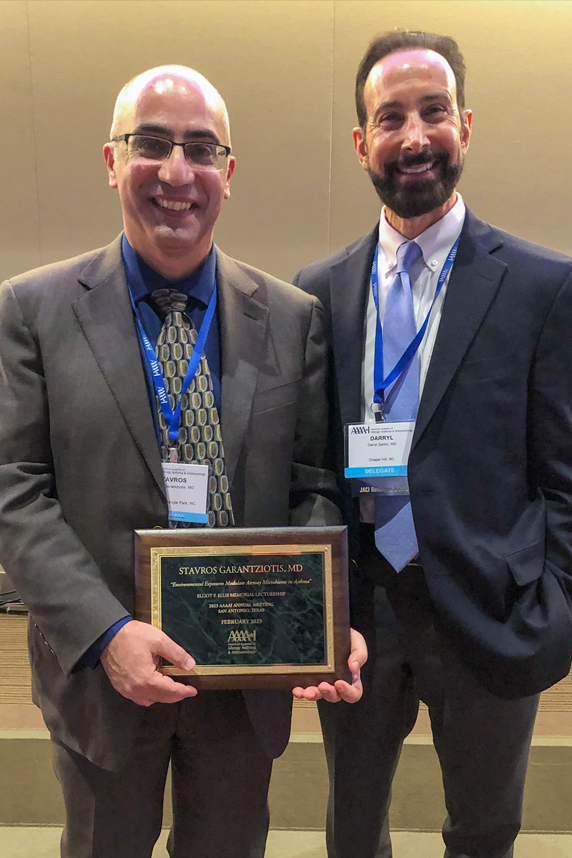 Other talks centered on how environmental exposures can interact with the airway microbiome — all of the microbes in the respiratory tract — and increase inflammation, leading to poor health outcomes.
Darryl Zeldin, M.D., the institute's Scientific Director, chaired a symposium titled "Exposure: Microbiome Interface in the Pathogenesis of Inflammatory Diseases." Presentations included the following.
"Environmental Exposures Modulate Airway Microbiome in Asthma" — Stavros Garantziotis, M.D., Medical Director of the NIEHS Clinical Research Unit, and head of the Matrix Biology Group.
"Isocyanate Exposure Predicts Atopic Dermatitis and Disrupts Therapeutic Pathways in Commensal Bacteria" — Ian Myles, M.D., head of the Epithelial Therapeutics Unit, National Institute of Allergy and Infectious Diseases.
"Ecological Interactions in Asthma: From Environment to Microbiota and Immune Responses" — Yvonne Huang, M.D., associate professor of microbiology and immunology, University of Michigan.
Zeldin presented Garantziotis with the Elliot F. Ellis Memorial Lectureship, which honors Ellis, former president of AAAAI and pioneer in the field of allergy and asthma care. Myles received the Robert G. Townley Memorial Lectureship, and Huang received the Harold S. Nelson, M.D., FAAAAI Lectureship.
"This year's AAAAI conference provided a great opportunity for leading scientists in the field to share their work with other world-class researchers, medical professionals, and trainees," said Zeldin in an Environmental Factor interview. "Their presentations sparked in-depth conversations that will inform future efforts, both in terms of research and clinical care."
Climate change and allergic disease
During a plenary session titled "Impact of Climate Change and Environmental Hazards on Allergic Disease," NIEHS grantee Rachel Miller, M.D., presented "Urban Chemical Exposures and Epigenetics of Allergic Disease." She is an allergy and immunology professor from the Icahn School of Medicine at Mount Sinai, which is located in New York.
According to Miller, plastics can contribute to global warming because they are often made from materials derived from fossil fuels, the burning of which can reduce air quality and worsen asthma. She described links between exposure to bisphenol A and phthalates — chemicals used in the production of plastics — and heightened allergic sensitization and airway hyperreactivity.
Another climate-related presentation at AAAAI was delivered by Jill Poole, M.D., from the University of Nebraskaa Medical Center. Her talk was titled "Health Effects of Climate Change on Allergic Disease." Also, Dave Peden, M.D., from the University of North Carolina at Chapel Hill, discussed "Health Effects of Wildfire Smoke in Adult and Pediatric Populations."
Links to air pollution, socioeconomic factors, and more
Other presentations by current and former grantees during the AAAAI conference included the following.
"Bisphenol A (BPA) Has Transgenerational Effects on the Development of Experimental Asthma Through BRD4/ZDHHC-1/STING Axis" — Terumi Midoro-Horiuti, M.D., Ph.D., University of Texas Medical Branch at Galveston.
"Indoor Air Pollutants: What Are They and How Do They Impact Allergies and Asthma?" — Michelle Hernandez, M.D., University of North Carolina at Chapel Hill (UNC). (NIEHS grantee Elizabeth Matsui, M.D., from the University of Texas at Austin, introduced speakers at the session Hernandez spoke at.)
"Immune Mechanisms of Pollutant-Mediated Asthma and Airway Inflammation" — Angela Haczku, M.D., University of California, Davis; and Robert Tighe, M.D., Duke University.
"Neighborhood Socioeconomic Factors in the Environmental Influences on Child Health Outcomes (ECHO)/Children's Respiratory Research Workgroup (CREW) Consortium and Childhood Wheezing and Asthma" — Antonella Zanobetti, Ph.D., Harvard University.
"Socioeconomic Exposures, Air Pollution and Childhood Asthma" — Patrick Ryan, Ph.D., University of Cincinnati.
"Asthma-Related Emergency Department Visits in Texas: Associations with Viruses and Allergenic Pollen" — Daniel Katz, Ph.D., Cornell University. (Neil Alexis, Ph.D., from UNC, moderated the oral abstract session Katz spoke at.)
Staff from the NIEHS Office of Communications and Public Liaison manned the institute's exhibit booth, which drew graduate students, medical professionals, and scientists from the U.S. and around the world.
(Jesse Saffron, J.D., is Deputy Director of the NIEHS Office of Communications and Public Liaison.)