Rear Admiral Denise Hinton, chief scientist of the U.S. Food and Drug Administration (FDA), inspired listeners at the 20th annual NIEHS Spirit Lecture on April 5. Her talk, titled "My Journey in Advancing, Promoting, and Protecting the Public's Health," described her path to a career of leading important regulatory science projects.
"Her efforts have led to successful partnerships with international counterparts, and with key members of academia and industry," said NIEHS and National Toxicology Program (NTP) Director Rick Woychik, Ph.D., in his warm welcome to Hinton.
The heart of leadership
Family, a favorite math teacher in junior high school, and an enlightening experience shadowing a nurse were all important influences on Hinton's desire to serve those in need while also serving her country in uniform. Growing up in a military community, the qualities of service before self and leading with integrity were ingrained in her from a young age.
Hinton's father served in the U.S. Air Force for 26 years, retiring as a chief master sergeant. Her uncle, an army veteran of the Vietnam War, received the Medal of Honor from former President Obama in 2014 for extraordinary acts of heroism. "They taught me that the heart of leadership is serving others," she said.
She began her service in the Air Force as a nurse officer before transferring to the United States Public Health Service Commissioned Corps and FDA in 2002.
It takes many
In her current position as chief scientist, Hinton explained that she is most importantly a mentor to others in the public health sector. "Even the greats in science have stood on the shoulders of the giants before them," she said, highlighting the impact of role models and supportive mentors.
She also recognized the importance of collaboration in her role. As chair of the COVID-19 Agency Executive Group, she has seen firsthand the power of collective action as she brings together FDA leadership, agency-wide subject matter experts, operating divisions across the Department of Health and Human Services, and international partners to help advance response to the pandemic.
"It takes many to accomplish much for the greater good," she said, describing the race to develop a safe and effective COVID-19 vaccine. "The compressed time frame in which the vaccines were developed and made available to the public under Emergency Use Authorization (see sidebar) would have been inconceivable just a few short years ago," she said.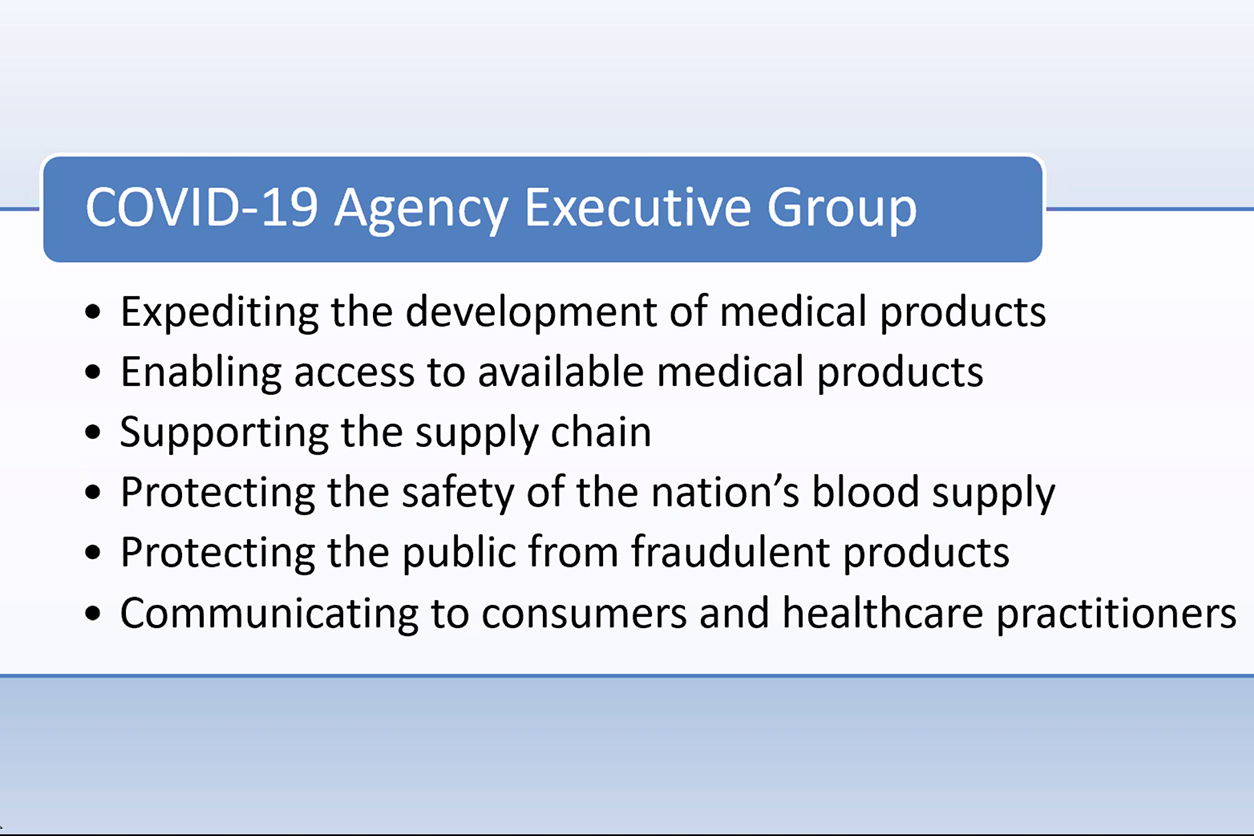 At FDA, Hinton leads the COVID-19 Executive Group, supporting the national response to the pandemic. (Image courtesy of Denise Hinton / FDA)
Advice to aspiring leaders
Hinton emphasized that aspiring STEM candidates remember how important it is to hone their soft skills as well as hard skills. Soft skills are the qualities that make up emotional intelligence: empathy, introspection, and understanding how colleagues respond differently to change. "They are critical on the path to leadership success," she said.
The most challenging part of any role is communication, according to Hinton. "You have to be able to communicate and meet people where they are," she said during a Q&A led by Vicki Sutherland, Ph.D., from the Division of the NTP. Although challenging, she said the ability to communicate effectively is critical for paving the way for many opportunities and advancement.
Hinton closed by sharing personal core values that have served her over the years. "Serve others before yourself," she said. "I believe it is our duty to lift people up to their potential and higher self, and we should commit to doing that together."
(Sanya Mehta is a postbaccalaureate Intramural Research Training Award fellow in the NIEHS Matrix Biology Group.)