"Unexpected opportunities can make a difference," said Vivian Pinn, M.D., the inaugural director of the National Institutes of Health (NIH) Office of Research on Women's Health (1991-2011). Pinn was selected as the honorary speaker for the 2023 NIEHS Spirit Lecture, held both virtually and at the institute's campus on March 13.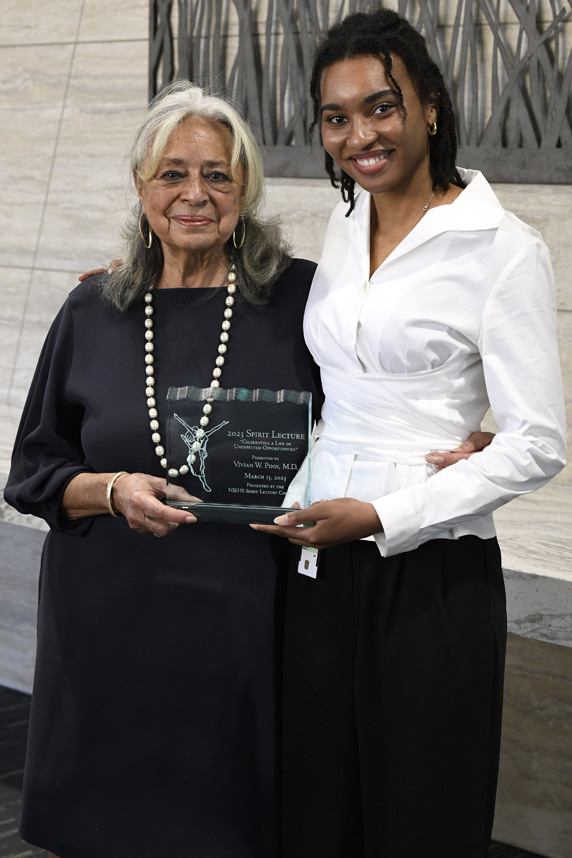 The Spirit Lecture, which began in 2002, is an annual event to recognize highly respected, outstanding women of notable achievement. Part of the institute's Diversity Speaker Series, the Spirit Lecture is held each year in March in recognition of Women's History Month.
"Who would have thought that little bald-headed baby would grow up to be recognized by the Congressional Record?" said Pinn, reflecting on a photo of four generations of women in her family — herself as a baby along with her mother, grandmother, and great-grandmother, who was a descendent of slaves.
From academic medicine to federal policymaking
From a young age growing up on a Halifax County, Virginia, farm with no running water or electricity, Pinn wanted to be a pediatrician. But after graduation from Wellesley College in 1962, she took a postbaccalaureate position at Massachusetts General Hospital that nurtured her interest in pathology. The experience convinced her to attend medical school, paving the way for an NIH research fellowship after graduation.
Pinn graduated from the University of Virginia School of Medicine in 1967 as the only woman and only African American student in her class. After her NIH fellowship, she was recruited as a faculty member to Tufts University, where she later became assistant dean of student affairs. In 1982, she joined Howard University Hospital as professor and chair of the pathology department — the first African American woman to lead a pathology department. In 1989, she became president of the National Medical Association.
In 1991, Pinn became the inaugural director of the Office of Research on Women's Health at NIH, where she worked to establish goals and policies for women's health issues and to ensure all appropriate clinical trials included the participation of women. Pinn also served as associate director of NIH for women's health research from 1994 until her retirement in 2011.
Be the type of mentor you had — or wanted
Throughout her talk, Pinn noted that along with "unexpected opportunities," key people she met along the way made all the difference. She encouraged the audience to reflect on the people who had most affected their lives — in a positive way — and emulate them.
"Try to learn lessons from those people and experiences that helped you so you can do the same for others," said Pinn. "Then also think about the negative experiences you've had so you don't repeat them yourself."
During the Q&A section of the lecture, Darlene Dixon, D.V.M., Ph.D., a senior investigator and group leader in the NIEHS Division of Translational Toxicology, approached the podium. While working at NIH, Pinn invited Dixon to help her co-organize an annual NIH International Congress on advances in uterine fibroid research, and to meet and network with national and international investigators in the field, according to Dixon.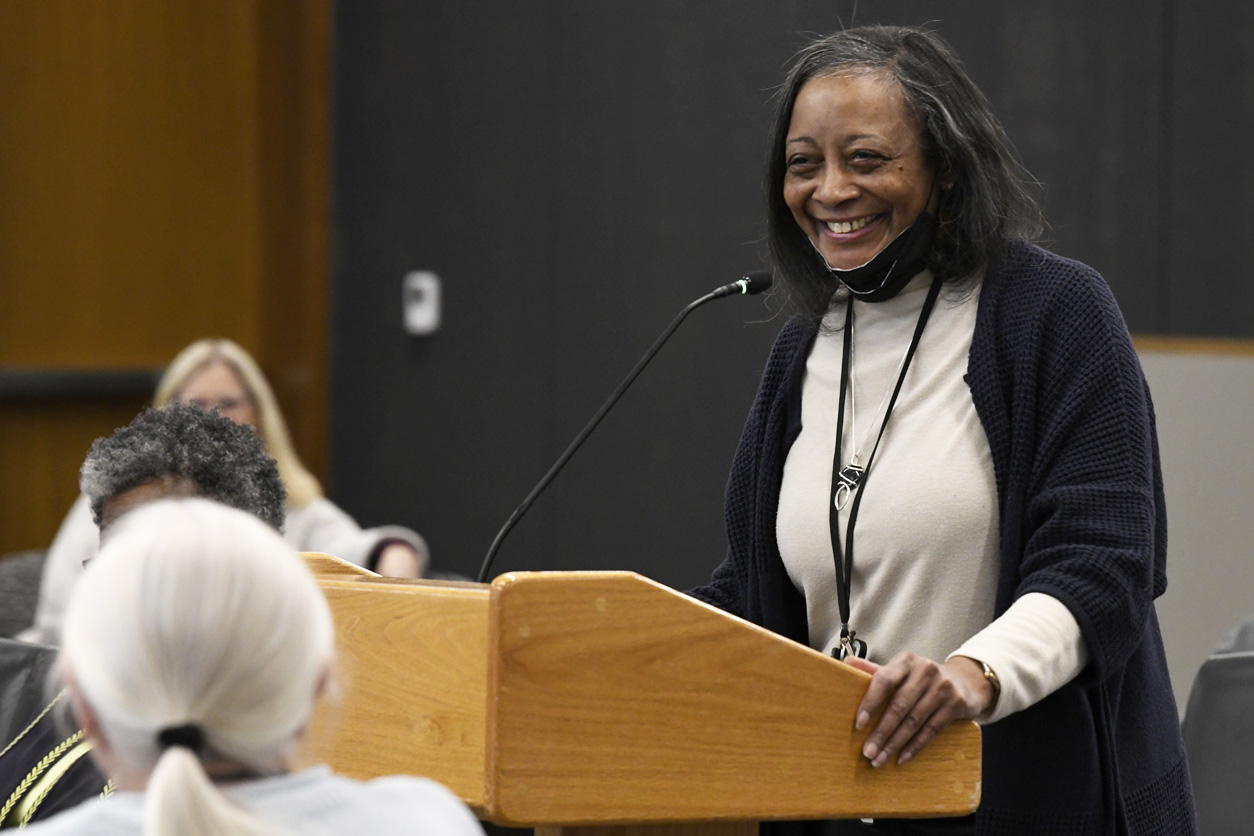 "I just wanted to say that I am a living example of an individual who you have influenced, supported, and given direction to as a scientist," Dixon said, addressing Pinn. "Dr. Pinn reached out to me in 1999 when we first started our fibroid research and took me under her wing," she explained to the audience. "I would be remiss in not getting up and saying thank you."
NIEHS postbaccalaureate fellow Abra Granger nominated Pinn for the award. Granger said she heard Pinn speak at another virtual seminar and was instantly drawn to her story as a Black woman pursuing a career in medicine.
"They say never to meet your idols in person, but I could not disagree more after meeting Dr. Pinn," said Granger. "Within moments of meeting her, I was comfortable and chatting away. People gravitate toward her good humor, kindness, and honesty. From her talk, it was clear that her outstanding leadership arose from her courage, desire to listen, and ability to produce actionable solutions."
Katherine Hamilton, co-chair of the Spirit Lecture committee, summer internship program coordinator, and postbaccalaureate program manager, said it was an honor to host Pinn for the 2023 Spirit Lecture and to see a postbaccalaureate fellow get to meet her role model.
"We all learned so much from hearing about Dr. Pinn's life," said Hamilton. "Dr. Pinn's messages of overcoming challenges and seizing unexpected opportunities was so inspiring. She talked a lot about mentorship and how small acts of kindness had a big impact on her life — what important themes for us to remember at NIEHS."
Citation: Dixon D, Parrott EC , Segars JH, Olden K, Pinn VW. 2006. The second National Institutes of Health International Congress on advances in uterine leiomyoma research: conference summary and future recommendations, Fertil Steril 86(4):800−806.
(Lindsay Key is a contract writer for the NIEHS Office of Communications and Public Liaison.)