To help research teams respond more rapidly to environmental disasters, the NIEHS Disaster Research Response (DR2) Program has launched a free online tool for managing disaster-related research. The Rapid Acquisition of Pre- and Post-Incident Disaster Data (RAPIDD) Protocol Designer, as the tool is called, will aid the research community's efforts in collecting valuable data and information following disasters and public health emergencies.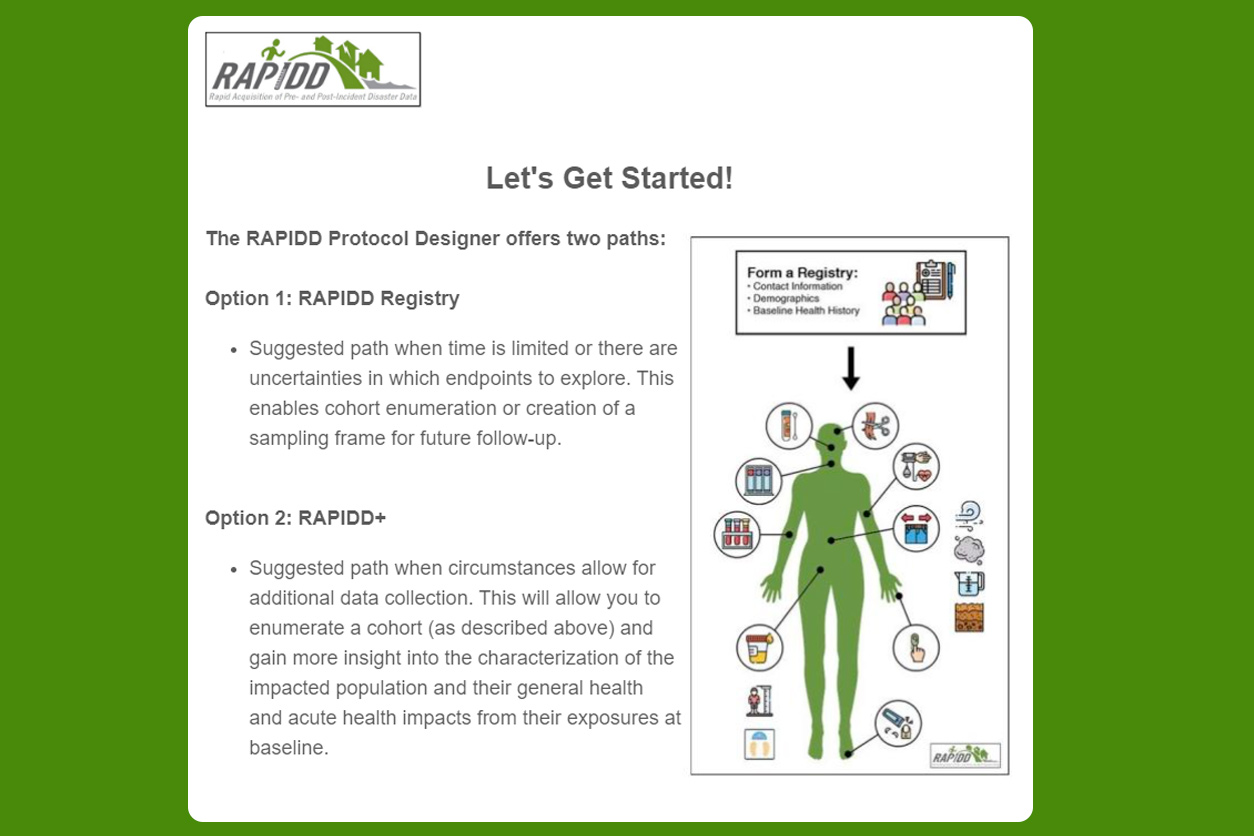 The RAPIDD Protocol Designer contains surveys, procedures, templates, and other resources that researchers may access and adapt to fit their own research needs. Creating an easily accessible, one-stop shop for disaster-related research resources could potentially expedite individual institutions' Institutional Review Board (IRB) application and approval processes.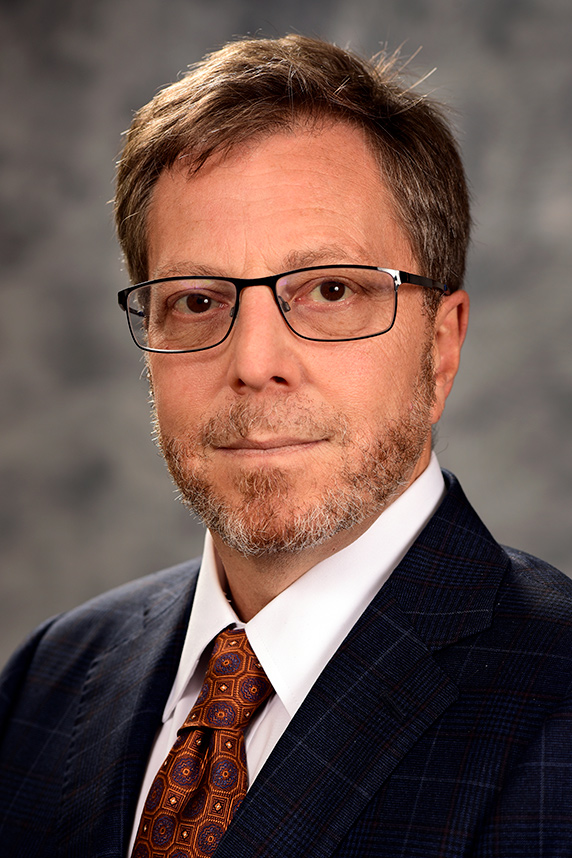 "RAPIDD was the first step at empowering the timely development and implementation of research protocols in response to health emergencies," said Aubrey Miller, Ph.D., DR2 program lead and deputy director of the Office of Science, Coordination, Planning, and Evaluation. "We are excited to advance this work through our new RAPIDD Protocol Designer, which will enable researchers to quickly pull together new surveys and protocols using the wealth of carefully collated resources within the DR2 Portal. As disaster events increase in volatility and frequency, the RAPIDD Protocol Designer provides a tool for teams to get into the field faster while respecting impacted communities' time and experiences."
The first iteration
In 2015, in response to a call by the National Institutes of Health (NIH), Centers for Disease Control and Prevention, and the U.S. Department of Health and Human Services for improved capacity for timely health research in response to disasters, DR2 released the first iteration of the RAPIDD Protocol Designer. It has since been applied in research environments by teams at the University of Texas Medical Branch, Oregon State University, and Texas A&M University. The protocol was specifically designed to address the gaps that prevented the rapid collection of data and samples from disaster response personnel who may be exposed to environmental and/or chemical contaminants.
In practice, the new DR2 tool functions as an easily modifiable template that researchers can pull from to form their own research protocols, enabling them to adapt their research plans to account for myriad disasters and public health emergencies that affect their respective communities.
The next generation
To improve the user experience, current iterations of the RAPIDD Protocol Designer take researchers through each step of their prospective study and select standardized language previously approved by NIH's IRB. Once information is selected by individual users within the platform, it will generate a file containing a personalized protocol and additional resources for constructing an IRB application and preparing for data collection.
The RAPIDD Protocol Designer pulls from resources submitted by NIH grantee institutions and interagency partners to the DR2 Resources Portal, which includes over 500 publicly available materials. This portal enables researchers to search for existing resources and a range of potentially adverse exposures and their impact on health outcomes. It also provides access to a repository of databases, literature, and standard operating procedures for commonly collected biospecimen and environmental samples.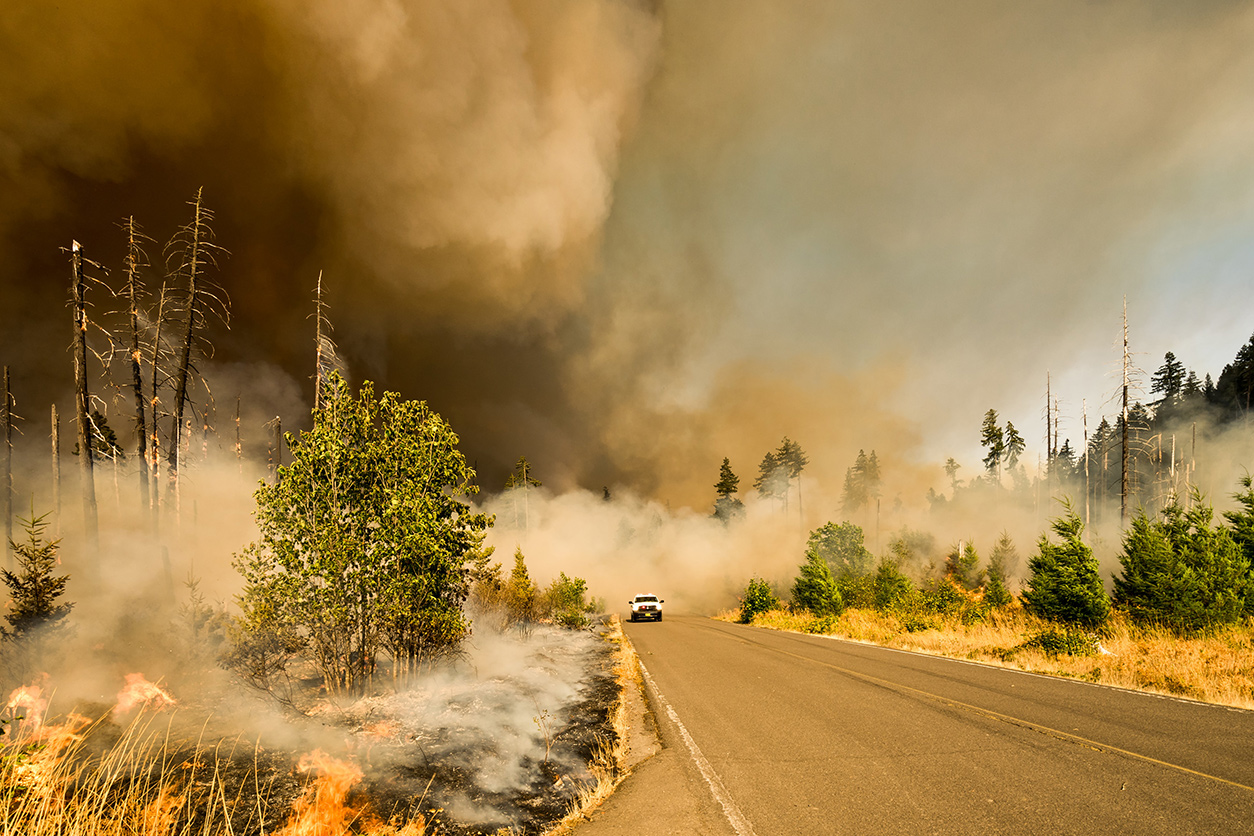 With the launch of the new RAPIDD tool, DR2 aims to reduce the turnaround time typically associated with disaster-related research studies by streamlining the process. It can also help research teams to share data and insights collected across different disaster sites by enabling the use of Common Data Elements that make such sharing possible.
"Building resilience in the face of disasters requires learning from the past, and RAPIDD is a critical tool that the research community can employ to comprehend the human toll of disaster events and better prepare for the future," Miller said.
(Dylan Williams is a research analyst for MDB Inc., a contractor for the NIEHS DR2 Program.)