The Dec. 4 virtual meeting of the National Toxicology Program (NTP) Board of Scientific Counselors marked the culmination of a yearlong strategic planning of the NIEHS Division of the National Toxicology Program (DNTP). The organization's realignment includes a restructured and focused scientific portfolio that leaders say will spur innovation for years to come.
"Back in December 2020, we gave insights into our vision [and] some of the things we were doing to structure our organization to be optimized for delivering on the portfolio," said DNTP Scientific Director Brian Berridge, D.V.M., Ph.D. "Your input has had significant impact on how these plans have been evolving," he told board members.
A more predictive, precise, and preventive science
During the past year, DNTP staff identified three overarching objectives, noted Berridge.
Accelerate our progress toward becoming a more predictive, precise, and preventive science through the deliberate application of a translational toxicology pipeline.
Provide an evidence-based approach to identifying and understanding potential environmental contributors to contemporary and common diseases.
Improve our ability to conduct and communicate substance-based hazard evaluations that are more translational, innovative, and responsive.
Scott Masten, Ph.D., director of the DNTP Office of Portfolio Strategy, explained that the organization is now focused on four key areas of research. Those include exposure-based research, health effects innovation, responsive research, and strengthening technical capabilities. More information about the programs supporting those areas of research — which tackle issues ranging from combined exposures and mixtures to scientific cyberinfrastructure — is available on the DNTP website.
What makes a healthy person
Masten outlined plans for DNTP to refine current toxicological research approaches to better understand and account for social determinants of health.
Social determinants of health, as defined by Healthy People 2030, are the conditions in the environments where people are born, live, learn, work, play, worship, and age that affect a wide range of health, functioning, and quality-of-life outcomes and risks."These are factors that put you at a disadvantage in terms of your health and quality of life," said Masten. "They are just as or more important than chemical exposures. In toxicology and environmental health, maybe we haven't been paying enough attention to understanding how they interact with each other to influence exposures and health. We think we can do a little better."
Substantial change, great improvements
NIEHS and NTP Director Rick Woychik, Ph.D., asked board members to quantify their thoughts about the DNTP realignment. Did they see it as a small adjustment from the way the organization operated in the past, scored a 1, or as a major improvement, scored a 10?
Board member Susan Felter, Ph.D., from Procter and Gamble, gave the changes a 9.
"I have seen tremendous evolution in what [the] goals and focus have been," she said. "I'm grateful for all of the work [achieved] over the years and the continued commitment to better understand how we can use these data in the most meaningful way for protection of human health."
Board chair David Eaton, Ph.D., from the University of Washington, agreed.
"I have seen substantial improvements and change in the organization under [Berridge's] leadership, and I give [DNTP] high marks," he said.
(Ernie Hood is a contract writer for the NIEHS Office of Communications and Public Liaison.)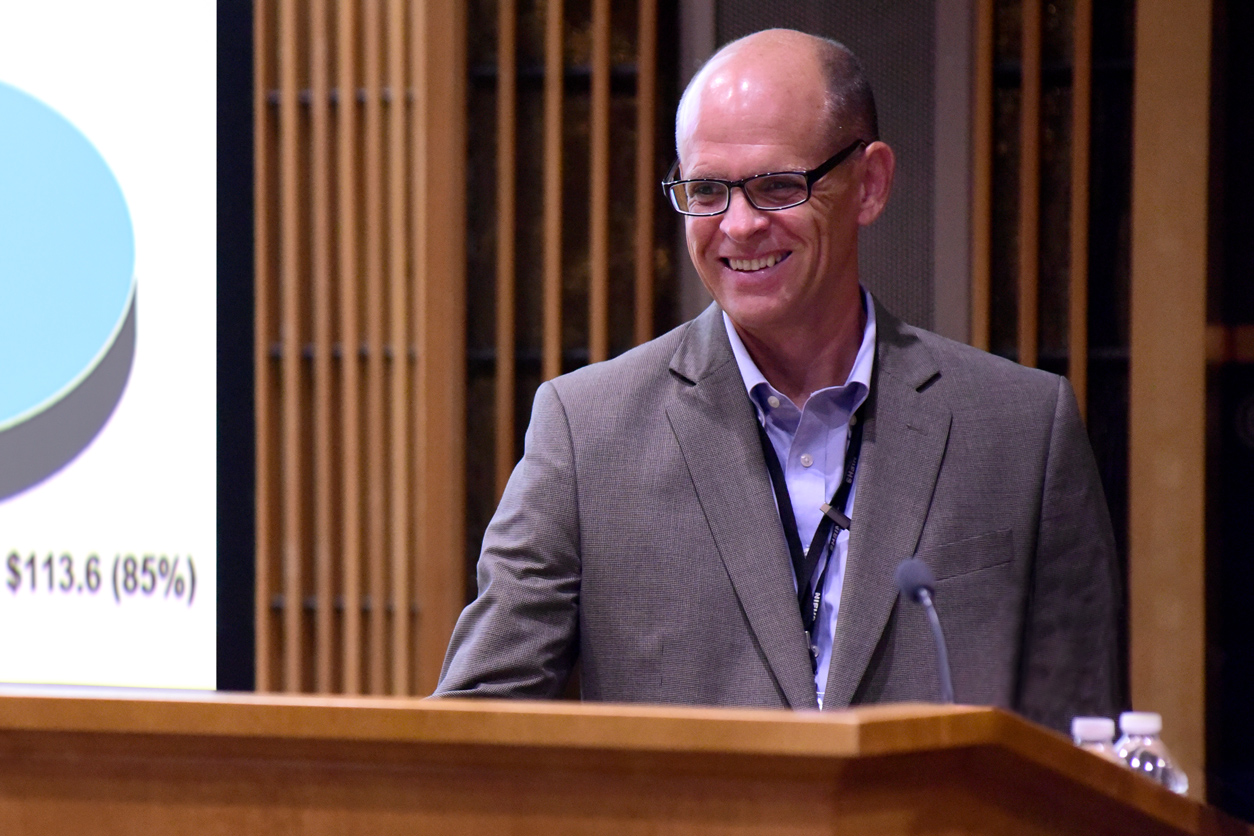 Masten, shown here at a 2019 board meeting, coordinates strategic research planning and program development within DNTP. (Photo courtesy of Steve McCaw / NIEHS)