Since its beginning in 2011, 47 NIEHS Superfund Research Program (SRP) trainees have received K.C. Donnelly Externship Award Supplements to enrich their research with work at another institution. Jill Riddell and Nabil Shaikh, both doctoral candidates, shared the 2019 award.
The awards honor the legacy of longtime SRP grantee and environmental health researcher Kirby (K.C.) Donnelly, Ph.D., who passed away in 2009.
Jill Riddell
Jill Riddell is a Ph.D. candidate at West Virginia University working under Dorothy Vesper, Ph.D. She is also a trainee with the Northeastern University SRP Center, where she works on a project led by Ingrid Padilla, Ph.D., to learn how contaminants like solvents and pesticides are transported and stored in karst aquifers. Karst aquifers are unique because they are formed by water-soluble limestone and dolomite, which form channels as water slowly breaks down the rock. These channels and fractures in the rock make it easier for contaminants to move through the system.
Riddell will travel to the University of Arizona SRP Center where she will work with Jon Chorover, Ph.D., a world-recognized soil chemist, to describe how a new tracing technique interacts with karst sediments. Traditional tracing approaches use dyes and salts to mimic how contaminants move through water, but these are not useful with certain contaminants. Using advanced analytical techniques, Riddell hopes to better understand polymer microspheres, which are small, spherical particles with molecules attached, and their potential to serve as tracers.
"This externship will greatly enhance my skillset with cutting-edge laboratory approaches," said Riddell. "It will also extend my current research to identify a tracer that can help us understand and predict the movement of contaminants in karst systems, to better protect human health."
Nabil Shaikh
Nabil Shaikh is a Ph.D. candidate at the University of New Mexico SRP Center, under the direction of Jose Cerrato, Ph.D. He is interested in strategies to clean up contaminants, like uranium in water.
Shaikh will travel to the Iowa SRP Center and work with Keri Hornbuckle, Ph.D., and Andres Martinez, Ph.D. He will learn a technique called electrospinning, which creates electrospun nanofiber mats (ENMs) with chemical characteristics that help them bind pollutants. He plans to test the ENMs for their ability to capture and remove uranium from contaminated water.
Shaikh hopes to return to New Mexico with new knowledge of how nanomaterials might be applied to uranium removal strategies. His goal is to reduce risks for people living near contaminated waste sites.
"I'm excited to participate in this collaborative approach between the University of New Mexico SRP and the Iowa SRP, which will help both centers better understand the movement of contaminants in the environment and innovative cleanup techniques to reduce human exposure," he said.
(Abigail Brewer is a research and communication specialist for MDB Inc., a contractor for the NIEHS Division of Extramural Research and Training.)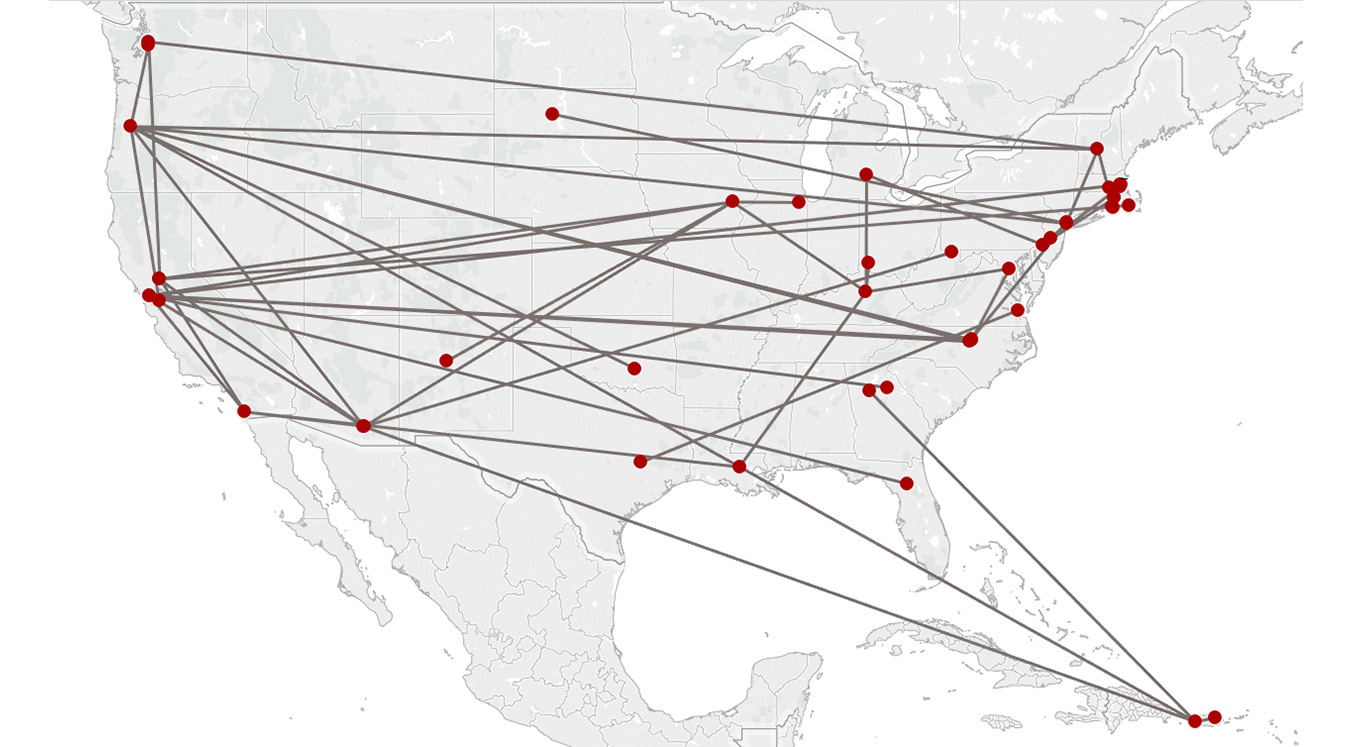 This map represents the travels of the 47 K.C. Donnelly Externship Award recipients to date.