A record 29 postbaccalaureate fellows (postbacs) from NIEHS flocked to Bethesda, Maryland on May 2 to participate in the National Institutes of Health (NIH) Postbac Poster Day. They joined more than 800 postbacs from 23 other NIH institutes and centers who presented their research projects and networked with peers.
NIEHS has traditionally enjoyed a strong showing of postbacs at the annual event, which was created to support and inspire the next generation of scientists. This year, ten of the NIEHS postbacs won an Outstanding Poster Award (see sidebar).
The bigger picture
"This trip helps postbacs realize that they are part of something much bigger, by bringing them to the NIH campus," said Katy Hamilton, the NIEHS Postbac Program Manager. "It is also a great way for them to learn about different areas of research and meet postbacs from across NIH."
Walking the halls of the giant, red brick NIH Clinical Center with her fellow postbacs made an impression on Sierra Atwater, a postbac who will be starting medical school at Duke University this fall. "The tour enhanced my passion for medicine and bridged the gap between scientific discovery and human impact," she said.
Creating connections
The poster presentations were judged by a team of staff scientists, postdoctoral fellows, and graduate students representing different research fields. Criteria such as the content and appearance of posters, as well as the presenter's ability to put the project into a larger research context, factored into the selection of winners.
Serving as a judge this year was Namya Mellouk, Ph.D., a postdoctoral fellow in the Reproductive Developmental Biology Group. She said the event gave postbacs, many of whom had never presented before an audience, a chance to hone their communication skills.
Alma Solis, from the Matrix Biology Group, presented her work on the microbiome's role in protecting against pulmonary fibrosis, a disease characterized by damaged and scarred lung tissue. Solis, who plans to pursue her Ph.D. in evolutionary anthropology at Duke University in the fall, said that she enjoyed the opportunity to interact with the judges and to talk to senior investigators and postdocs about graduate school and future training opportunities at NIH.
Other postbacs used their time in Bethesda to not only get feedback from judges but also to meet face-to-face with long-distance associates from the main campus. Nancy Urbano, from the Predictive Toxicology and Screening Group, had the opportunity to talk shop with a fellow collaborator on the Tox21 project. "I enjoyed visiting the main campus and sharing a sense of camaraderie," she said.
Science on the move
In previous years, postbacs had to find their own way to the Poster Day, be it by plane, train, or automobile. This year, the Office of Intramural Training and Education (OITE) provided a bus to transport participants from Research Triangle Park to Bethesda.
The bus became a mobile conference room for the 300-mile journey north. Postbacs used the time to practice their presentations, discuss research projects, and plan future collaborations with other labs at the institute.
(Andrew Trexler is a postbaccalaureate fellow in the National Cancer Institute Center for Cancer Research Laboratory of Toxicology and Toxicokinetics, housed at NIEHS.)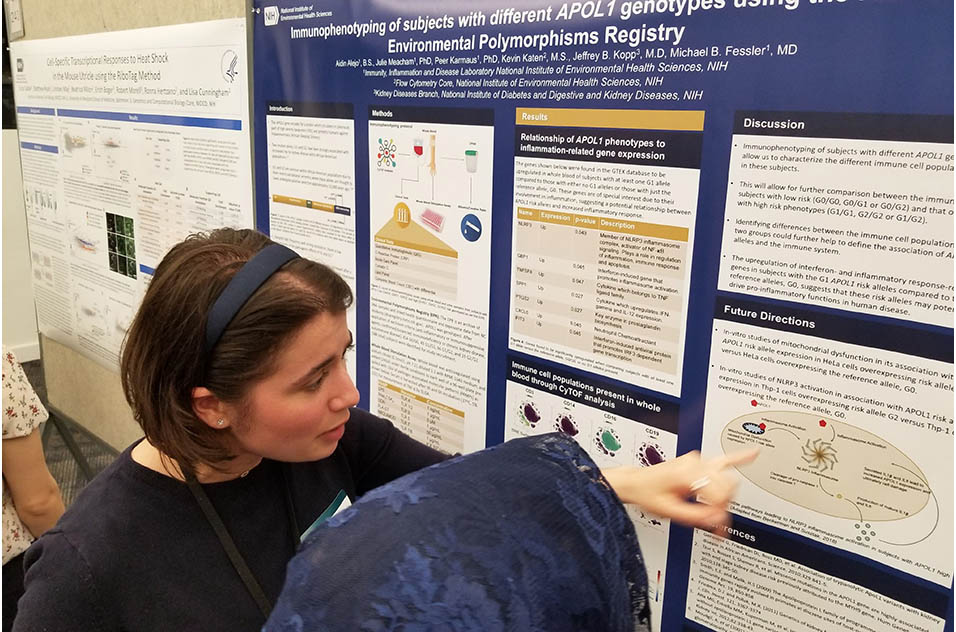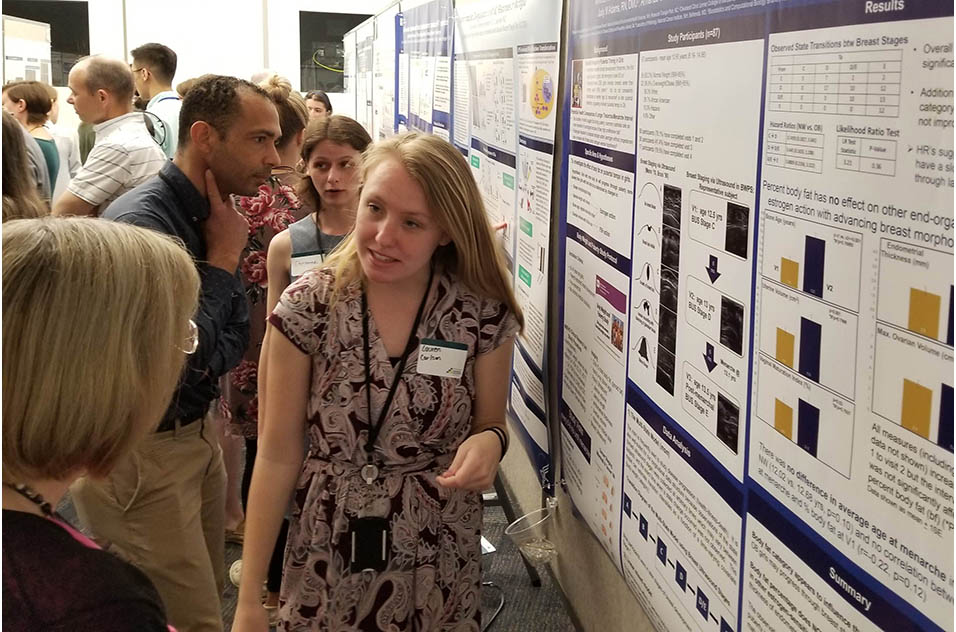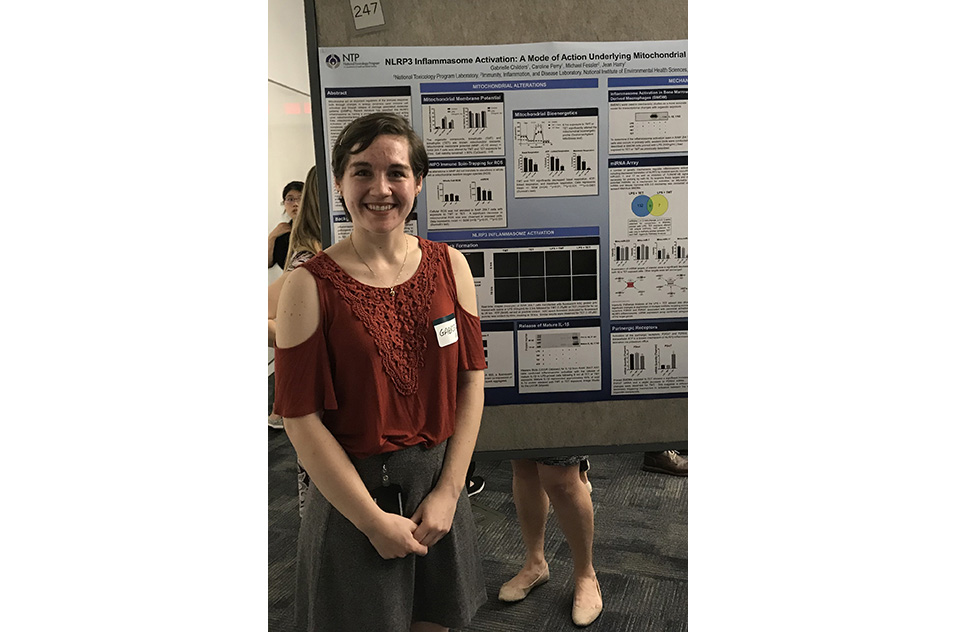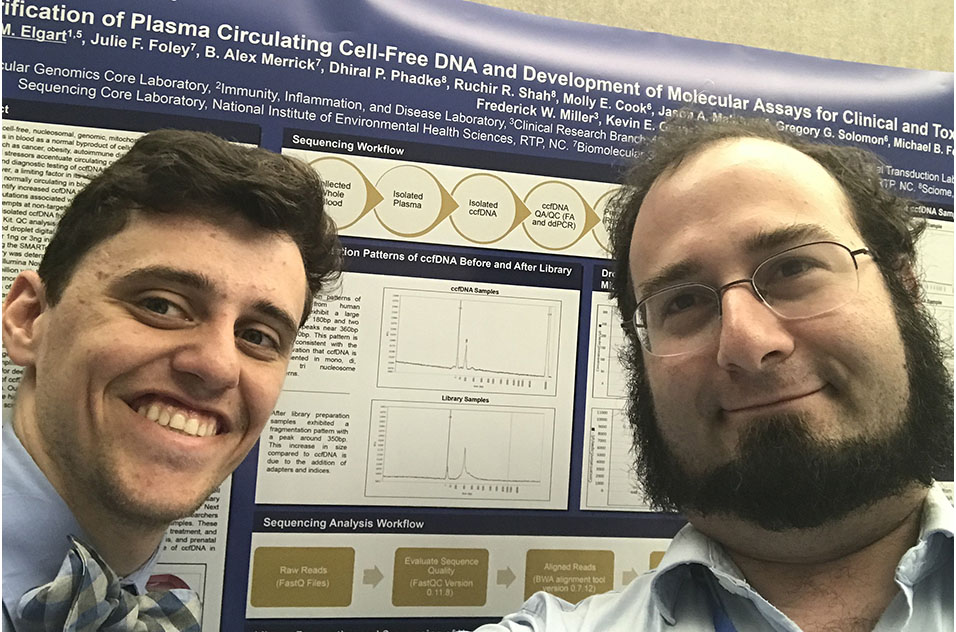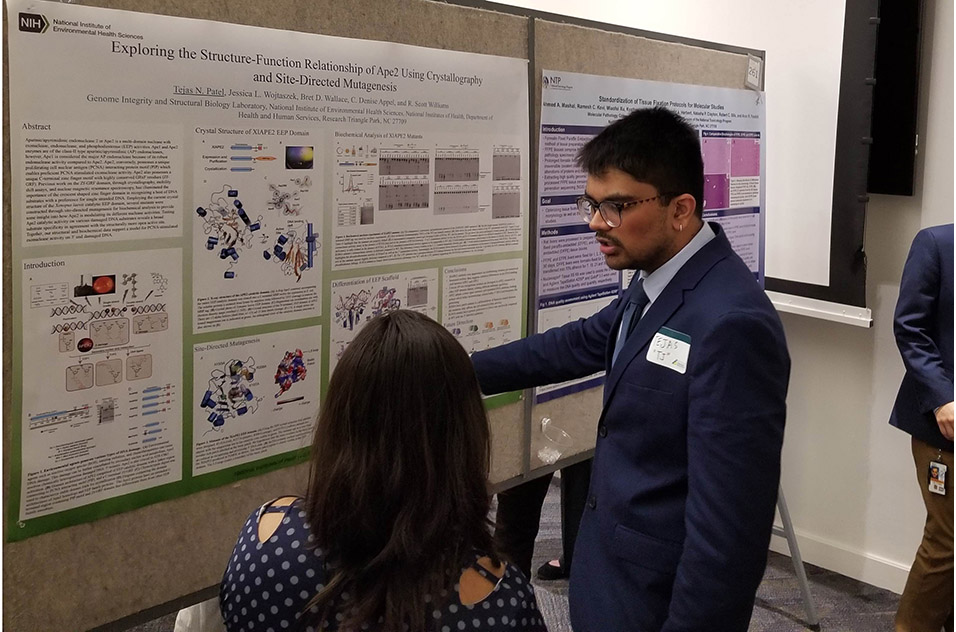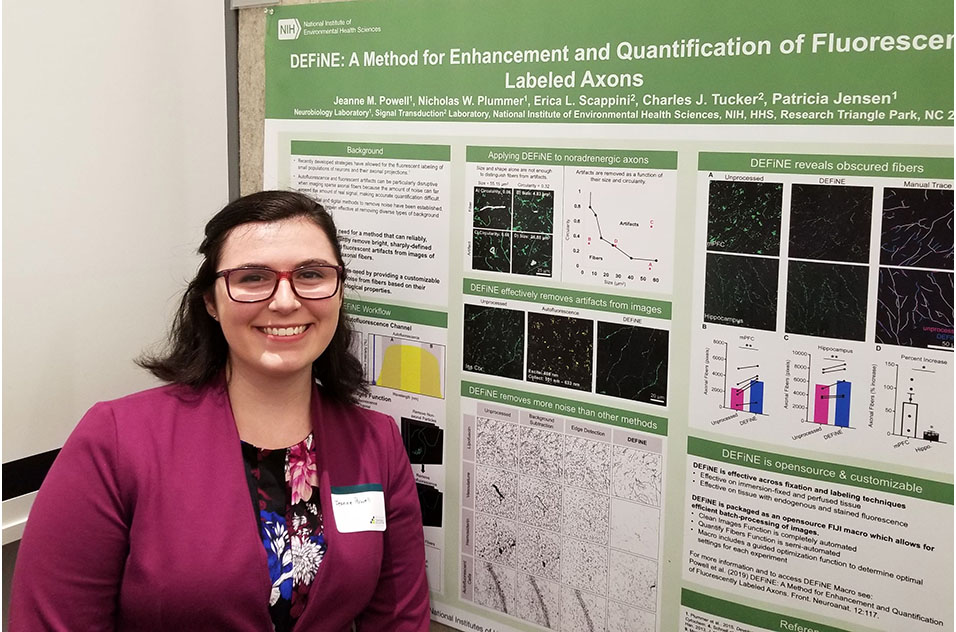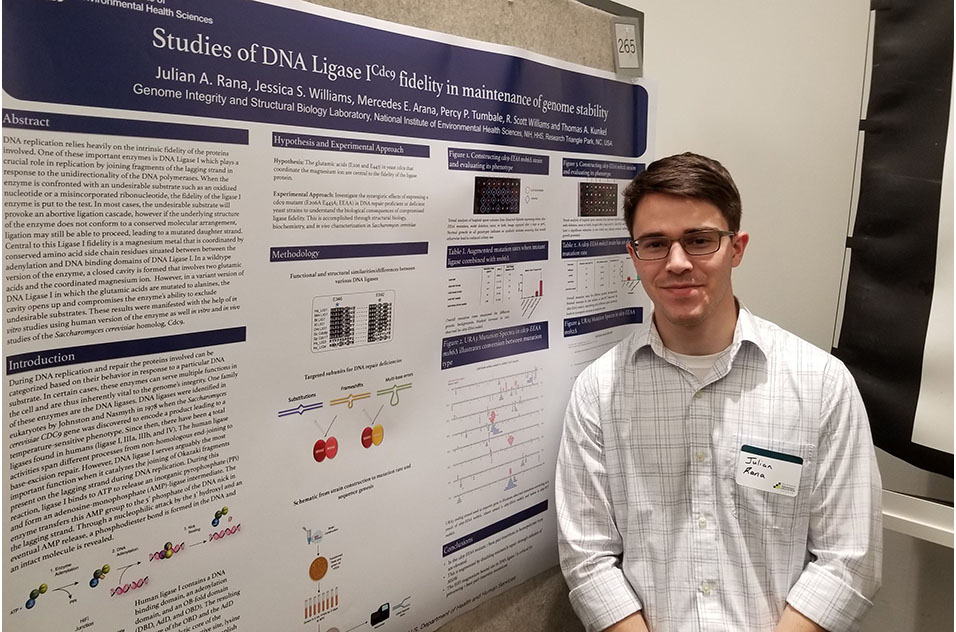 NIEHS Poster Presenters
Aidin Alejo Abdala, from the University of North Carolina at Chapel Hill (UNC) — "Immunophenotyping of Subjects with Different APOL1 Genotypes Using the NIEHS Environmental Polymorphisms Registry." Mentor: Michael Fessler, M.D.
Sierra Atwater, from UNC — "Interferon-induced GTPase Irgm1 Is Required for Efferocytic Clearance of Apoptotic Cells." Mentors: Fessler and Prashant Rai, Ph.D.
Whitney Bell, from Meredith College — "p53 Modulates the Expression of Host Restriction Factors to Reduce HIV-1 Replication." Mentor: Daniel Menendez Rendon, Ph.D.
Christine Bowen, from Appalachian State University — "Arsenic-induced Dysregulation of M1/M2 Responses of Microglia." Mentors: Christopher McPherson, Ph.D., and Jean Harry, Ph.D.
Lauren Carlson, from University of Pittsburgh — "The Effect of Body Fat on Pubertal Tempo in Healthy Girls." Mentor: Natalie Shaw, M.D.
Gabrielle Childers, from Virginia Polytechnic Institute and State University — "NLRP3 Inflammasome Activation: A Mode of Action Underlying Mitochondrial Toxicants." Mentor: Harry.
Harlie Cope, from North Carolina State University (NCSU) — "Effects of PFOA and GenX on Developmental Outcomes and Metabolism in CD-1 Mice." Mentor: Suzanne Fenton, Ph.D.
Ryan Day, from University of Florida — "Role of E. coli dGT Pase: Replication Fidelity or Antiviral Defense?" Mentor: Roel Schaaper, Ph.D.
Alyssa D'Oyen, from UNC and Case Western Reserve University — "A Review of Environmental Risk and Protective Factors for Immune-Mediated Diseases." Mentor: Frederick Miller, M.D., Ph.D.
Brian Elgart, from East Carolina University — "Purification of Plasma Circulating Cell-free DNA and Development of Molecular Assays for Clinical and Toxicology Studies." Mentor: Kevin Gerrish, Ph.D.
Olivia Emery, from Virginia Military Institute — "The Role of Transcription Factor SRF in Female Fertility and Uterine Fibrosis." Mentors: Francesco Demayo, Ph.D., and Steve Wu, Ph.D.
Camille Giacobone, from Kalamazoo College — "The Contribution of DNA Repair Defects to Genome-wide Human Somatic Mutation Load." Mentors: Natalie Saini, Ph.D., and Dmitry Gordenin, Ph.D.
Jacob Gordon, from Appalachian State University — "Regulation of the Essential Human Ribosomal RNA Processing Machinery, Las1L-Nol9." Mentor: Robin Stanley, Ph.D.
Prateek Gowda, from Johns Hopkins University — "Developing a Quantitative Computed Tomography Assessment Tool for Calcinosis in Myositis." Mentors: Adam Schiffenbauer, M.D., and Marcus Chen, M.D.
Tanner Jefferson, from NCSU — "ESR1-Q375H Mutant Mouse Made to Model a Clinical Case of Estrogen Insensitivity." Mentors: Kenneth Korach, Ph.D., and Yin Li, Ph.D.
Christopher Juberg, from NCSU — "In utero and Postnatal Offspring Exposure to 2,4,6-Tribromophenol after Oral (Gavage) Administration to Pregnant or Nursing Sprague-Dawley Rats." Mentor: Gabriel Knudsen, Ph.D.
Anna Kenan, from College of William & Mary — "Molecular Signature of the Estrous Cycle in Mice." Mentors: Carmen Williams, M.D., Ph.D., and Wendy Jefferson, Ph.D.
Susan Kim, from UNC — "Structural and Functional Consequences of SMCHD1 Mutations Associated with Arhinia and Muscular Dystrophy" Mentor: Shaw.
Hayley Lazar, from University of Connecticut — "Mutations in CHD4 Lead to Domain Dependent Reduction in ATP Hydrolysis and Nucleosome Remodeling." Mentors: Paul Wade, Ph.D., and John Roberts, Ph.D.
Helen Leka, from UCLA — "Caloric Restriction affects Metabolic and Stress Hormones Responses to Meals." Mentor: Janet Hall, M.D.
Ahmed Mashal, from NCSU — "Standardization of Tissue Fixation Protocols for Molecular Studies." Mentor: Arun Pandiri, Ph.D.
Tejas Patel, from Illinois State University — "Exploring the Structure-Function Relationship of Ape2 Using Crystallography and Site-directed Mutagenesis." Mentors: Scott Williams, Ph.D., and Jessica Wojtaszek, Ph.D.
Victoria Placentra, from UNC — "Comparative Analysis of Mutation Signatures of Different Oxidizing Agents in Yeast Single Strand DNA." Mentors: Paul Doetsch, Ph.D., and Natalya Degtyareva, Ph.D.
Jeanne Powell, from Cornell University — "DEFiNE: A Method for Enhancement and Quantification of Fluorescently Labeled Axons." Mentor: Patricia Jensen, Ph.D.
Julian Rana, from Drexel University — "Studies of DNA Ligase I Cdc9 Fidelity in Maintenance of Genome Stability." Mentor: Jessica Williams, Ph.D.
Alma Solis, from Northern Arizona University — "Microbiome Protects against Pulmonary Fibrosis Through TLR5 Activation." Mentor: Stavros Garantziotis, M.D.
Andrew Trexler, from UNC — "GenX Inhibits P-glycoprotein and Breast Cancer Resistance Protein at the Blood-Brain Barrier." Mentor: Ronald Cannon, Ph.D., and Linda Birnbaum, Ph.D.
Chizoba Umesi, from Duke University School of Medicine — "Multiple Sleep Dimensions and Kidney Dysfunction: Findings from the Multi-ethnic Study of Atherosclerosis." Mentor: Chandra Jackson, Ph.D.
Nancy Urbano, from St. Mary's University — "In Vitro High-throughput Screening of Chemical-induced Oxidative Stress Using HepaRG Cells." Mentor: William Gwinn, Ph.D.