During the July 17 Keystone Science Lecture, Kenneth Oldfield, principal investigator of the NIEHS grant to the Alabama Fire College (AFC), shared his experience operating a training program to help communities across the country respond to emergencies.
Through grants from the NIEHS Worker Training Program, AFC is able to provide training in hazardous materials emergency response, confined space rescue, and occupational safety and health topics to emergency and industrial responders, labor unions, and Native American tribes. AFC is one of 15 grantees who contributed to the 2023 NIEHS report"Building Capacity with American Indians and Alaska Natives to Handle Hazardous Materials and Respond to Emergencies."
Sharon Beard, director of the NIEHS Worker Training Program, lauded Oldfield and AFC as pioneers in the training arena.
"The AFC Workplace Safety Program has continued to offer outstanding hands-on training by developing site- and job-specific activities based on the needs of the community," Beard said. "Their mobile units and instructors travel to remote Native American communities and bring in all the resources and training apparatus needed for the exercises directly to the tribal areas."
Working with tribal communities
During his presentation, "Alabama Fire College Training to Build Response Capacity in Communities," Oldfield shared how three young Choctaw conservation officers began a journey in the late 1990s that would lead to training for more than 10,000 tribal members.
"It became clear to them while they were in class that there were other conservation officers often out in the woods, or in rural or completely undeveloped areas, who could encounter hazardous materials and waste, and they needed training to recognize and address the hazards," said Oldfield.
In meeting this need, AFC provided classes on hazardous materials (hazmat) classes to the Poarch Band of Creek Indians of Lower Alabama, which helped them prepare for Hurricane Ivan in 2004, and hurricanes Katrina and Rita in 2005. Because of the training over the years, the Poarch Tribe now has a full-time, 21-member fire department with hazmat capability, and their tribal land has been used as a staging area during federal response activities.
In the last three years, AFC has reached 44 tribes in 23 states.
"We have been able to bring the training on-site, often in remote locations where resources are really thin," said Oldfield. "In these small communities, there's no way they could pay to send their tribal members to form a team in another location."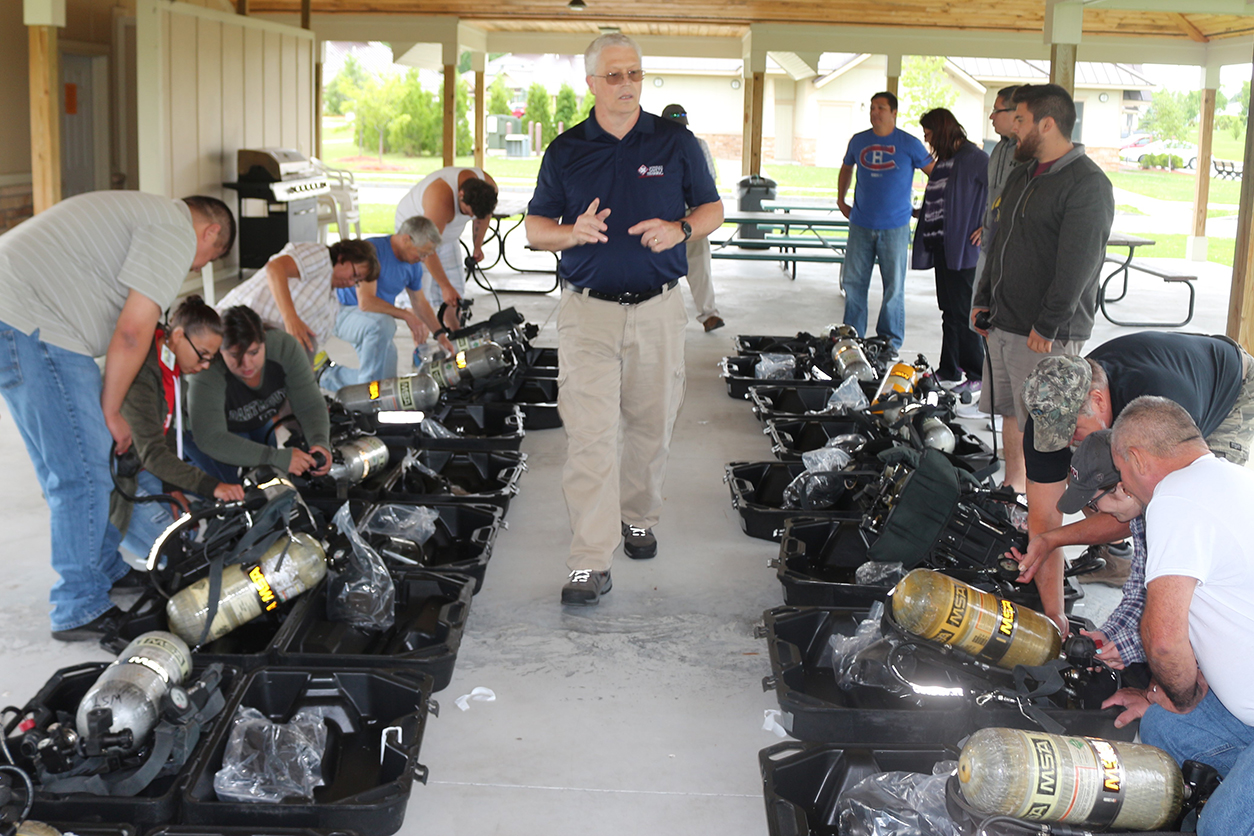 No classrooms needed
Oldfield elaborated on the two-pronged approach that works so well for AFC.
"We have been able to accumulate a great deal of hands-on props and equipment, so when we do a training course, we are able to not just hold up an example, we actually have people dressing out in all levels of personal protective equipment," said Oldfield. "The other part of what makes our program effective is we come on-site. We have no classroom space. Our whole model is to carry training to response agencies."
The model, according to Beard, is one that others can follow and helps to promote engagement around environmental justice and the Justice40 initiative.
(Erica Hinton is a contract writer for the NIEHS Office of Communications and Public Liaison.)