Though two decades have passed, environmental health scientist Kevin Lane, Ph.D., still vividly remembers his first research assignment: tracking air pollution exposures among workers in the trucking industry for a large occupational health study. During college, Lane assisted with data collection, traveling to shipping docks and observing what were at times abysmal work environments.
To stay warm on below-freezing nights, for example, some forklift drivers would wrap cardboard and cellophane around their vehicles' propane tanks, in an attempt to redirect lost heat into their cabs.
"They were drawing in exhaust and basically asphyxiating," Lane recalled. "Seeing conditions like that really hit home."
Through his work on the study — the largest, most comprehensive exposure assessment of trucking industry workers at the time — Lane saw the power of research to improve lives.
"It struck me that research could change national policy, as well as inform simple strategies to improve a person's life, like giving dock workers more breaks when it's cold," he said.
Visualizing air pollution
Driven by that early fieldwork experience, Lane pursued a master's degree in urban and environmental planning at Tufts University, followed by a doctoral degree in environmental health at Boston University (BU) and postdoctoral work as a Yale Climate and Energy Institute fellow.
Now an assistant professor at BU, Lane continues to study the effects of air pollution and the built environment on human health in the U.S., as well as abroad. Often his research entails using geographic information systems (GIS) and computer modeling to visualize relationships between populations and exposure data.
"I found a passion for geospatial analysis during my doctoral studies," Lane said. "I now push my students to find new applications in GIS, computer science and programming, and planetary sciences that we can use to improve health."
Ultrafine pollution near highways
Among his various activities, Lane contributes to the Community Assessment of Freeway Exposure and Health Study, or CAFEH, a project he first worked on as an NIEHS doctoral trainee.
Funded by NIEHS and led by Doug Brugge, Ph.D., of the University of Connecticut, CAFEH launched as a community-based, participatory research study. The original goal was to understand associations between highway pollution — specifically ultrafine particles — and cardiovascular health in Boston-area communities that have experienced environmental injustices.
Ultrafine particles are a byproduct of combustion and tend to concentrate in highly trafficked areas. Compared to larger particulate matter, ultrafine particles usually do not disperse from their source and therefore disproportionally affect people living near highways.
Growing evidence suggests that exposure to this microscopic matter may contribute to respiratory, neurological, and cardiovascular problems. For example, in 2016, Lane and colleagues published preliminary findings showing that exposure to ultrafine particles was linked to a biological marker for increased risk of cardiovascular disease. Subsequent CAFEH studies have also hinted at associations between ultrafine particle exposures and blood pressure changes, as well as hypertension and heart diseases.
More recently, Lane and teammates offered new considerations for metrics used in ultrafine particle exposure studies. Reporting in 2021, the team suggested that annual exposure to ultrafine particles might not reflect the cumulative effect of short, high-intensity exposures.
"Exposure is highly dependent on times of day and the environment you are in at any given time," Lane explained. "For example, some people who live next to a congested corridor may be working elsewhere during peak traffic times."
Lane is gratified to see CAFEH research informing local change. For example, CAFEH findings informed an updated master plan for Boston's Chinatown. In addition, input from CAFEH researchers and community partners encouraged developers of several buildings near highways to incorporate high-grade air filtration measures.
"In my eyes, CAFEH is as close to perfect as you can get for a community-based participatory research study," he said. "It was not about researchers descending upon communities with an idea. It was about working with them to formulate an idea from the start and integrating them throughout."
Aviation-related air pollution
Over the past few years, Lane has widened his focus from road traffic to air travel, with the aim of informing requirements set by the Federal Flight Administration (FAA) for aircraft compliance with federal air quality standards. At the start of the pandemic, he seized the opportunity to study what happens to air pollution when plane traffic essentially stops.
"We don't have a great understanding of how many ultrafine particles are coming from planes in flight, planes on the ground, and the traffic that comes from the airport," he explained. "This was a once-in-lifetime event where we literally saw a drop-off to almost zero in aviation activity occurring at some points on certain days."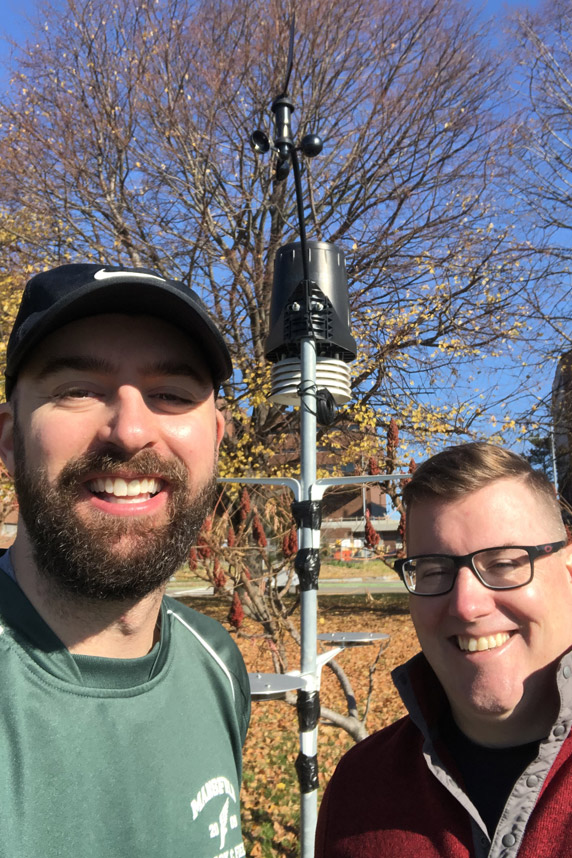 With FFA funding, Lane, BU doctoral student Sean Mueller, and colleagues measured changes in ultrafine particle concentrations at sites near Boston's Logan Airport during early and later stages of the pandemic and compared them to pre-pandemic levels.
In 2022, they showed that ultrafine particle numbers precipitously declined in the first few months of the crisis. As road traffic resumed, monthly ultrafine particle levels returned to pre-pandemic averages. However, at specific sites located downwind from the airport, particle counts remained lower than average until aviation picked up again, suggesting that planes uniquely contribute to ultrafine particle pollution in certain geographic locations, according to the authors.
Lane's team is now crunching reams of data to see how different aspects of air travel, such as arrivals and departures, contribute to ultrafine particle pollution.
"Our ultimate goal is to create an ultrafine particle model of the area, so we can run health studies to understand the impact of exposure to aviation-related ultrafine particles in the greater Boston community," he explained.
The runway ahead reminds Lane of the route he took to get here, and the people who encouraged him along the way.
"I think where I am today is a product of the mentors, like Doug Brugge and Madeleine Scammell, of Boston University, who believed in me," he said. "I want to give research assistants and doctoral students the same opportunities that were given me. We need to cultivate them — they are our future innovators."
(Julie Leibach is a contractor for the NIEHS Division of Extramural Research and Training.)