The 9th annual NIEHS Women's Health Awareness (WHA) conference provided women in Durham, North Carolina, and surrounding counties with critical information and resources on issues ranging from environmental justice and mental health to breast cancer and rheumatoid arthritis. Held at North Carolina Central University and broadcast online to satellite locations across the the state, the April 15 event featured 32 talks by leading researchers and women's health advocates. Attendees also received free on-site screenings and participated in healthy living sessions related to diabetes, cardiovascular health, glaucoma, and more.
Promoting healthy bodies, minds, homes, and communities
"What a blessing it is to be here today," said Joan Packenham, Ph.D., director of the NIEHS Office of Human Research and Community Engagement, and the WHA Program. "During the last three years, we faced the largest global health challenge of our lifetime, the COVID-19 pandemic. It has been a long, bumpy road, and we all come back differently today than when we left the last in-person Women's Health Awareness conference in 2019. The pandemic taught me just how fragile life is, and it showed how women and communities of color are experiencing major challenges related to our health, comorbidities, and community environments." 
"Today, we come together with renewed spirit as we seek healthy bodies, healthy minds, healthy homes, and healthy communities," Packenham told attendees. "The Women's Health Awareness steering committee has worked diligently for more than a year to design this conference, which will help to address your health needs and provide you with access to important health screenings, resources, and information. We have a distinguished group of faculty and health care providers presenting on physical, mental, and environmental health topics relevant to you, and we are confident you will find the perfect session that suits your individual health goals."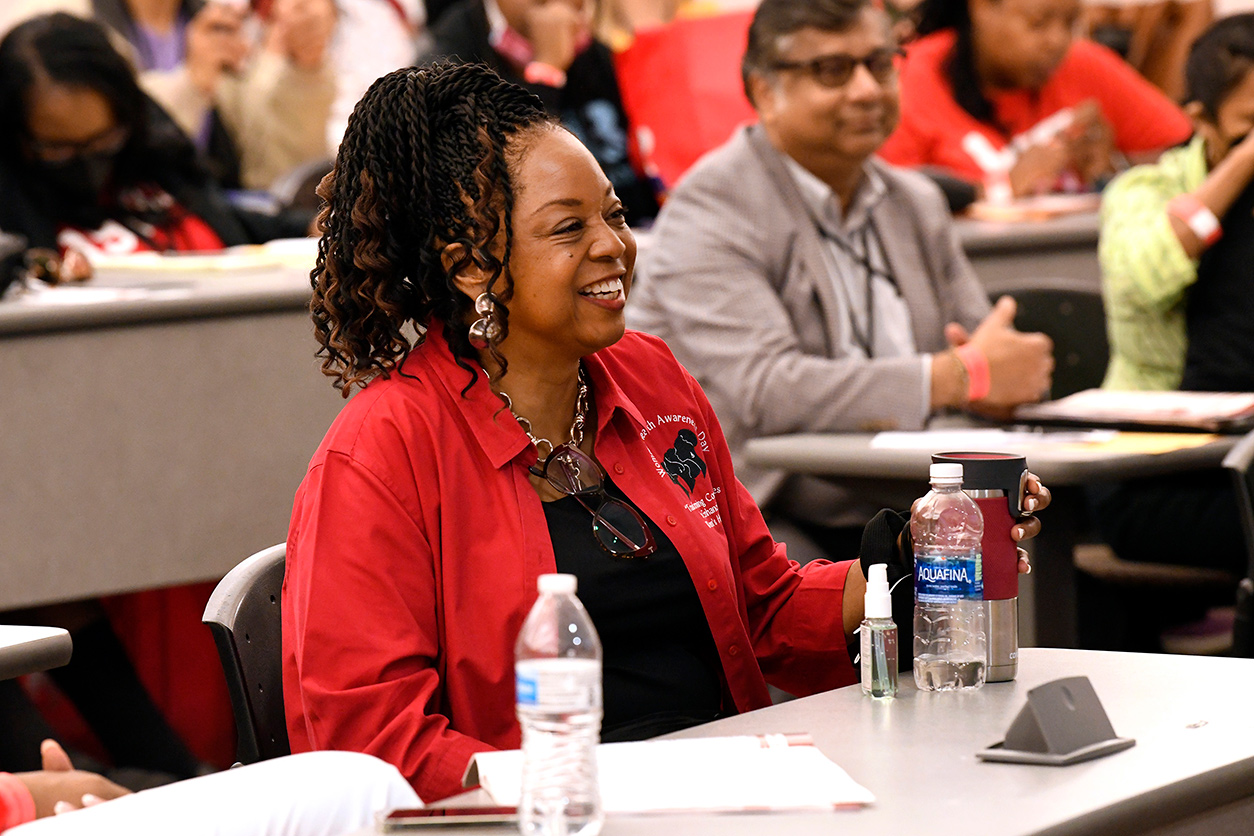 NIEHS was the lead sponsor for the event, and co-sponsors included the Durham Alumnae Chapter of Delta Sigma Theta Sorority Inc., Durham Alumnae Delta House Inc., and the North Carolina Central University Department of Public Health Education.
"It is truly a pleasure to be here," said NIEHS Deputy Director Trevor Archer, Ph.D. "Our institute is proud to be the lead sponsor of this event, and we are excited to engage with the community and provide participants with critical health information and resources. We are committed to advancing environmental health and environmental justice, and to addressing inequities in our society. Through Women's Health Awareness conferences, which Dr. Packenham started nine years ago, we make progress in those areas because we can reach underserved populations and improve the lives of women in meaningful ways."
Environmental justice advanced by women
Robert Bullard, Ph.D., an NIEHS grant recipient who is known as the father of environmental justice, delivered the keynote address. He shared insights from his career as a research scholar and activist, which spans more than four decades and covers topics ranging from hazardous waste dumping near low-income neighborhoods to how climate change can affect underserved communities. Bullard is a distinguished professor at Texas Southern University.
He noted that for decades, women of color have played pivotal roles in studying environmental justice issues and championing real-world solutions. One example he shared involved a low-income community in Pensacola, Florida, that experienced significant exposure to dioxins and other harmful chemicals due to pollution from nearby factories. In the 1990s, Margaret Williams, a retired teacher who was "as tough as nails," noted Bullard, led a group called Citizens Against Toxic Exposure. She spearheaded efforts with the U.S. Environmental Protection Agency and others to have community members relocated and made whole.
Bullard encouraged attendees to follow in the footsteps of individuals like Williams and understand health disparities in their communities, participate on local health boards, and find opportunities to educate students about both science and environmental justice issues.
"I met Dr. Bullard in 1994, when I was a graduate student attending the historic ' Symposium on Health Research and Needs to Ensure Environmental Justice Recommendations,'" said Sharon Beard, director of the NIEHS Worker Training Program (WTP). "I had read several of his books and was in awe when I met him, and I am proud that we have been able to collaborate over the years. In fact, he is now a WTP grantee and helps to run our Historically Black Colleges and Universities Consortium, which provides hazardous waste training and environmental job training across the country."
(Please see the sidebar to learn about other conference sessions that covered issues related to environmental justice.)
Understanding alcohol's effects, coping with grief, and more
Deidra Roach, M.D., from the National Institute on Alcohol Abuse and Alcoholism (NIAAA), presented "NIAAA Science Spotlight: Findings from Current Research on Alcohol Use Among Women." Among other key statistics, she noted that the prevalence of drinking among women aged 65 years and older is increasing, and such alcohol use can influence depression, sleeping problems, poor appetite, and heart failure, and lead to frequent falls. Roach pointed out that stigma surrounding alcohol use may be a critical barrier to diagnosis and treatments, such as mindfulness-based therapies and counseling. Packenham chaired the session.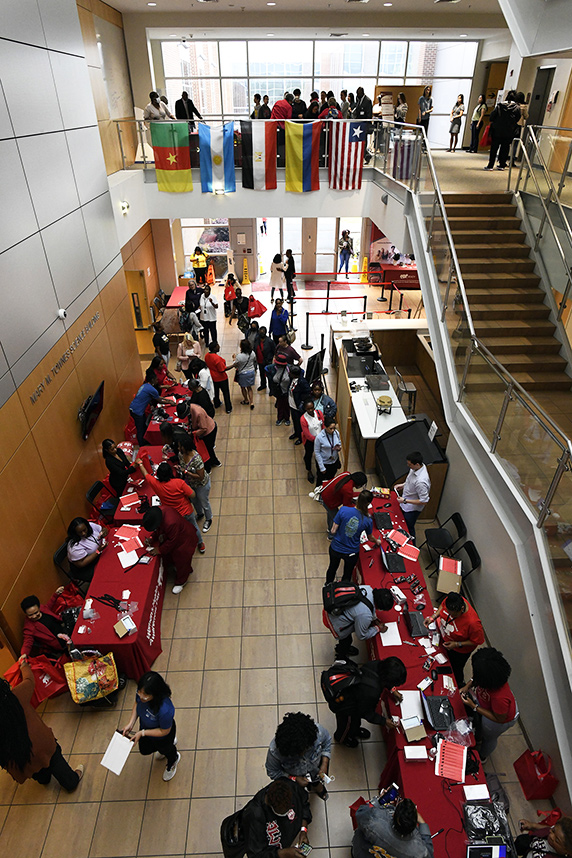 Nnenna Freelon, a six-time Grammy-nominated jazz vocalist who is also a composer, actress, and author, shared her personal story of grief and how she developed helpful coping strategies. In 2019, her husband passed away from amyotrophic lateral sclerosis, and then her sister died just six months later. Freelon inspired attendees with thoughtful and poetic reflections on love, loss, and grief, occasionally breaking into song to drive home her message.
Other sessions covered topics such as rheumatoid arthritis, obesity, brain health, breast cancer, heart disease, and maternal health. Expert speakers shared the latest science on those subjects and provided attendees with practical advice on how to improve their well-being.
In addition, the conference marked the 1st annual WHA Middle School Climate Change Challenge. The initiative encourages students to address climate change in their communities, understand its health impacts, and develop community-driven solutions through scientific inquiry. The first-place winners were sixth and seventh grade students from Neuse River Middle School in Raleigh, North Carolina. They presented their winning project, which was titled "The Insecticidal Property of Dandelion Roots on Fire Ants and Carpenter Ants." The students were joined by their science teachers, Marites De Luna and Nikki Upchurch.
Also, conference attendees were encouraged to participate in the NIEHS Community Resiliency, Environmental Action, and Collaborations for Health (REACH) Equity Study. The REACH Study, led by Packenham, aims to increase knowledge about the long-term effects of COVID-19 on minority women and their families. The study will help to inform the development of community-based programs that improve recovery and boost health resiliency, she noted.
(Jesse Saffron, J.D., is Deputy Director of the NIEHS Office of Communications and Public Liaison.)