Three experts from the academic and private sectors presented emerging technologies that could provide biologically relevant alternatives to animal testing at a Jan. 30 webinar organized by the National Toxicology Program Interagency Center for the Evaluation of Alternative Toxicological Methods (NICEATM).
Most regulations that require data from chemical safety tests are designed to protect humans. Testing models such as cultured cells, organs on chips, and fish embryos can reduce and potentially replace the use of rodents and other mammals for chemical safety testing.
Such methods, referred to as "new approach methodologies" or NAMs, are often evaluated by comparing them to animal tests on the same chemicals. However, the usefulness of this approach is limited, especially when the animal results are variable, or the animal model does not adequately represent human biology. The speakers at the recent webinar discussed approaches to evaluating methods that are more relevant to humans and avoid the drawback of comparisons to animal tests.
Predicting drug-induced liver injury
Lorna Ewart, Ph.D., from the Boston-based biotech Emulate Inc., discussed how the company has developed human liver models to predict whether new drugs could induce liver damage. She explained that drug-induced liver injury is a major issue in drug development.
"Over the last twelve months six high-profile examples involving well-known companies saw drug-induced liver injury present a problem either in terms of stopping clinical trial, or in one case causing fatalities," Ewart said.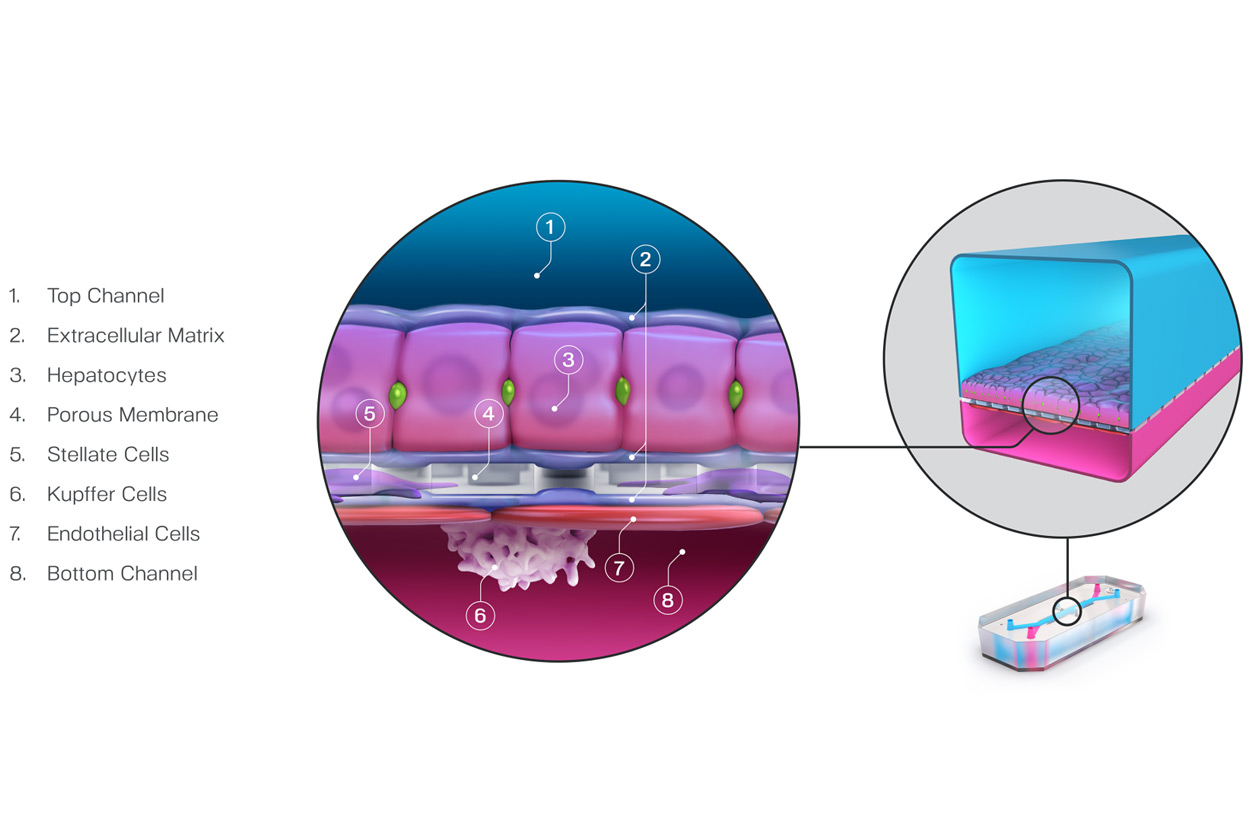 Emulate's Liver-Chip, a technology that mimics the behavior of human liver cells, was used to evaluate the toxicity of 27 different drugs. The Liver-Chip succeeded in differentiating the toxic drugs from the nontoxic drugs, as compared to clinical trial outcomes. Importantly, the Liver-Chip improved upon the performance of other human cell-based models that incorrectly identified nontoxic drugs as toxic.
Simulating human metabolism
Approaches like Emulate's Liver-Chip can be combined with other models to simulate how chemicals can be absorbed, distributed, and metabolized by multiple organs, according to James McKim, Ph.D., from the Virginia-based biotech company IONTOX/LifeNet Health Life Sciences. IONTOX connects models of intestine, liver, kidney, and lung with a simulated blood flow system to provide a more complete picture of what happens to a chemical once it enters the body.
McKim described studies conducted with the U.S. Food and Drug Administration (FDA) in which the three-organ model was used to study acrylamide, a chemical that can form in some foods during frying, roasting, or baking.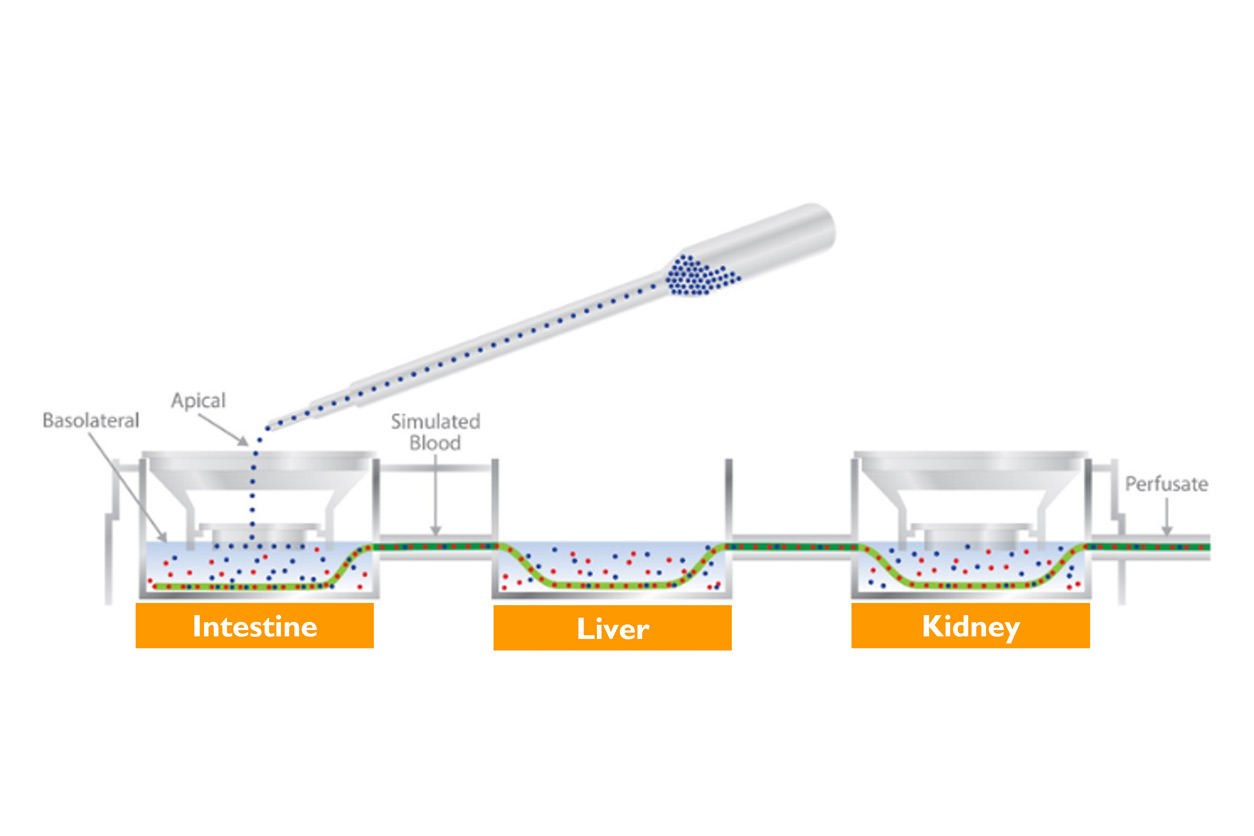 "We're using clinical markers, showing toxicity primarily in the liver and kidney, and that observation is consistent with what's happening both in animals and humans," he said.
Assessing developmental neurotoxicity
A different type of model was described by Tamara Tal, Ph.D., from the German research institute Helmholtz-Centre for Environmental Research UFZ. Tal and her colleagues are investigating the use of zebrafish embryos for toxicity testing. Their specific focus is developmental neurotoxicity, which is the potential for chemicals to damage the nervous systems of growing babies and children.
"The zebrafish represents a really great alternative system to increase the number of chemicals that have been assessed for their potential to harm the developing nervous system," Tal said. Her group has developed procedures to use zebrafish embryos to evaluate chemical effects on motor activity, sensory function, learning, and memory.
To link the effects observed in zebrafish to what might happen in humans, Tal and colleagues examined the biochemical pathways relevant to developmental neurotoxicity using both chemical treatment and gene editing. These comparisons can increase confidence that the findings from zebrafish are relevant to humans.
The webinar concluded with a question-and-answer session for the presenters. Some of the questions from the over 400 attendees focused on technical details about the models, their experiences with testing mixtures, and how the models might be able to simulate variation in human populations.
Slides and video from the webinar are available on the NTP website.
Citation: Ewart L, Apostolou A, Briggs SA, Carman CV, Chaff JT, Heng AR, Jadalannagari S, Janardhanan J, Jang K-J, Joshipura SR, Kadam MM, Kanellias M, Kujala VJ, Kulkarni G, Le CY, Lucchesi C, Manatakis DV, Maniar KK, Quinn ME, Ravan JS, Rizos AC, Sauld JFK, Sliz JD, Tein-Street W, Trinidad DR, Velez J, Wendell M, Irrechukwu O, Mahalingaiah PK, Ingber DE, Scannell JW, Levner D. 2022. Performance assessment and economic analysis of a human Liver-Chip for predictive toxicology. Commun Med (London) 2(1):154.
(Catherine Sprankle is a communications specialist for Inotiv, the contractor supporting NICEATM.)