On June 30, investigators, fellows, staff, and administrators gathered in the courtyard outside the NIEHS cafeteria to celebrate the last day of Pride Month.
The informal, outdoor reception was the first of its kind and part of a larger effort to create a network of support within and outside the LGBTQI+ community. The acronym stands for lesbian, gay, bisexual, transgender, transsexual, queer and/or questioning, intersex, and other.
"We must demonstrate to our colleagues — and most importantly the next generation of scientists working at our institute — that we are fostering a friendly environment where there is no need to hide," said Carlos Guardia, Ph.D., head of the NIEHS Placental Cell Biology Group and organizer of the event.
"During Pride month, everyone has the opportunity to show that it's okay to bring to work the experiences that have molded our lives and that challenges LGBTQI+ people usually face, because they are not part of the majority, are just as valid as anyone else's."
"Together Toward Discovery"
Pride Month is an annual celebration that recognizes the 1969 Stonewall Uprising as a tipping point for acknowledging the LGBTQI+ community's challenges and contributions throughout history.
For the National Institutes of Health, this year's Pride Month theme was "Together Toward Discovery."
NIEHS Director Rick Woychik, Ph.D., said that the June 30 celebration demonstrated the institute's commitment to the principles of equity, diversity, inclusion, and accessibility in the workplace.
"These kinds of gatherings provide the opportunity for NIEHS staff to come together, support their colleagues, share stories, and have fun while doing so," he noted.
"Exposure to a more diverse view of the workplace may enhance the sense of belonging at the institute, as well as the willingness to listen to other voices and opinions," said Guardia.
The event garnered an outpouring of support even among those who were unable to attend, leading Guardia to believe it could become an annual tradition.
"Even though we began a little late this year, we are now a diverse group of several NIEHS members who are planning events for next year's Pride month and throughout the rest of the year," he said. "Being proud of who you are shouldn't be a one-month celebration."
(Marla Broadfoot, Ph.D., is a contract writer for the NIEHS Office of Communications and Public Liaison.)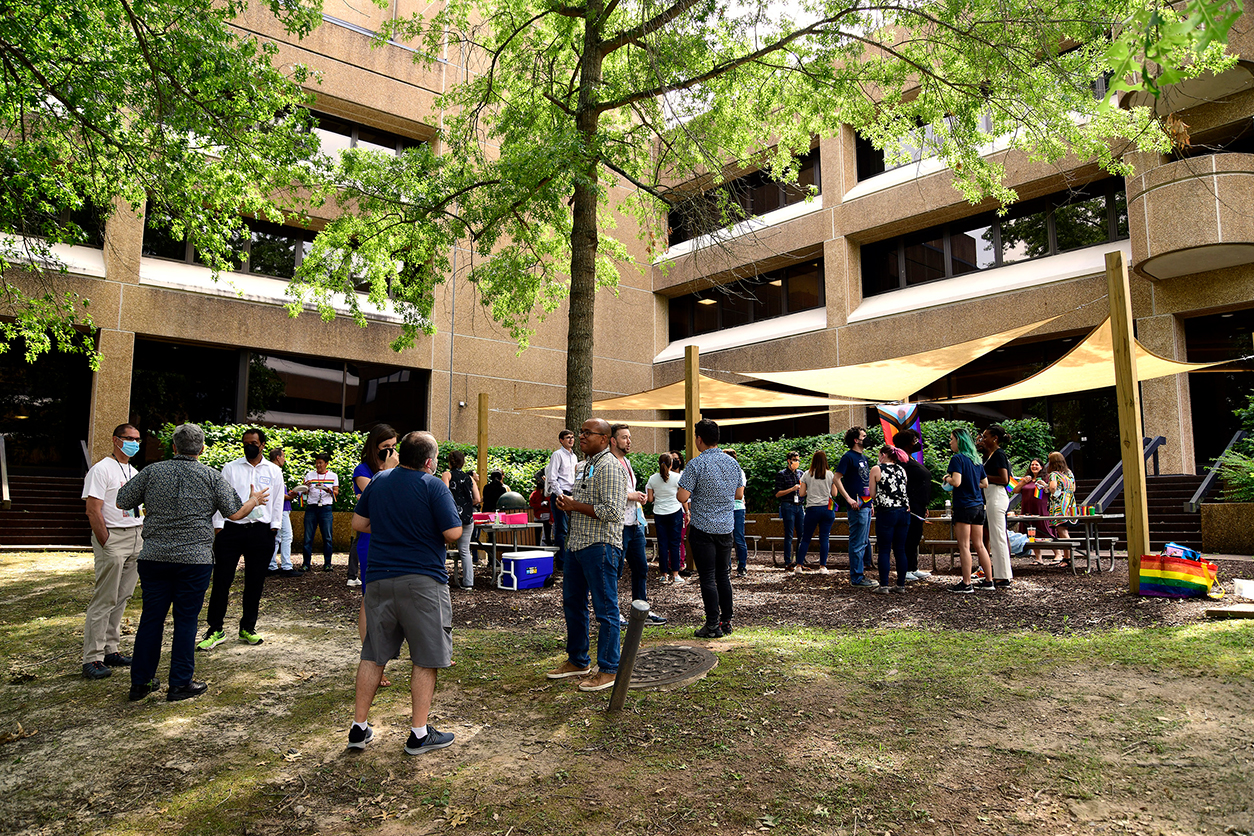 Attendees enjoyed conversation and refreshments. (Photo courtesy of Steve McCaw / NIEHS)