A new online educational resource invites high school students to examine ways that humans are exposed to arsenic and how exposure might influence susceptibility to COVID-19 infection. The tool was developed by the NIEHS Superfund Research Program (SRP) Center at the University of North Carolina at Chapel Hill (UNC).
The resource incorporates two sets of interactive Google slides inspired by current research projects, offering students a window into science unfolding in real time.
"I'm always interested in taking the science emerging from SRP researchers and figuring out how to bring it into K-12 classrooms," said co-author Dana Haine, a science educator with the UNC SRP Center's Community Engagement Core. "We designed this 'Digital Interactive Notebook' to be used for either virtual or in-person learning environments. A bonus is that we can update the slides as the research evolves."
Arsenic naturally occurs in air, water, and soil in amounts that vary locally. Inhaling or ingesting high levels of inorganic arsenic can lead to severe health problems, including lung, bladder, kidney, and liver cancers. Exposure to metals such as inorganic arsenic can also impair the respiratory immune system and increase the likelihood of respiratory infections.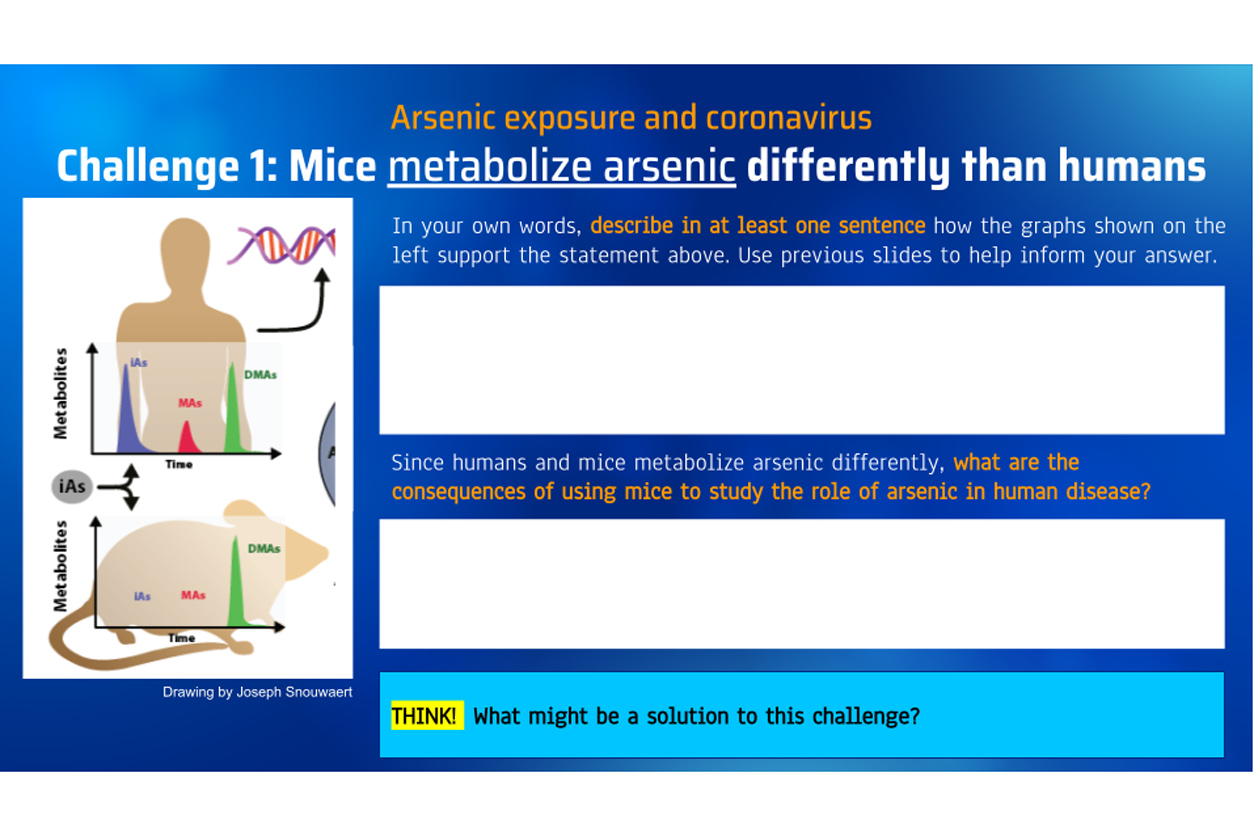 This slide from the Digital Interactive Notebook includes a series of prompts that invite students to consider an experimental design to test relationships between arsenic exposure and COVID-19 infection. (Image courtesy of UNC SRP)
Drawing on current research
Part 1 of the notebook focuses on the chemistry of arsenic and sources of human exposure. A primary conduit is drinking water, particularly from groundwater sources like wells. Of 3 million North Carolinians who rely on private wells, more than an estimated 75,000 are exposed to inorganic arsenic levels above the standard set by the U.S. Environmental Protection Agency.
For expertise, the authors turned to Owen Duckworth, Ph.D., a researcher based at North Carolina State University who leads a project at the UNC SRP Center. Duckworth's team is studying how arsenic leaches from rock and sediment into groundwater to inform future well placement and intervention strategies for contaminated sites. Using the digital notebook, students can experiment with mapping tools, build molecular models, and interpret water quality data.
Part 2 presents biology and biotechnology concepts in a familiar context — the COVID-19 pandemic. Specifically, the authors highlight research led by Fernando Pardo-Manuel de Villena, Ph.D.(https://tools.niehs.nih.gov/srp/people/details.cfm?person_id=46612), that investigates how exposure to inorganic arsenic affects the likelihood of coronavirus infection and severity of the disease.
The team is using a new strain of mice recently developed by UNC SRP Center colleagues that mimics the way humans metabolize arsenic. After administering drinking water containing inorganic arsenic to the mice, the researchers expose them to a mouse-adapted coronavirus and track the course of infection.
"These mice are changing how we can study the effects of arsenic exposure on people's health," said co-author Sarah Yelton, research translation coordinator for the center.
The notebook enables students to build DNA models and interpret graphs of predicted and actual results from real experimental data.
A team effort
To develop the tool, Haine and Yelton collaborated with James Xenakis, Ph.D., an SRP trainee in Pardo-Manuel de Villena's lab, and two local high school science teachers — Linda Dion of Holly Springs High School and Monica Strada of Research Triangle High School.
Partnering with teachers ensured that the resource aligned with curriculum standards and included features that would promote teacher adoption and support student learning, Haine noted. Although the lessons are most suitable for advanced high school science courses, teachers can remove and add slides for a customized experience.
Dion and Strada have shared the notebook at educator conferences, spurring new collaborations. For example, the project leaders of All About Arsenic, a citizen science collaboration with the Dartmouth College SRP Center and Mount Desert Island Biological Laboratory, are creating a similar resource tailored to their program.
In addition, the UNC SRP Center plans to launch a similar citizen science project with high schools in North Carolina, using the digital interactive notebook as a core educational resource.
Haine said she is gratified to see the project reach new audiences. "It's wonderful that our notebook has been an inspiration to other programs in other parts of the country that are also dealing with arsenic contamination."
(Julie Leibach is a senior science writer at MDB Inc., a contractor for the NIEHS Superfund Research Program.)