Biden administration officials, members of Congress, and dozens of environmental justice advocates convened online April 8 for a day-long event called the BIPOC [Black, Indigenous, and people of color] Climate Justice Dialogue. This look at climate justice, or the unequal impacts climate change has on different populations, is part of our monthly series on racial equity.
The symposium focused on the environmental health and justice agenda emerging from the new administration. "Climate health and equity is very dynamic right now within the federal government," said NIEHS Senior Advisor for Public Health John Balbus, M.D., one of the presenters. "We're all in listening mode."
Felicia Davis, founder of the HBCU Green Fund, a sponsor of the event, said the framework for the dialogue was the Justice40 Initiative, set forth in President Joe Biden's Jan. 27 Executive Order on Tackling the Climate Crisis at Home and Abroad (Executive Order 14008). The order calls for 40% of the benefits of climate change spending to flow to disadvantaged communities.
"Environmental injustice means the communities that contributed the least to climate change are often the most impacted," said John Kerry, J.D., U.S. special presidential envoy for climate, in a videotaped segment. "We know that by advancing environmental justice, we can make great strides in advancing racial justice, health justice, and economic justice."
Pandemic exploits vulnerabilities
Balbus described the National Institutes of Health (NIH) stand against structural racism in biomedical research. "NIH is expanding efforts to end structural racism through its UNITE initiative to identify and address structural racism within NIH and the greater scientific community," he said. A new research funding opportunity addresses the impact of structural racism on minority health and health disparities.
Balbus then turned to NIEHS's leadership in environmental health disparities and justice research. The COVID-19 pandemic in particular, he said, had further exposed the vulnerability of at-risk communities.
Shalanda Baker, J.D., deputy director for energy justice and secretary's advisor on equity for the Department of Energy, shared an example. A study from the Harvard T.H. Chan School of Public Health showed that people of color infected by the SARS-CoV-2 virus were less likely to survive the coronavirus pandemic.
"Long before the pandemic and the events of the last year, we knew that Black and brown people were more likely to live in the shadows of fossil fuel generation and toxic facilities," she said.
Community, worker partnerships
Partnerships with at-risk communities, Balbus said, are central to the NIEHS commitment to better understand and reduce the effects of structural health disparities. "Every research center we fund is required to have a community engagement core," he said.
The NIEHS Partnerships for Environmental Public Health brings together community-university projects that work with local residents to collect data others can use to answer research questions and inform public health decisions.
"NIEHS has a long history of working in inner cities," said Balbus. "Communities on the fence lines of factories are on the front lines of climate justice research."
He also mentioned the NIEHS Worker Training Program (WTP), which in 2015 published the Climate Change Vulnerability Assessment . Earlier this year, WTP conducted a series of environmental justice, natural disaster, and COVID-19(https://tools.niehs.nih.gov/wetp/events.cfm?id=2616) town hall meetings. The program also offers tools for disaster preparedness and response(https://tools.niehs.nih.gov/wetp/?id=556) worker training.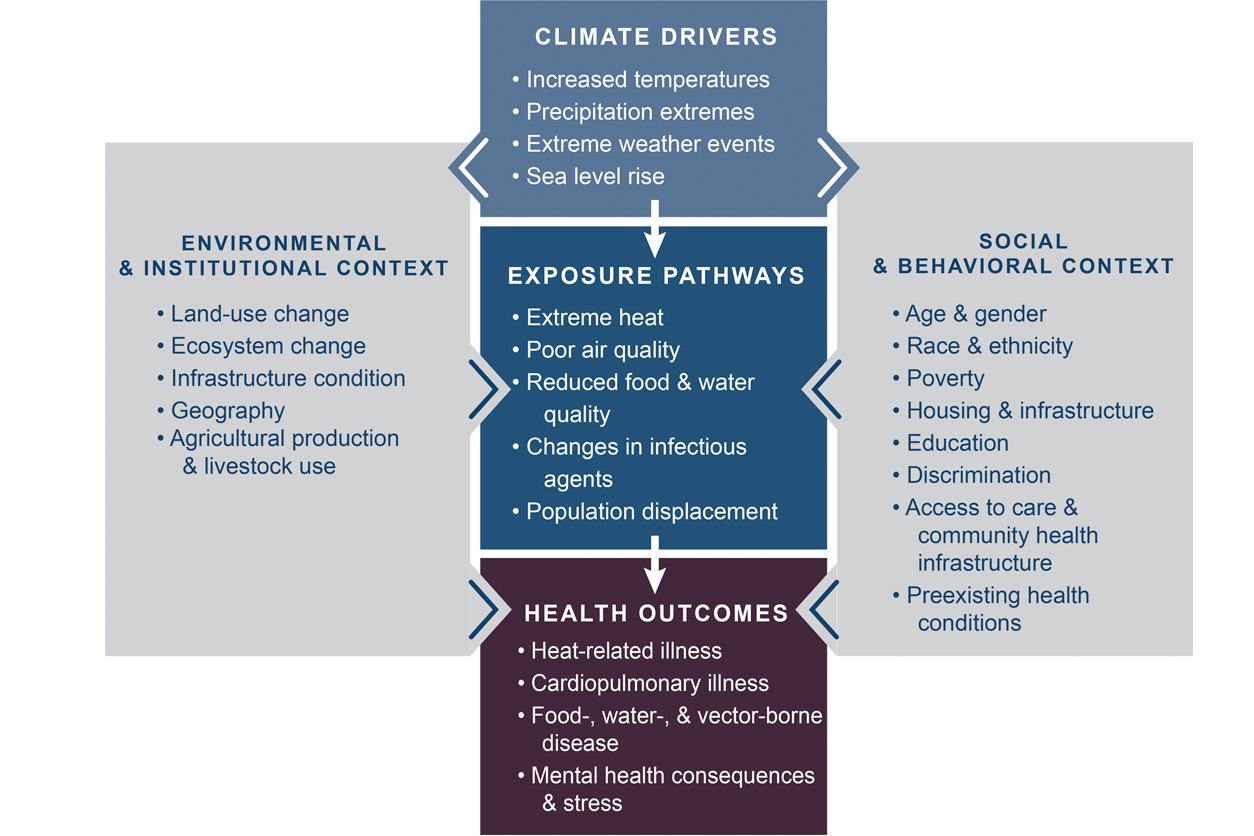 Indigenous knowledge
The same ethos extends to NIEHS work with Native American communities. "I see a lot more sensitivity to traditional Indigenous health understanding and commitment to programs engaging Native American communities," Balbus said.
Tara Zhaabowekwe Houska, J.D., founder of the GINIW Collective and member of Couchiching First Nation emphasized the contributions of Native American communities. "Indigenous people have something to offer when it comes to how do we address the climate crisis, but we are often absent from these tables," she said.
Building an evidence base
Executive Order 14008 calls for monitoring and providing real-time data to the public on environmental pollution in places with the most significant exposures and health disparities.
NIEHS programs help supply such data. "We're building the data sets, the evidence base aligned with disparities," said Balbus. "This includes the Disaster Research Response program and other tools, including disaster preparedness." NIEHS also offers a searchable database of scientific literature on health effects of climate change(https://tools.niehs.nih.gov/cchhl/).
Proposed legislation will establish an interagency Environmental Justice Mapping Committee, according to Sen. Ed Markey, D-Mass. "We cannot measure change without data," he said.
Citation: Wu X, Nethery RC, Sabath MB, Braun D, Dominici F. 2020. Air pollution and COVID-19 mortality in the United States: strengths and limitations of an ecological regression analysis. Sci Adv 6(45):eabd4049.
(John Yewell is a contract writer for the NIEHS Office of Communications and Public Liaison.)