In December 1983, Robert London, Ph.D., joined NIEHS to head a research group that specialized in nuclear magnetic resonance (NMR) spectroscopy, a technique that uncovers details about the structure and function of a molecule using a magnetic field. After decades of mentoring young scientists and making significant discoveries in biomedicine, London is planning to retire early next year.
To celebrate London's career and contributions to science, Geoff Mueller, Ph.D., a staff scientist in London's group, organized a May 28 symposium that featured former lab mates and collaborators. The speakers talked about the research London helped inspire and shared fond memories of their interactions with him (see sidebar).
'Bob was interested in everything from physiology to molecular studies of protein structures to HIV,' Mueller said. 'That's why I invited a diverse group of researchers.'
Biomedicine and memory lane
The first speaker was Elizabeth Murphy, Ph.D., a senior scientist at the National Heart, Lung, and Blood Institute. Affectionally known as 'Tish,' she and London met in May 1984 when he invited her to join his group as a postdoctoral fellow. When London and Murphy talked about a scientific problem they could solve together, they decided to tackle a major controversy at the time, which was whether an increase in calcium was important in triggering cell death. Some data suggested calcium channel blockers protected the heart from cell injury, whereas other work indicated cell death was not due to an increase in calcium.
Using NMR to study cellular ions, or charged atoms or molecules, they determined that calcium does have a role in causing damage to the heart when the cells are depleted of oxygen. The finding has been important in developing strategies for lessening the damage.
'Bob, the physicist, Louis Levy, the chemist, and I collaborated to do some measurements of ion changes in hearts using NMR,' Murphy said. 'It was a wonderful journey of discovery.'
The rest of the morning's speakers included former postdocs Matt Cuneo, Ph.D., associate scientist at St. Jude Children's Research Hospital and Barry Selinsky, Ph.D., Associate Dean for Research and Faculty Development and professor of chemistry at Villanova University. Natalie Gassman, Ph.D., was a member of another NIEHS group when she and London first crossed paths in the cafeteria. London asked Gassman how DNA repair proteins reached the nucleus, and her response prompted London to invite her to present the information to his group. A productive collaboration soon followed.
Sputnik sparks STEM
London said when the former Soviet Union launched Sputnik 1, the world's first artificial satellite, on October 4, 1957, he and many young people his age were encouraged to pursue their interests in the natural sciences and related fields. He graduated with a physics degree in 1967 from Brooklyn College and obtained a doctorate in biophysics in 1973 from the University of Illinois.
The same month he graduated from Illinois, London found an exciting postdoc opportunity at Los Alamos National Laboratory in a program that was involved in the enrichment of rare, stable isotopes of carbon, nitrogen, and oxygen. In contrast to the more common isotope forms, the rare isotopes possess nuclear spin and can be studied by NMR spectroscopy. Working on one of the first Fourier transform NMR spectrometers in the world, the Los Alamos group demonstrated the utility of stable isotope labeling for structural, metabolic, and biomedical applications.
At NIEHS, London's studies have focused on molecules that orchestrate DNA repair activities, HIV reverse transcriptase, and major allergens. To identify how these molecules function, he has also worked on developing NMR methods that evaluate how ligands, or binding partners, interact with macromolecules, such as the inter-ligand Overhauser effect.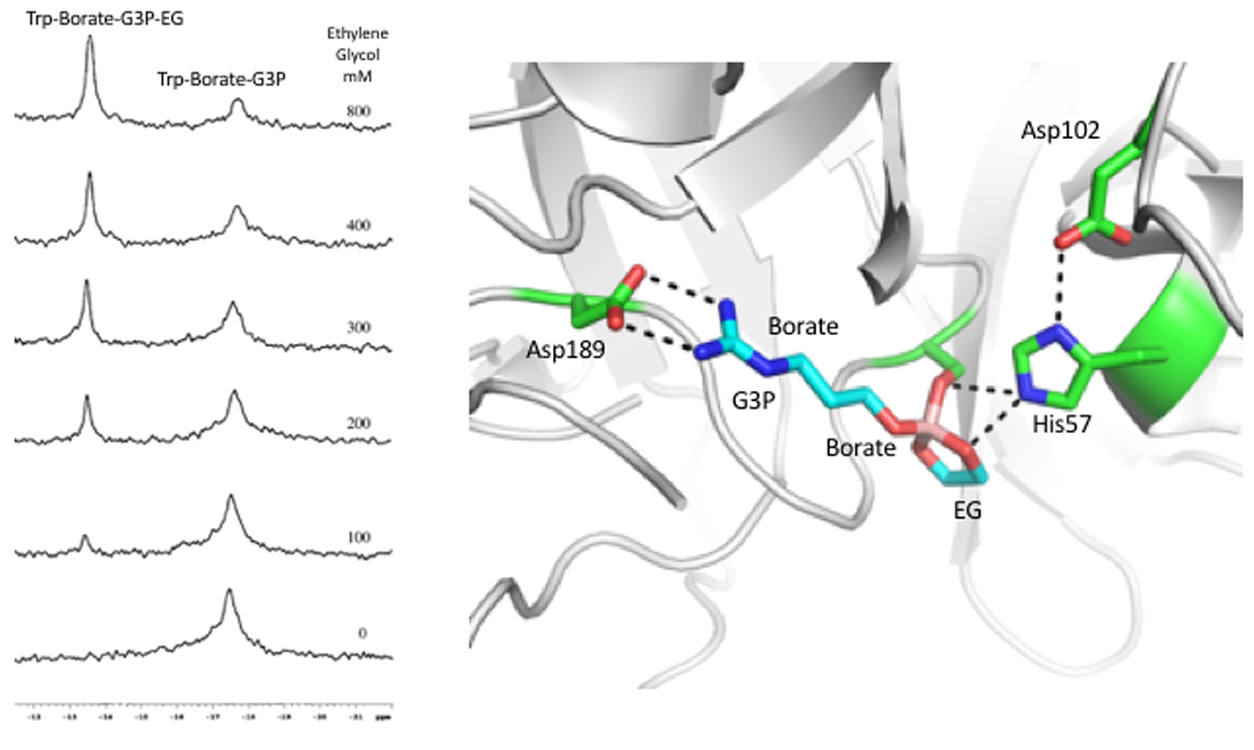 London's group showed how enzymes can act as templates to assemble their own inhibitors. The NMR spectra of boron-11 is on the left, and its corresponding crystal structure is on the right.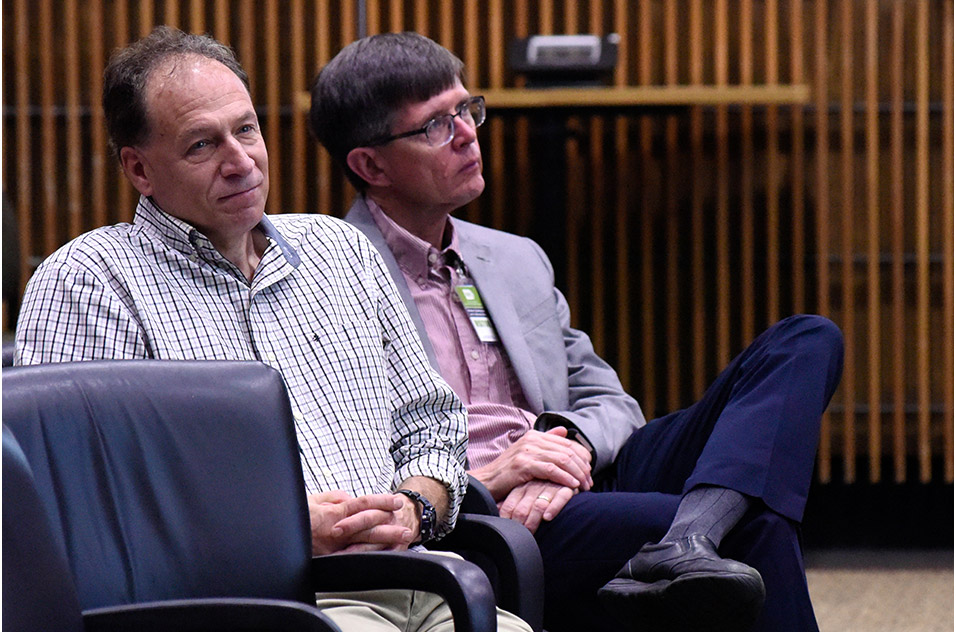 Scott Gabel, left, a biologist in London's group and Selinsky had front row seats for the celebration. Not pictured is Visiting Fellow Alexander Foo, Ph.D., another member of the London group.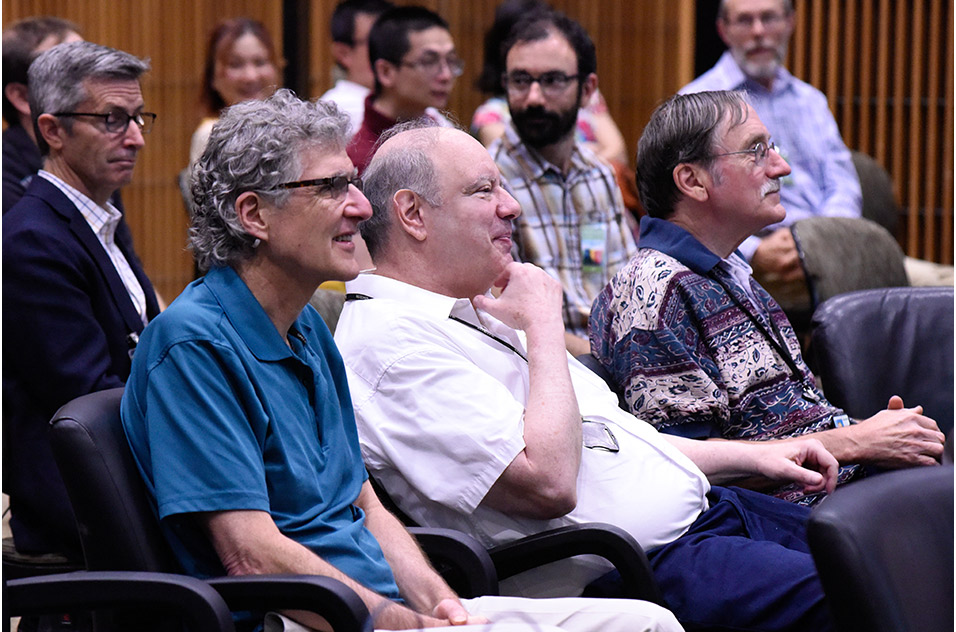 NMR Center Manager and contractor Eugene Derose, Ph.D., left, London, and biologist Thomas Kirby, Ph.D., enjoyed reminiscing about the group's early days.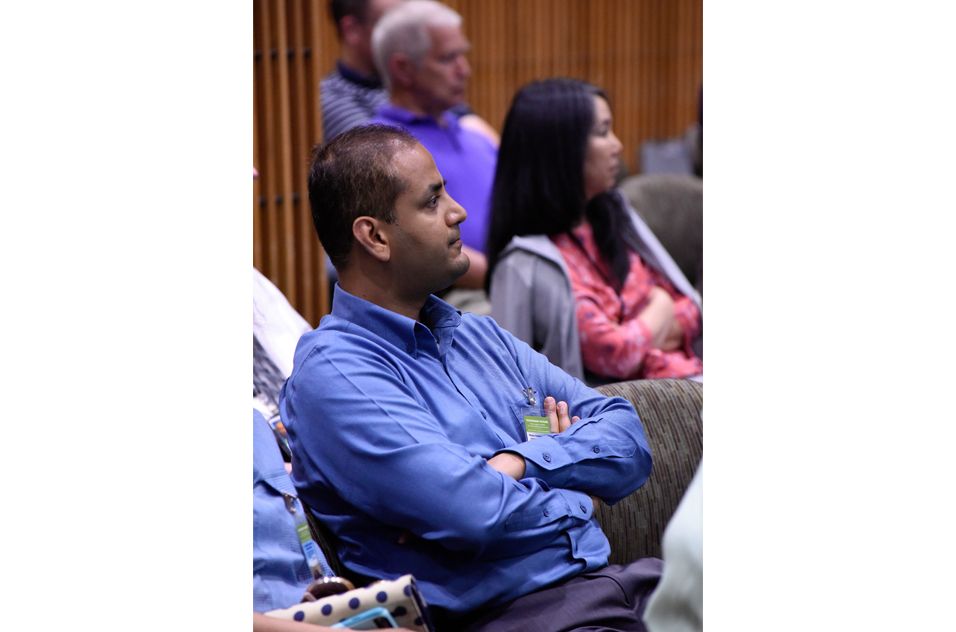 Raj Gosavi, Ph.D., was a postdoc in another group, but was involved in collaborative studies in London's group. He was one of many former lab mates who came back for the symposium.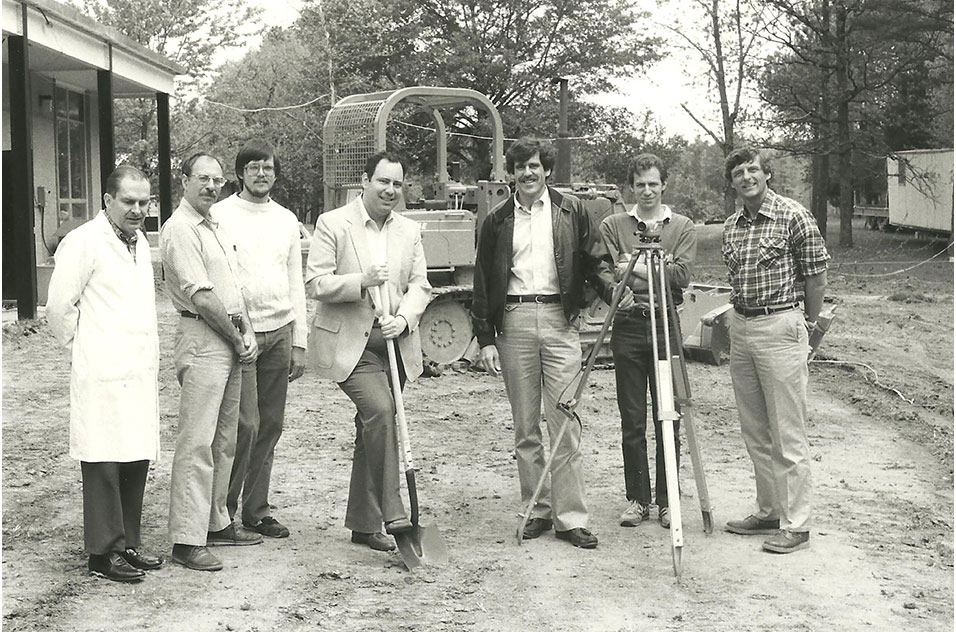 London and colleagues posed at the groundbreaking ceremony for a new NMR facility in this undated photo. From left to right, electronics technician Ronny Rippy, chemist Louis Levy, Ph.D., postdoc Selinsky, London, NIEHS veterinarian Morrow Thompson, D.V.M., biologist Gabel, and University of California-Santa Barbara visiting scientist J. T. Gerig, Ph.D.
Murphy and London hard at work in this 1984 photo.