When Hurricane Harvey struck Houston in September 2017, health effects studies were launched in record time, thanks to a unique program spearheaded by NIEHS. The first data from those research response activities were shared at an Aug. 22 symposium at Baylor College of Medicine.
"It was an impressive display of the science efforts and collaborations that quickly came together in response to Hurricane Harvey," said NIEHS Senior Medical Advisor Aubrey Miller, M.D. Miller is the NIEHS lead for the National Institutes of Health (NIH) Disaster Research Response (DR2) program.
"Researchers shared data with the community and a wide range of stakeholders, such as the mayor, holders of political offices, public health professionals, emergency managers, nonprofits, the clinical community, and so many more," Miller said.
Speakers highlighted rewards reaped from DR2 resources, including an NIEHS-sponsored training exercise held in Houston in 2015. NIH researchers got involved within two weeks of the hurricane, Miller said, thanks in part to strong partnerships that formed after that event.
Training lays groundwork
The training was part of a series of DR2 tabletop exercises that involved health professionals, first responders, DR2 scientists, and many others. Participants worked through responses to a mock — though realistic — natural or man-made disaster.
Organizers of the 2015 Houston exercise developed a storm and flood scenario that became all too real only two years later. When Hurricane Harvey parked over Houston, devastating amounts of rain flooded the area, including its oil refineries, chemical plants, and Superfund sites.
Collaborations get the work done
"The DR2 network in Houston used pre-existing relationships, baseline data, and DR2 tools and protocols to quickly implement studies guided by local public health agencies," wrote Jennifer Horney, Ph.D., and co-authors, in a new paper published in the American Journal of Public Health. Horney is part of the Disaster Research Center at the University of Delaware.
Below are some of the ongoing studies discussed at the symposium.
Houston Hurricane Harvey Health Study
Cheryl Walker, Ph.D., director of Baylor's NIEHS-funded Center for Precision Environmental Health, and collaborators from Baylor, University of Texas Health Science Center, and Oregon State University (OSU) set up a study group, or cohort, of households in several flooded neighborhoods. The team is assessing health, chemical exposures, and effects on the microbiome, and developing best practices for future disasters.
"We understood that if we didn't get out in the community immediately after the wake of the storm, we would miss the opportunity to find out what people were being exposed to," Walker was quoted as saying.
Melissa Bondy, Ph.D., from Baylor College of Medicine, said nearly all exposures — mold, floodwaters, sewage, fuel or oil, and more — resulted in higher stress. Focus groups described financial insecurity, lack of aid, safety of pets, lowered property values, and ongoing stress during rain events.
Hurricane Harvey Registry
Researchers from Rice University, the Environmental Defense Fund (EDF), and partners are tracking long-term health and housing impacts with the Hurricane Harvey Registry.
Elena Craft, Ph.D., from EDF, showed that nearly half of registry participants were displaced for about 5 months on average. They reported damaged homes and vehicles, and lost income. Physical symptoms included runny nose, problems concentrating, headaches and migraines, shortness of breath, and skin rashes. Mental health concerns were also reported.
Asthmatics and Hurricane Harvey
Winifred Hamilton, Ph.D., from Baylor College of Medicine, said there are few disaster studies of specific diseases. So she built upon an existing cohort of African-Americans with poorly controlled asthma to study effects of the storm.
Her preliminary data suggests declines in asthma control, mental health, and overall physical health. In response to requests from local media, Hamilton's team developed the "Remember 7" poster, suggesting ways to protect health during a flood event.
The Houston Health Department developed a geographic information systems-based map of environmental sampling locations and analytical results. It also contacted academic and nonprofit groups and supported information sharing.
NIEHS senior scientists and program managers, as part of DR2, provided summaries of data collection, research activities, study locations, target populations, organizations involved, collaborations, points of contact, and investigator needs.
"These exact issues and the value of our NIEHS DR2 investments are playing out yet again, as Houston and the surrounding areas have once again been hit by terrible flooding," Miller said, in reference to the aftermath of Tropical Storm Imelda.
Citation: Horney JA, Rios J, Cantu A, Ramsey S, Montemayor L, Raun L, Miller A. 2019. Improving Hurricane Harvey disaster research response through academic-practice partnerships. Am J Public Health 109(9):1198–1201.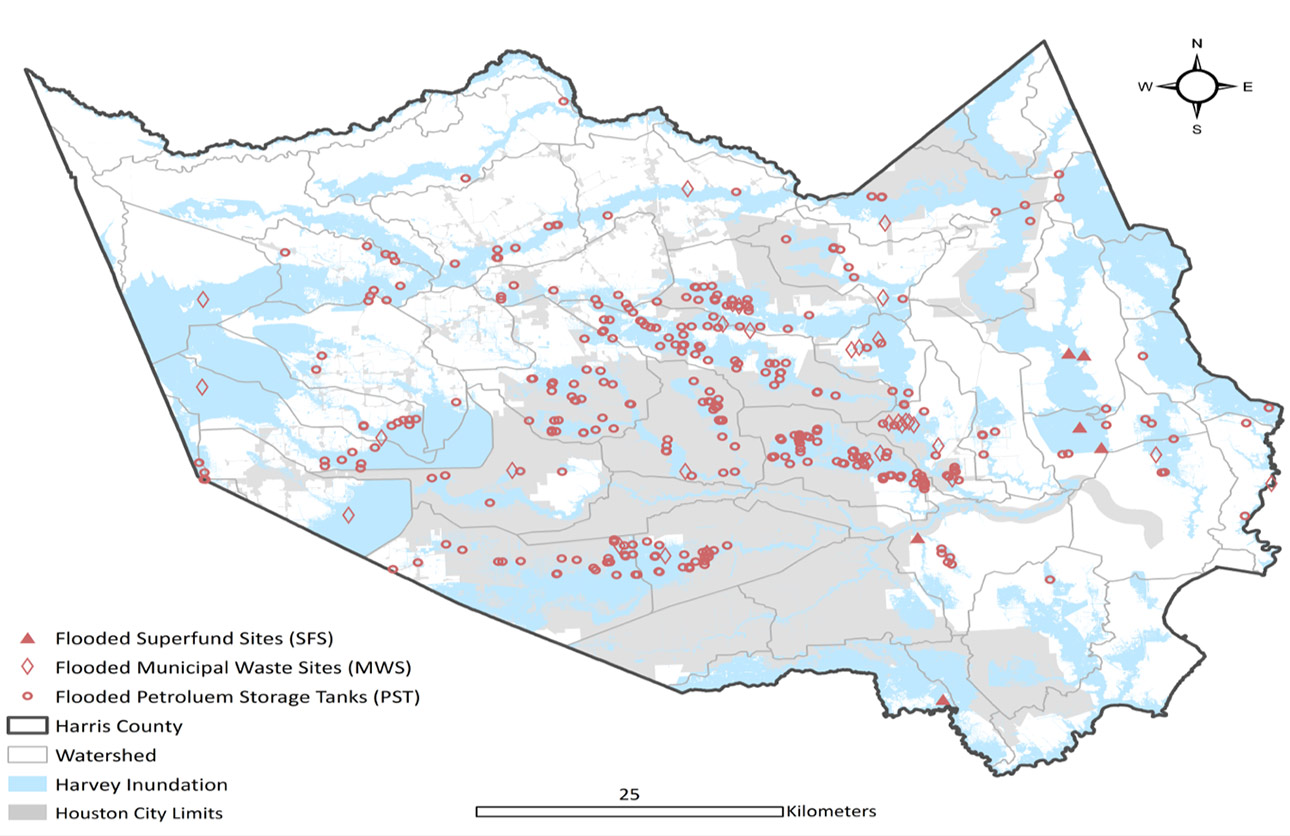 Miller underscored the health risks with this map that showed flooded areas and waste and chemical sites in Harris County.