The Nov. 28 International Potluck Celebration at NIEHS brought together research fellows from diverse cultures in an informal setting over delicious food. Joy and excitement permeated the group as they tasted various dishes and treats, and engaged in animated conversations.
The celebration was initiated by the Office of Fellows' Career Development (OFCD), in collaboration with the NIEHS Trainees Assembly (NTA). The event owes much of its success to OFCD Director Tammy Collins, Ph.D.; Hong Xu, OFCD program manager and data analyst; and Katherine Hamilton, OFCD coordinator for summer interns and postbaccalaureate fellows.
Celebrating more than food
The dishes were diverse and included American comfort food such as banana pudding, German baked goods, Chinese noodles, and Indian curry. Everyone in the room sampled a little bit of each dish, and not a morsel was left by the end of the event.
The international potluck celebration, which takes place most years, gives fellows an opportunity to showcase their cultures, and more importantly, to interact with one another and meet new faces.
"Our international fellows enrich the NIEHS community, and I am grateful to get the chance to work with and learn from them," said Collins.
"The international potluck is my favorite food event of the year at NIEHS," she added. "Over the years, I've tasted foods I never had before while learning more about the cultures of our NIEHS fellows."
It was hard not to overhear some of the interesting conversations about science in general and the specific research that participants are doing. Fellows offered advice to each other, helping build a sense of community and camaraderie.
(Salahuddin Syed, Ph.D., is an Intramural Research and Training Award [IRTA] fellow in the NIEHS DNA Replication Fidelity Group and president of the NTA.)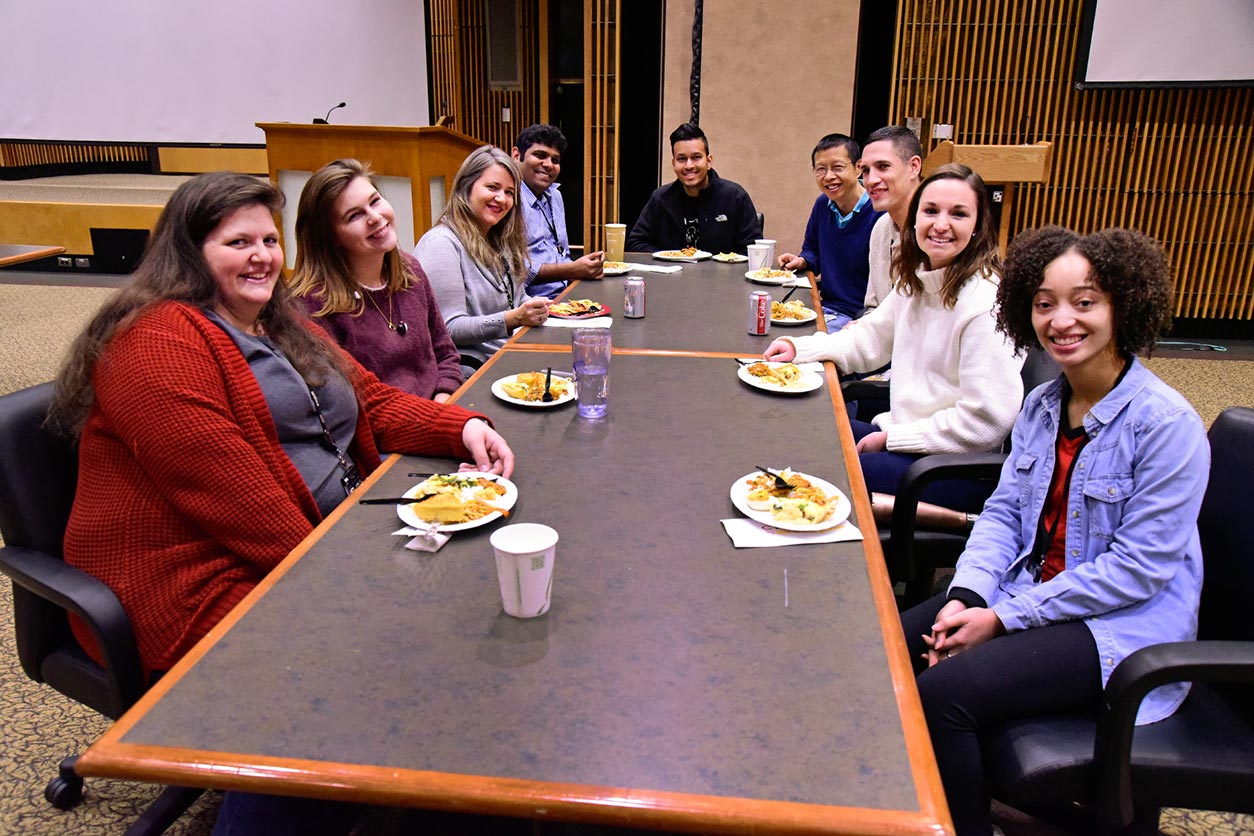 Taking a break from the lab were, from left, Hamilton, Kathleen Foley, Collins, Gadupudi, Syed, Xu, Dahl, Hayley Lazar, and Sierra Atwater.