The National Institutes of Health (NIH) has selected eight established scientists with expertise in climate and health to work on the NIH Climate Change and Health Initiative. This inaugural class of NIH Climate and Health Scholars will become part of the cross-cutting NIH effort to reduce health threats from climate change across the lifespan and build health resilience in individuals, communities, and nations around the world, especially among those at highest risk.
The diverse group of scientists went through a competitive selection process and will begin working with NIH staff in February 2023. Each scholar is currently employed at a major university or with a research-based organization but will be hosted by an NIH Institute or Center for approximately eight months. They will work with staff across NIH to share knowledge and help build capacity for conducting climate-related and health research.
"We see this scholars program as something akin to a residency where we bring in established scientists from outside the government with solid experience in climate and health research to enhance our capabilities at NIH," said Gwen Collman, Ph.D., Strategic Advisor for the NIH Climate Change and Health Initiative and director of the Scholars Program. "Looking at the intersection of climate and health is a relatively new area of research for NIH. We have a few researchers at NIH with expertise in this area, but we need more. There are many staff at NIH that want to learn more about this important issue and expand their knowledge."
Each scholar will be assigned an NIH Ambassador or host to help them become familiar with the NIH and to develop a customized plan that works toward meeting the objectives outlined in the initiative's Strategic Framework. The scholars will present their research to many audiences across NIH and engage with both the intramural and extramural communities as everyone works to address the framework's four core elements. These elements are health effects research, health equity, intervention science, and training and capacity building.
"We are excited about this new scholars program," said Rick Woychik, Ph.D., director of the National Institute of Environmental Health Sciences and chair of the NIH Climate Change and Health Initiative Steering Committee. "We were fortunate to have an abundance of interest from many highly qualified applicants. I think we will all learn a great deal about how to integrate climate and weather data into health research and so much more."
Woychik noted that the program had enthusiastic support throughout NIH and that the first year of funding came from the NIH Office of the Director.
The expertise of the scholars includes work in the United States and abroad that has focused on studying the health benefits of weatherization, reducing the community health impacts of weather-related disasters, understanding the effect that rising temperatures have on infectious disease rates, implementing evidence-based interventions in vulnerable populations, and establishing environmental climate and justice programs. In addition, the scholars have sought to influence policy and programming to reduce health disparities, including in older adults.
Meet the 2023 NIH Climate and Health Scholars
Luis Fernando Chaves, Ph.D.
Associate Professor, Department of Environmental and Occupational Health
School of Public Health, Indiana University Bloomington
Host: National Institute of Allergy and Infectious Diseases
Lauren Clay, Ph.D.
Associate Professor and Department Chair, Department of Emergency Health Services
University of Maryland, Baltimore County
Host: National Institute on Minority Health and Health Disparities
Ferdouz Cochran, Ph.D.
Climate-Health Science Lead
Health Innovation Center at MITRE Labs
Host: National Institute of Environmental Health Sciences (NIEHS)
Zhen Cong, Ph.D.
Professor, Environmental Health Sciences, School of Public Health
University of Alabama at Birmingham
Host: National Institute on Aging
Carina Gronlund, Ph.D.
Research Assistant Professor, Survey Research Center, Institute for Social Research
School of Public Health, University of Michigan
Host: National Heart, Lung, and Blood Institute
Praveen Kumar, Ph.D.
Assistant Professor, School of Social Work
Boston University
Host: Fogarty International Center
Patrice K. Nicholas, D.N.Sc., D.H.L. (Hon.)
Distinguished Teaching Professor and Director, Center for Climate Change, Climate Justice, and Health
Massachusetts General Hospital Institute of Health Professions
Host: National Institute of Nursing Research
Leticia Nogueira, Ph.D.
Senior Principal Scientist
American Cancer Society
Host: National Cancer Institute
(Detailed bios and pictures are provided at the Climate Change and Health Initiative website.)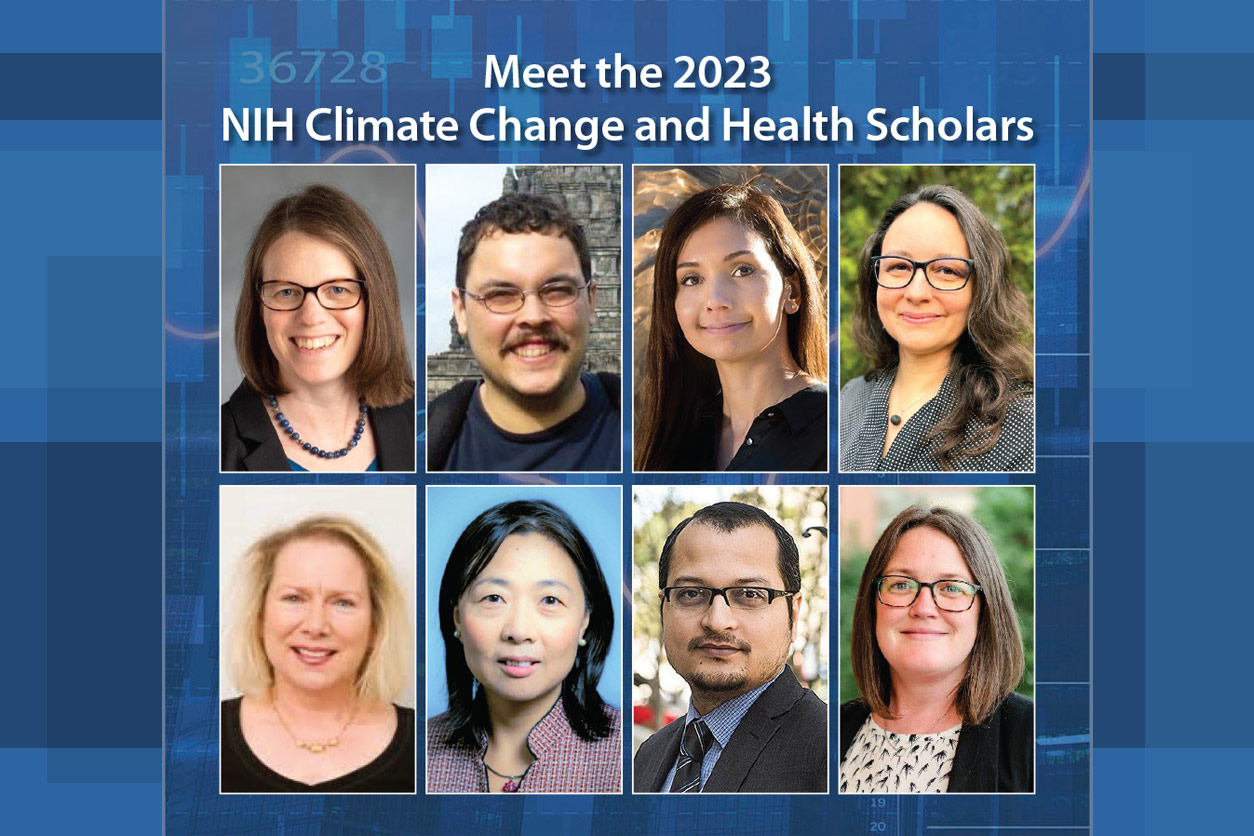 (Robin Mackar is a writer and media relations coordinator in the NIEHS Office of Communications and Public Liaison.)