The NIEHS Global Environmental Health (GEH) Program released the Climate Change and Human Health (CCHH) Glossary in September. The searchable online resource includes nearly 300 terms and definitions relevant to climate change and health research and policy. By encouraging consistency in the use of specific terms, the glossary can improve global understanding of these topics, encourage data sharing, and inform decision-making to protect health from climate-related effects.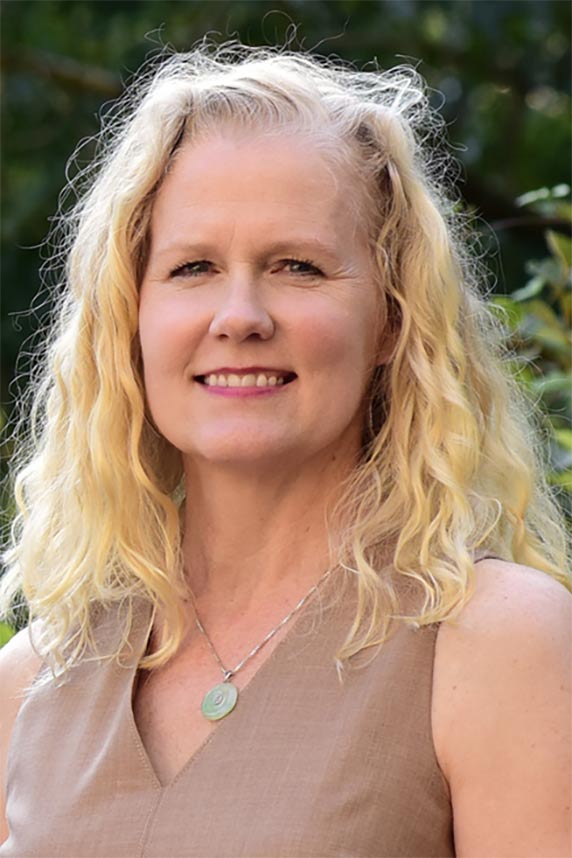 Climate change and health research, which informs policy, is rapidly expanding and encompasses many fields of study. Because terms may have different uses and definitions across fields, a standardized glossary in the context of climate change and health will help reduce confusion and facilitate collaboration, according to GEH Program Manager Trisha Castranio, who led the project.
"Climate change does not recognize borders or boundaries, and how we describe climate change and health is critical to responding to it," said Castranio. "This resource is designed to empower communication and understanding among researchers, health care providers, policymakers, community organizers, and others interested in the health effects of climate change."
Developing the glossary
To develop the CCHH Glossary, Castranio recruited a team of subject matter experts from the National Institutes of Health (NIH) and beyond. The team gathered terms and developed climate change and health-specific definitions from credible sources, including academia, global climate and health organization websites, and peer-reviewed literature. The team then placed the terms in context of their use in relation to climate change and health. External stakeholders from multidisciplinary backgrounds provided feedback and review of the content.
"The goal was to build a comprehensive resource that could be useful to anyone interested in climate change and health," said Aubrey Miller, M.D., deputy director of Scientific Coordination at NIEHS. "We think the result will help move the field forward by promoting shared understanding of concepts and enhancing opportunities for harmonizing CCHH research."
The glossary will be updated semiannually to reflect the ever-changing landscape of climate change and health. The public can also provide feedback and suggest additional terms through a form on the glossary website.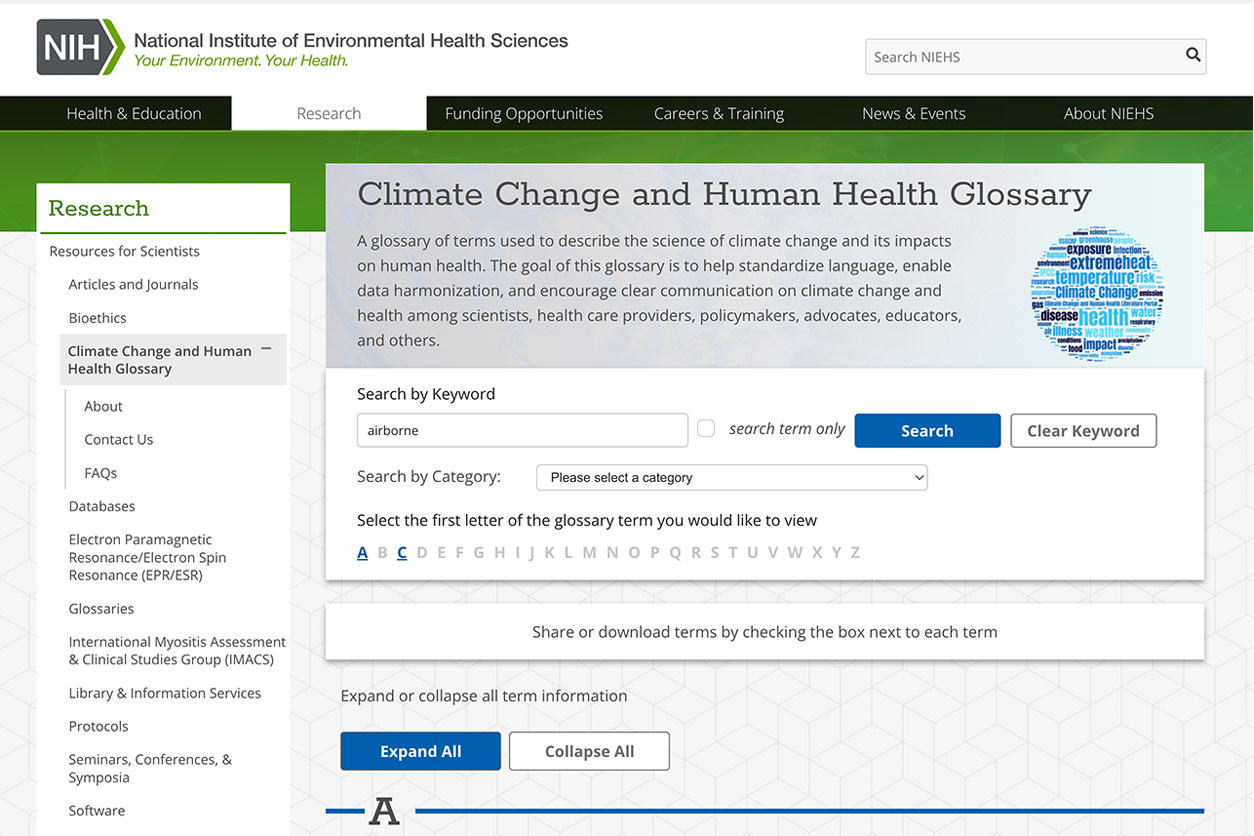 Part of an ongoing mission
The glossary is the newest addition to a suite of resources developed by NIEHS to support research and policy on climate change and other emerging global issues. The glossary complements the NIEHS Climate Change and Human Health Literature Portal, a curated database of global peer-reviewed literature on climate change health impacts. Both resources support the efforts of the NIH Climate Change and Health Initiative, an NIH-wide effort to reduce health threats from climate change and improve individual and community resilience in the U.S. and abroad.
Climate change can have effects on environmental factors related to health, such as temperature, precipitation, and air quality. As the climate shifts over time, the severity of health risks related to the environment also shifts due to the increasing frequency of climate-related events, including wildfires, hurricanes, flooding, and extreme heat. Protecting the health of the public depends on how communities adapt to these changes in climate to mitigate adverse effects.
"The NIEHS GEH Program is proud to be a leader in this area," Castranio said. "Our ultimate goal is that these resources will advance research needed to inform health-protective decisions and policymaking."
The CCHH Glossary is now available on the NIEHS Resources for Scientists webpage.
(Michelle Zhao is a science writer for MDB, Inc., a contractor for the NIEHS Division of Extramural Research and Training.)