The Native American Heritage Month Annual Guest Lecture Nov. 16 focused on NIEHS-funded environmental health research in Alaska with co-presenters Pamela Miller and Viola "Vi" Waghiyi of the nonprofit group Alaska Community Action on Toxics (ACAT). Waghiyi is a tribal citizen of the Native Village of Savoonga, a Yupik community on Sivuqaq (St. Lawrence Island). Miller and Waghiyi shared the story of community-based research (CBR) underway on Sivuqaq, where for decades U.S. military waste abandoned after the Cold War has contaminated water and soil.
ACAT has been a part of the NIEHS grant portfolio since 2000, but their work breaks the typical National Institutes of Health (NIH) model of an academic institution grant project. ACAT is a statewide environmental health and justice organization that works to address environmental health risks from formerly used defense sites and the global transport of persistent organic pollutants.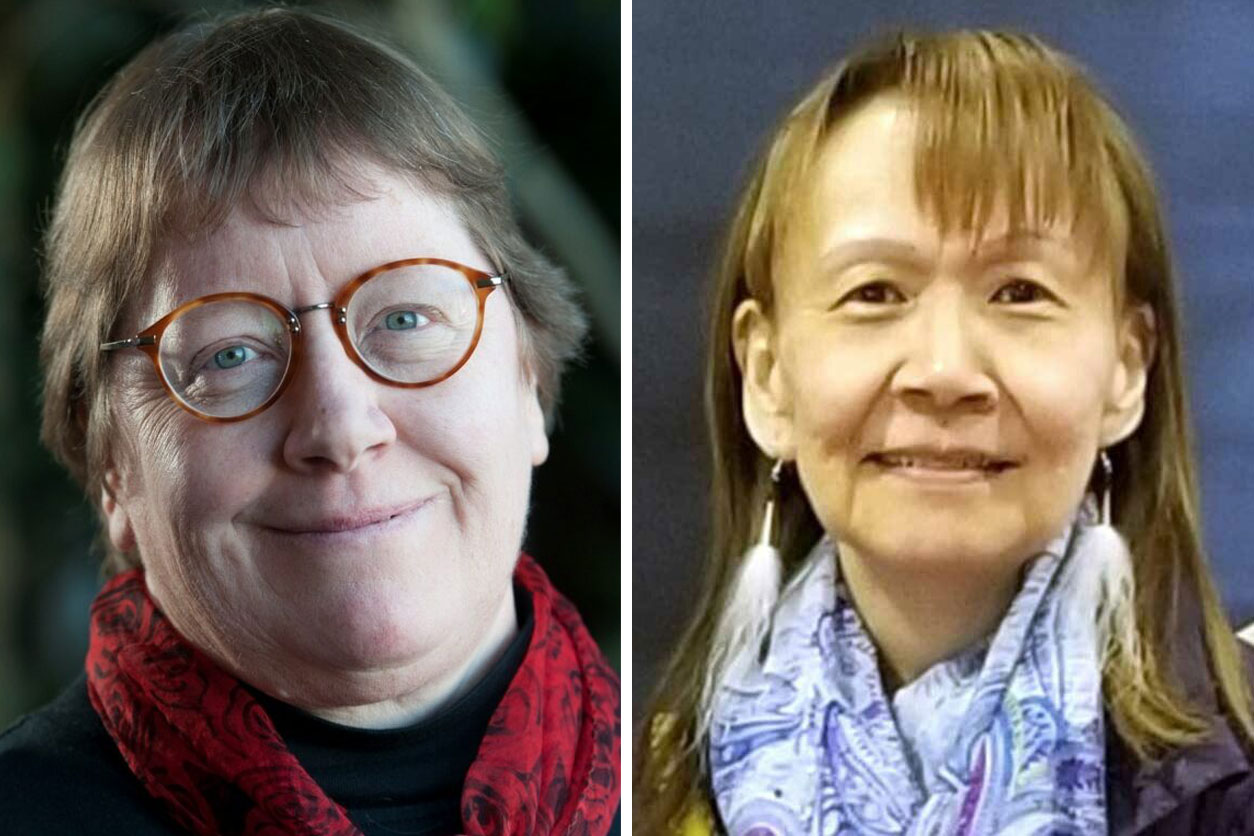 "We have learned that having tribal communities engaged in a research process that values traditional knowledge is a critical step to addressing local environmental public health concerns," said Rick Woychik, Ph.D., director of NIEHS, during the lecture. "This approach continues to be at the forefront of the NIEHS mission."
Saving Sivuqaq's food sources
Sivuqaq is perched in the Bering Sea in sight of the Chukotkan Peninsula of Russia, where the Yupik people have for thousands of years plied the ocean and rocky cliffs for sustenance. About 1,900 people live on the island now, and 90% of those people continue to rely on a traditional diet, which includes marine animals and vegetables and birds. However, those food sources have become contaminated by military waste and other toxicants, including per- and polyfluoroalkyl substances, polybrominated diphenyl ethers, and polychlorinated biphenyls. The northernmost regions of the world act as a hemispheric sink for toxic chemicals, which are transported by ocean and air currents and accumulate in the bodies of fish, wildlife, and people.
Addressing the accumulation of toxic chemicals in places like Sivuqaq is also a race against time, according to presenters. They noted that climate change can exacerbate chemical transport and release from sea ice, glaciers, and permafrost. And melting permafrost that releases trapped carbon dioxide and methane into the atmosphere acts like a flywheel accelerating climate change. Previous cleanup efforts have been largely surficial and cosmetic, according to participants.
However, the NIH this year issued a new Tribal Consultation Policy, which is a first step toward improved federal efforts to clean up contamination and involves communities.
"This marks an important step that reflects the agency's commitment to sovereign Tribal Nations, a transparent and consistent Tribal Consultation process, and support for the health of American Indians and Alaska Natives through biomedical and behavioral health research," said David Wilson, Ph.D., director of the NIH Tribal Health Research Office, which sponsors the NIH celebration of Native American Heritage Month and contributions Native Americans have made to science.
The renewed NIH focus was welcomed by the meeting participants. Waghiyi, who serves on the White House Environmental Justice Advisory Council, shared stories of how the contamination of traditional food sources, water, and air has affected her personally.
"Toxic chemicals have multigenerational effects," she said. "My people have four to 10 times higher PCB levels in their blood than the average American. We have 3 times more birth defects than the Lower 48. Alaska Native infants have two times more birth defects than non-Natives in Alaska. There are health disparities never seen before in our people including cancers, thyroid disease, diabetes, and heart disease. The grandson I'm raising has a higher body burden of flame retardants than adults. Our children are being born 'pre-polluted.'"
From local to international efforts
ACAT has mapped more than 2,000 locations around Alaska, including 700 formerly and currently used defense sites of great strategic importance, many of which have been used to test chemical, biological, and nuclear weapons.
"Our research is founded on the guidance of community leadership," Miller said, noting that NIEHS funding has been critical to ACAT's mission. "We have worked with leadership to establish research questions as well as implementation of research. We emphasize community right to know, build capacity, promote educational empowerment, support government-to-government rights, and support communities against polluters. We provide training for healthcare providers working directly with the people to understand how chemical contaminants affect human health."
In addition to working with local communities, ACAT plays a large role internationally. Miller and Waghiyi have both attended United Nations workshops related to Arctic Indigenous peoples and health. Miller co-chairs the International Pollutants Elimination Network, a global network of 600 public interest organizations in more than 120 countries.
"Our collaborative research has motivated people from the island to testify, whether in Juneau, in D.C., or at the Stockholm Convention in Geneva," Miller said. "Our work has moved the Northeast Cape [a community on Sivuqaq] site from bottom of the cleanup priority list to the top. We are standing alongside the people of the island to hold polluters accountable but also to help with crafting policies that are truly protective."
Waghiyi said that the NIEHS-funded ACAT research she assists with and participates in gives her hope for the future of her people, but she added that much more work must be done.
"Help is not coming fast enough for my generation," Waghiyi told attendees. "We must make sure we are training our youth. The current project is to protect our future generations from these burdens we did not create. These beautiful children have a right to live in a toxic-free world. Everyone has a right to clean air and water and toxics-free food."
(Kelley Christensen is a contract writer and editor for the NIEHS Office of Communications and Public Liaison.)