April 2 marks the day that Frederick Miller, M.D., Ph.D., officially retires and begins his new role as Scientist Emeritus. To honor Miller's lifetime of scientific achievements, his colleagues at NIEHS and around the world gathered March 5 for a virtual retirement symposium.
Three members of his Environmental Autoimmunity Group (EAG) planned the event — Acting Group Head and Senior Research Physician Lisa Rider, M.D.; Staff Clinician Adam Schiffenbauer, M.D.; and Administrative Specialist Beverly Sellers-Robinson. Collaborators and friends gave presentations and joined in a networking session (see sidebar).
'Fred, thank you for everything you have done for the NIEHS Clinical Research Branch, NIH, and the broader myositis and autoimmune disease community,' said NIEHS Clinical Director Janet Hall, M.D., in her welcome address.
Rick Woychik, Ph.D., director of NIEHS and the National Toxicology Program (NTP), praised Miller for being a role model for young researchers.
'You've demonstrated that you can be a first-rate, highly respected physician-scientist and at the same time be a genuinely caring, warm, and friendly colleague,' Woychik said.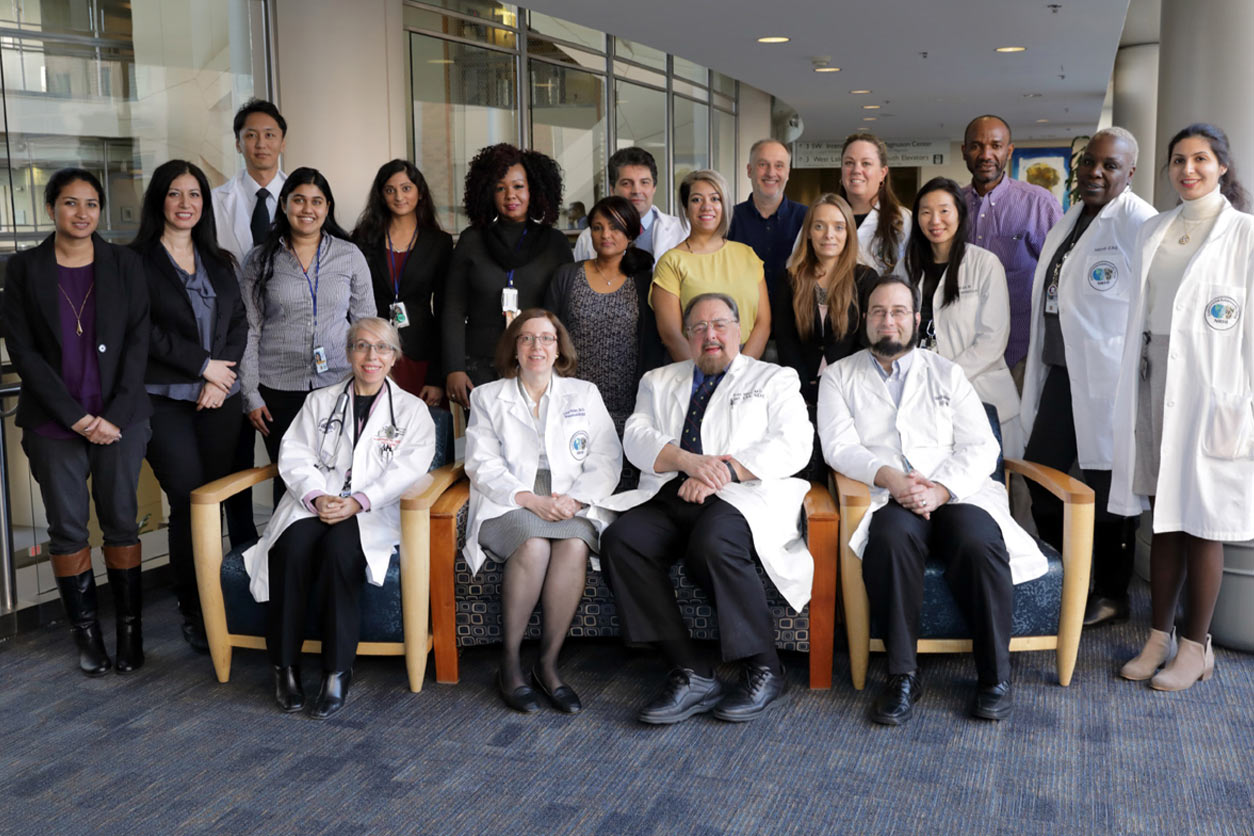 Miller's Bethesda research group in 2017. His whole team was present, including staff, trainees, and contractors. (Photo courtesy of Lisa Rider)
Forging ties with patient support groups
People with myositis have muscle inflammation that causes weakness, swelling, and pain. Rider said Miller was instrumental in establishing The Myositis Association. He served on the board of directors, as vice-chair of the Medical Advisory Board, and helped establish its peer-reviewed grants program.
He was also an advisor to the Cure JM Foundation and Myositis UK. Rider, Miller, and two other colleagues co-edited Myositis and You, perhaps the most widely read book for patients with juvenile myositis and their parents.
'An important distinction of Fred's research has been his focus on patients,' Rider said. 'They were always at the center, in terms of the research questions that would make a difference in their lives.'
Vanguard of autoimmune research
In 1991, Miller coauthored a paper that became foundational in myositis research. In it, he described categorizing myositis patients based on their autoantibody profiles. Many more articles would soon follow.
In 1994, Miller and Rider helped determine that juvenile myositis autoimmunity was related to adult myositis autoimmunity, which contradicted accepted knowledge at the time. The work led to EAG developing the largest myositis databases and sample repositories in the world.
Miller, Rider, and other researchers established the International Myositis Assessment and Clinical Studies (IMACS) Group in 1999 to find therapies and understand the causes of the disease. These accomplishments and more prompted the American College of Rheumatology to select him as a Master in 2016, one of the college's highest accolades.
A life and career well-lived
In addition to the talks, Sellers-Robinson treated Miller to a video that spotlighted his global reach, with tributes from France, England, Australia, Guatemala, and elsewhere.
"He is the quintessential clinical investigator," said NIEHS Scientific Director Darryl Zeldin, M.D. "His landmark studies on myositis syndromes have revolutionized how we think about autoimmune disease."
"It has been a wonderfully enjoyable four decades trying to unravel the mysteries of autoimmunity," Miller said. "None of this work would have been possible without the wisdom, collegiality, generosity of spirit, and selflessness of my family and the many colleagues too numerous to list who I have had the honor and enormous pleasure of working with."
A brief bio-sketch
Miller earned a B.S. in zoology from Miami University in Ohio, then received M.D. and Ph.D. degrees from Case Western Reserve University. He completed an internal medicine internship and clinical research training at Emory University. At Stanford University, Miller completed a medical residency.
Miller's rheumatology career began in 1983 when he joined the laboratory of Paul Plotz, M.D., in what is now the National Institute of Arthritis and Musculoskeletal and Skin Diseases (NIAMS).
After leaving NIAMS in 1990, Miller spent a decade at the U.S. Food and Drug Administration, then joined NIEHS in 2001. He served as acting NIEHS clinical director from 2011 to 2013, followed by deputy chief of the NIEHS Clinical Research Branch until his retirement. Miller has published more than 200 peer-reviewed journal articles and has been cited more than 22,000 times.
Citations:
Love LA, Leff RL, Fraser DD, Targoff IN, Dalakas M, Plotz PH, Miller FW. 1991. A new approach to the classification of idiopathic inflammatory myopathy: myositis-specific autoantibodies define useful homogeneous patient groups. Medicine (Baltimore) 70(6):360–374.
Rider LG, Miller FW, Targoff IN, Sherry DD, Samayoa E, Lindahl M, Wener MH, Pachman LM, Plotz PH. 1994. A broadened spectrum of juvenile myositis. Myositis-specific autoantibodies in children. Arthritis Rheum 37(10):1534–1538.