NIEHS celebrated Black History Month Feb. 13 with a seminar on addressing health care inequality by Oluwadamilola "Lola" Fayanju, M.D., assistant professor of surgery and population health sciences at Duke University School of Medicine.
Her presentation, 'Lifting All Boats: How We Can Eliminate Disparities Among Patients and the Doctors Who Treat Them,' focused on differences in breast cancer outcomes between black and white women. Fayanju also showed how more racial diversity among health care providers could improve patient care. The talk was part of the institute's Diversity Speaker Series, which is sponsored by the Office of Science Education and Diversity (OSED).
She began by defining two words central to her research — equity and disparity. Equity means everyone has the same access to health care resources. Fayanju said different groups define disparity in various ways, but she sees it as an observed difference between groups in health screening outcomes, or treatment that can be attributed to injustice.
'It is something that is wrong, and it is something we can do something about,' she said.
Biology or bias?
As a breast cancer surgeon, Fayanju is keenly aware of risks for the disease. She noted that one of every three cancers diagnosed in women in the U.S. is breast cancer. It is also the second most common cause of cancer-related death after lung cancer and the leading cause of death in women ages 40-50 years. The lifetime diagnosis risk is 13%, or about one in eight women, and the lifetime risk of death from breast cancer is 3%.
The good news is that breast cancer survival rates have increased during the past 30-40 years, largely due to earlier diagnosis through mammograms and improvement in treatment such as chemotherapy. But survival has not improved to the same extert for all groups, Fayanju said.
Although white women have the highest rates of breast cancer in the U.S., black women have the highest rates of death from breast cancer. In addition, they are more likely to be diagnosed with it at a young age and have higher rates of an aggressive form of the disease called triple negative breast cancer (TNBC).
Some have tried to ascribe the disparate rates for black women of death from breast cancer to their higher rates of TNBC. Yet among women of all races with TNBC, there is no interracial difference in survival.
In contrast, a form called hormone receptive positive (HR-positive) breast cancer is more common and has many options for effective treatment. But black women are 50-80% more likely to die from HR-positive than white women. Fayanju contends that factors other than biology, such as poverty, lack of health insurance, and clinician bias, may be responsible for the disproportionate death rate in black women.
Diversity in health care
Training more physicians of color is one of many efforts that may improve health outcomes, according to Fayanju. The key to recruiting doctors from underrepresented groups is to start early. She pointed to 'Up,' a documentary series produced in the United Kingdom that followed 14 children from a variety of socioeconomic backgrounds, from ages 7 to 63 years.
'You could see early on who would wind up going to Cambridge and who would end up needing social benefits,' she said. 'By the time a child is in middle school, it is too late. Kids need to see what they can be.'
Fayanju urged members of the audience to serve as role models for children of color so that young people know they can be anything they want, including a doctor. She also provided suggestions on how to create a welcoming environment for physicians of color, including listening when people speak and aligning the goals of patients, providers, and health systems.
'Dr. Fayanju's thought-provoking presentation resonated very deeply with me,' said Angela King-Herbert, D.V.M., head of the NIEHS Laboratory Animal Medicine Group. 'I especially appreciated her recommendations on how to retain diversity in the workplace.'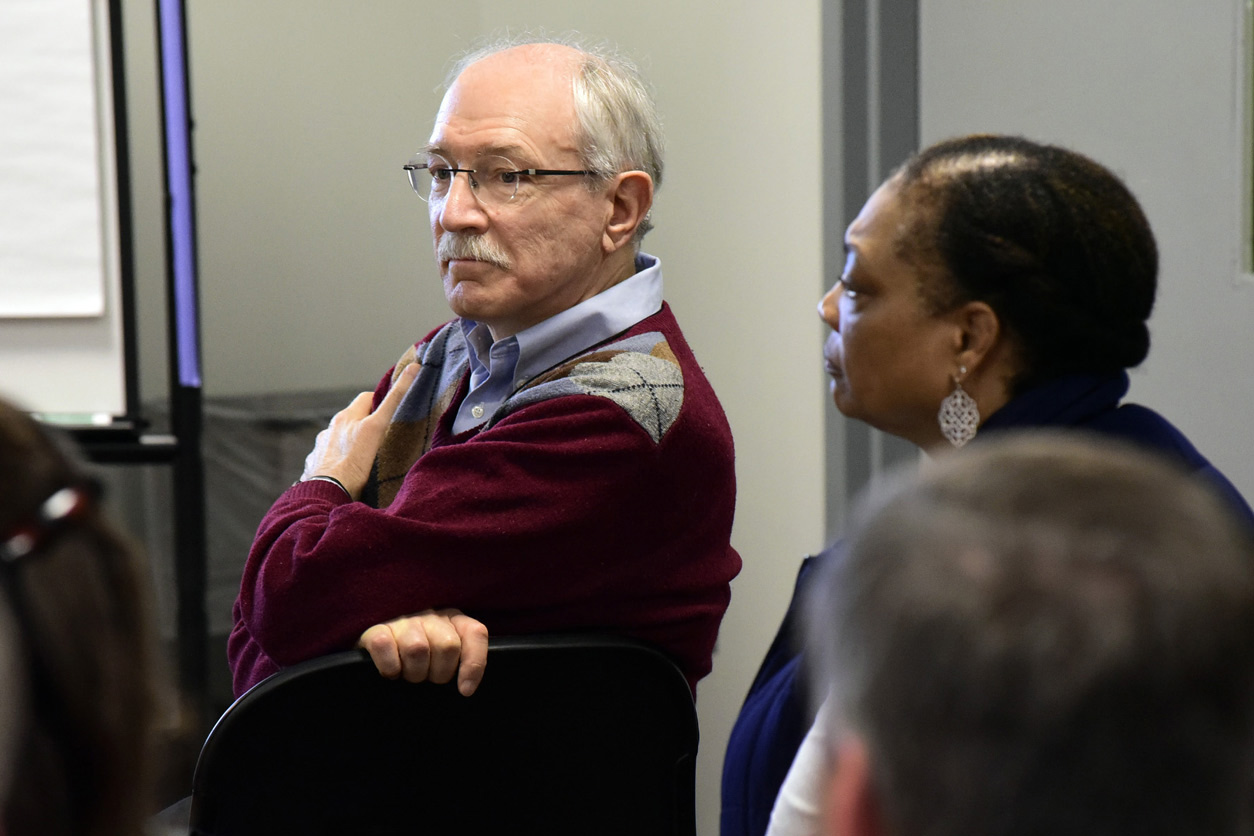 NIEHS Acting Director Rick Woychik, Ph.D., left, and King-Herbert asked questions after the presentation.