From June through August, NIEHS employees and contractors donated 3,470 pounds of food, household items, toiletries, and other goods to local charities as part of the Feds Feed Families program, which is run by the U.S. Department of Agriculture. Through its 10-year involvement in the program, NIEHS has contributed more than 21,000 pounds of needed goods.
Feds Feed Families is a labor of love for Monya Brace, program coordinator in the NIEHS Office of Management. Each year, she helps to organize the institute's donation efforts.
"This is the most rewarding thing that I do at NIEHS," said Brace. She noted that one reason the initiative is important is because during the summer, food banks and other charities sometimes experience a slowdown in donations. This program helps to fill their shelves during those lulls.
"We've got seniors who are trying to decide between paying their rent and getting their medicine," said Brace, emphasizing the program's real-world impact. "The charities appreciate our donations. The need is always there. Food insecurity is a big issue throughout the country."
A coordinated effort
During the food drive, there are curbside collections, and drop boxes in the Rall and Keystone buildings. Donations from NIEHS employees are sent to the Durham Rescue Mission and the Durham division of the Food Bank of Central and Eastern North Carolina. Gifts include canned fruits and vegetables, cereal, pasta, hygiene items, diapers, and paper products, among others.
For help managing logistics, Brace works with Pinkney Wilder, administrative specialist in the Signal Transduction Laboratory, and Edith Lee, program specialist in the NIEHS Office of Fellows Career Development. Together, they spread the word about Feds Feed Families, collect and organize the various donations, and ensure that the charities receive contributions on time.
And the program is not limited to those who work on-site at NIEHS. This year, remote employees across the National Institutes of Health made a collective donation, thanks to an NIEHS employee who was on-site during the drive.
"We have a well-oiled machine," said Brace. "A lot of people help our food drive be a success."
(Jesse Saffron, J.D., is a technical writer-editor in the NIEHS Office of Communications and Public Liaison.)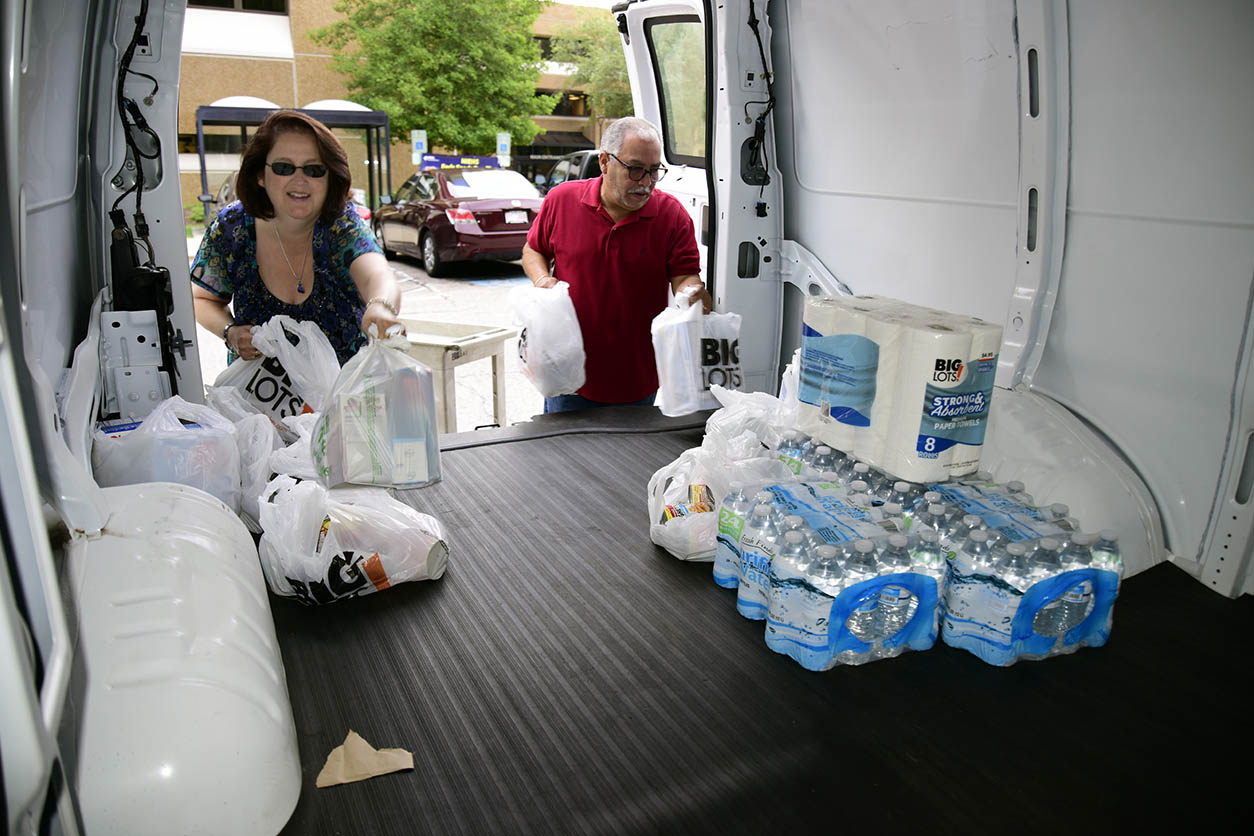 Tonya McMillan, left, from the Office of Management, and Benny Encarnacion, from the Financial Management Branch, donated during a curbside collection.