Eleven postbaccalaureate fellows successfully competed in the NIEHS Three-Minute Communication Challenge April 9. Organized by Katherine Hamilton from the (OFCD), trainees had only three minutes to explain what their research entailed, its broader impact on science and society, and how they have personally gained from their NIEHS experience.
The competitors' charge was to transfer complex scientific jargon into clear and concise presentations that nonscientists could understand and appreciate.
Placentra takes top prize
The winner, Victoria Placentra, works in the Mutagenesis and DNA Repair Regulation Group, under the supervision of Deputy Scientific Director Paul Doetsch, Ph.D. She explained how cells and their DNA can be damaged by pollutants and by normal functions of cellular metabolism.
DNA damage may be replicated in new cells, leading to mutations that are linked with aging issues and cancer. One source of such damage is oxidative stress. Placentra and her colleagues create oxidative stress in yeast cells to study mutagenesis and consider how it might translate to the human body.
Her explanation was fluid and organized, convincing the audience that complex scientific phrases such as "oxidative stress-induced mutagenesis in a yeast model system" could be unpacked in accessible language. She won a $1000 travel award from OFCD, which she looks forward to using to attend an upcoming conference in Washington, D.C.
Creativity gets the message across
Trainees developed original and creative metaphors to describe their work. For example, Gabrielle Childers from the National Toxicology Program (NTP) described immune systems as an army of cells patrolling our bodies.
Our immune system often faces "pathogens that fight back, and they do not fight fair, and sometimes, it can sucker punch a cell right where it hurts … in the mitochondria," Childers said.
Competitor Christine Bowen compared the human brain to a garden. The gardener would be cells called microglia, in Bowen's analogy. If microglia become sick, then degenerative diseases can take root. She showed how something of immense complexity like the human brain can be imagined in a memorable message that is clear and concise.
Nonscientists step up to judge
The judges were from nonscientific NIEHS staff.
Melissa Gentry, from the Office of Acquisitions.
Toni Harris, from the Administrative & Research Services Branch.
Bill Fitzgerald, from the Health and Safety Branch.
Tonya McMillan, from the Office of Management.
Thanks to his enthusiasm for the event, Gary Bird, Ph.D., from the Signal Transduction Laboratory, was tasked as official timekeeper. "[These] opportunities really teach you how to very carefully think of your word selection, how you build your message," Bird said. "The important thing is to keep it simple!"
OFCD Director Tammy Collins, Ph.D., agreed that being concise and cutting back is hard. Yet trainees exhibited determination and assurance as they shared the knowledge gained in their labs. The trainees even chose to randomly select the order of presenters, to add to the challenge.
(Elise Smith, Ph.D., is a postdoctoral fellow in the NIEHS Ethics Office.)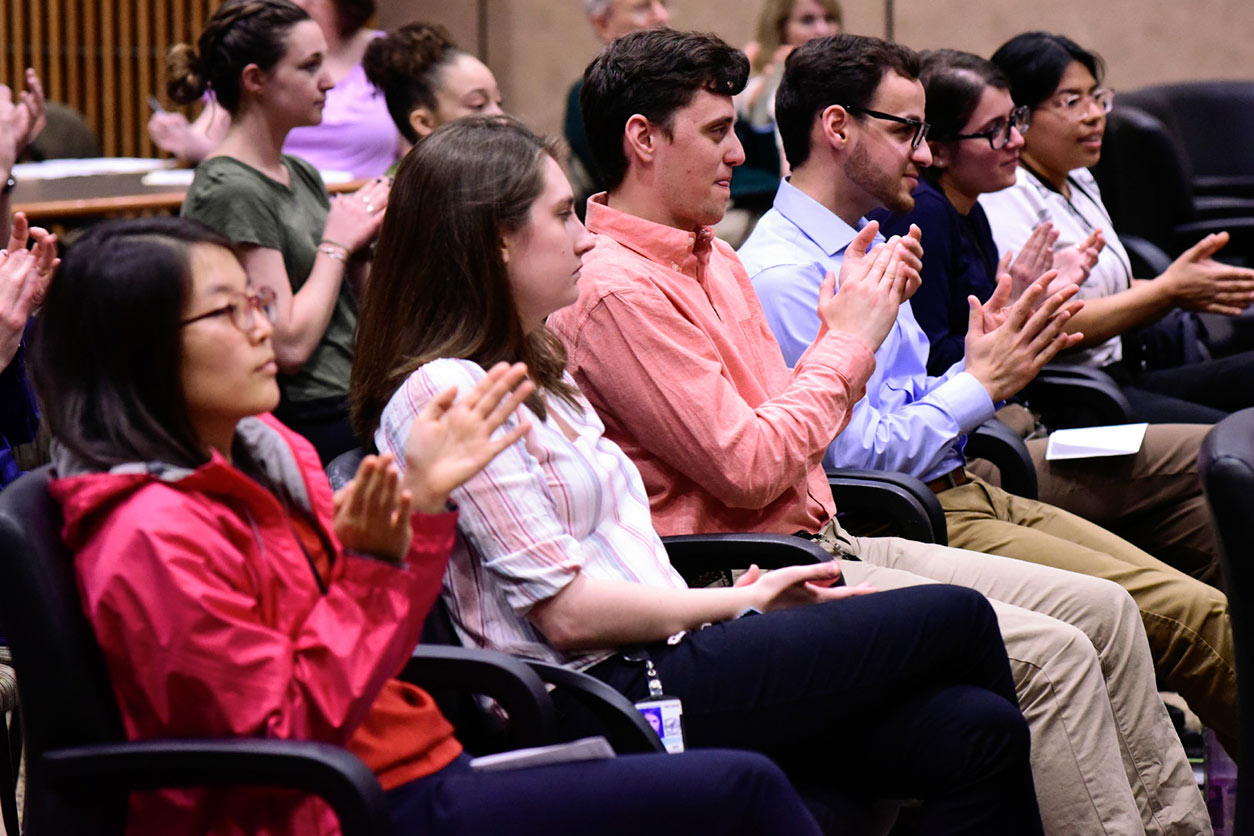 Despite being competitors, the contestants offered each other encouragement and support.