Railroad workers in communities near the Navajo Nation territory received important safety training April 10-14 in Winslow, Arizona, thanks to NIEHS Worker Training Program (WTP) grantee, the International Brotherhood of Teamsters (IBT).
The grantees planned this third 40-hour Chemical Emergency Response (CER) training program after receiving positive feedback from 2017 and 2018 trainees. The 2019 course served railroad workers from the Navajo Nation, New Mexico, Nevada, and California.
"One of the strengths of the teamsters training program is that they have made a long-term commitment to their work with Native American tribal organizations, for both transportation workers and the broader communities beyond the reservation," said Joseph "Chip" Hughes, WTP director. "Having and building this trust relationship is a key to the program's success."
Addressing hazardous material transport risks
The course helps workers enhance their awareness and knowledge of hazardous materials they may encounter on the job, and skills to protect their health. Transportation workers face occupational risks such as accidental releases of hazardous materials, hazardous waste exposure during cleanup projects, and hazardous waste and materials transported via trucks, rail cars, and intermodal shipping containers.
"Transportation employees are often the first on a scene if there is a derailment or release of hazardous materials from a truck or train," Hughes pointed out. "Advance training helps them prepare for these scenarios."
For rural and remote tribal nations across the U.S., these risks are heightened by lack of proximity to and resources for extensive health and safety training. Trainees may be learning about safety information for the first time, despite being employed for years. "I have worked with a lot of chemicals, and I would not have exposed myself to the hazards I did, if I had proper worker training," said one attendee.
Although CER training is not required by railroad employers, it is helpful for employees. "We want them to learn how to be safe on the job, and to increase their awareness of hazardous materials that are transported on the railways in case of derailment," said Charmaine Woolard, IBT assistant program manager.
Sparking change in home and workplace
As a result of this course, many trainees are empowered to reach out to their employer and spark change in their own workplace. "[Union] workers are not as intimidated to go to their employer and ask for personal protective equipment [PPE]," Woolard said.
Attendees can use the knowledge they learn for workplace settings to keep their homes and families safe as well. "I now realize the importance of having a back-up plan at work and at home for dangerous situations that may happen," said a participant. "I will be talking with my family on a meeting place and evacuation plan, should we need it."
(Gabrielle Minton is a graduate fellow with MDB, Inc., a contractor to the NIEHS Division of Extramural Research and Training.)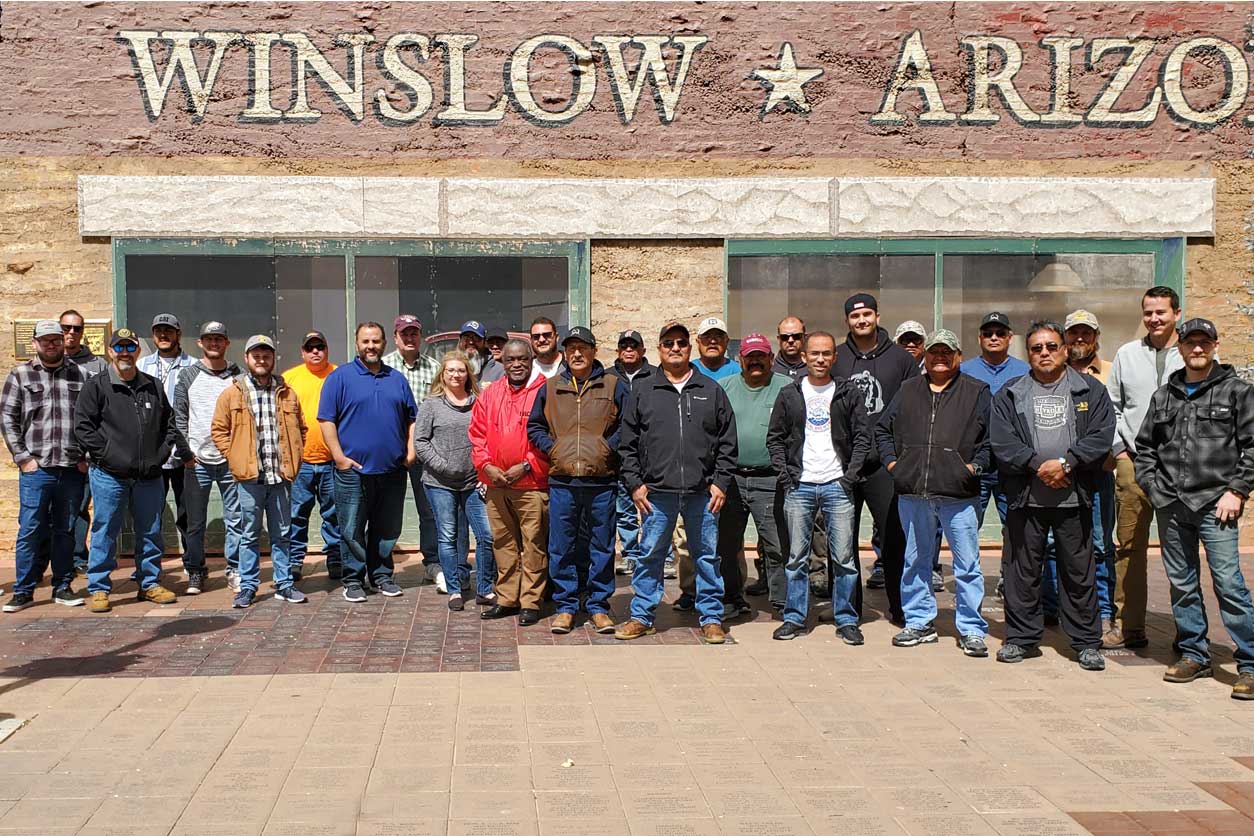 The IBT 2019 CER course participants are shown in Winslow, Arizona.