Allan Just, Ph.D., from the Icahn School of Medicine at Mount Sinai, described how NASA satellite data can improve estimates of exposure to air pollution and extreme temperatures, as part of the NIEHS Keystone Science Lecture Seminar Series.
Just described the approach in his May 29 talk, "Measuring Environmental Exposures from 700 Kilometers Up: Leveraging NASA Satellites to Study Air Pollution, Temperature, and Links to Health." Kimberly Gray, Ph.D., from the NIEHS Population Health Branch, hosted the talk.
Data from anywhere, at any time
Seven million deaths were linked to air pollution in 2012, making it the world's largest single environmental health risk, according to the World Health Organization. Approximately 3.7 million of the premature deaths were attributable to outdoor air pollution.
Just recognized that estimates of exposure to air pollution and temperature used for epidemiological research could be improved and expanded. He explained that until recently, air pollution and temperature data have been available only for areas where the data are collected, such as near airport weather sensors. Epidemiologists may assign exposure levels to individuals based on data recorded up to 10 kilometers (km) away.
Because satellite remote sensing data can be collected almost anywhere, exposures can be estimated for individuals living in urban and rural areas. Moreover, the data are available going back more than 15 years to reconstruct exposures for ongoing studies. Just's technique of combining satellite data with geostatistical approaches uses refined satellite estimates that bring the resolution for exposures from 10 x 10 square km down to 1 x 1 square km.
Improving accuracy
One challenge Just and his collaborators tackled was evaluating how well the data, which were collected by satellites orbiting 700 km above the Earth, reflects exposure measurements at ground level.
For example, one type of satellite data used for estimating particulate air pollution is called aerosol optical depth (AOD). AOD estimates how much light is absorbed or scattered by particles in the atmosphere, some of which come from pollution. Factors like clouds and bright surfaces can also affect AOD when it is measured from the sky.
So Just and his team looked at data collected by the Aerosol Robotic Network (AERONET), a worldwide network of sensors. They used a subset of 79 stations that measure AOD from the ground. By comparing AOD from satellite measurements with values from AERONET, they identified more than 50 variables and used them to improve the reliability of satellite AOD data.
The technique substantially boosted the correlation of AOD with ground-level measures of fine particulate matter, or PM2.5. This is a form of air pollution of interest to environmental health scientists due to its effects on human health.
Cross-disciplinary approach holds promise
Just's work is funded by the National Institutes of Health's (NIH) Environmental Influences on Child Health Outcomes (ECHO) program. ECHO is a consortium of grantees studying 84 groups of children and their parents, totaling approximately 50,000 participants. These groups, or cohorts, were assembled to study long-term impacts of environmental exposures on health outcomes in children.
Gray represents NIEHS on the ECHO steering committee. "Allan is adding more precision to indirect measures of exposure by using satellite data," she said. "It is a unique opportunity to use NASA's satellite technology to enhance estimates of exposure to air pollutants for large population-based studies that cover a large and diverse geographical area."
The ECHO grant supports Just's air pollution and temperature exposure estimates, as well as measures such as greenness across the continental United States. Epidemiologists will be able to use his data to connect these exposures with a wide variety of adverse health outcomes, from cardiopulmonary disease to impaired neurodevelopment.
(Stephanie Smith-Roe, Ph.D., is a toxicologist in the Genetic Toxicology Group of the National Toxicology Program.)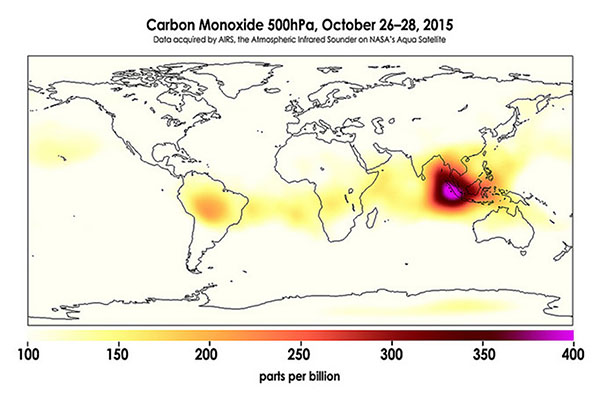 Aqua (see sidebar) collects data such as that portrayed in this image of 3-day average global concentrations of carbon monoxide at approximately 18,000 feet, or 5,500 meters, altitude. The high concentration over Indonesia reflects wildfires that burned tens of thousands of acres over three months, causing high levels of pollution, loss of life, and damage estimated in the billions of dollars. (Photo courtesy of NASA)