Ten undergraduate students from area schools got their yearlong NIEHS research program off to a strong start June 4-6 with an intensive training session, or boot camp, in laboratory techniques. Students in the NIEHS Scholars Connect Program (NSCP) will use the training as they work full time during the summer and part time during the academic term in labs at the institute. NSCP is sponsored by the NIEHS Office of Science Education and Diversity (OSED).
Successful beginning
Negin Martin, Ph.D., acting director of the NIEHS Viral Vector Core Laboratory, trained the scholars in culturing tissue and aseptic techniques. Working under aseptic conditions ensures that cell cultures will not be contaminated with other bacteria. Martin reported that all 10 scholars performed the work without any contamination.
"For many of them, this was the first time to work at bench with cultured cells," she said. "It is impressive and rare to have an entire class work so meticulously as to have no contamination. They are a remarkable group of students."
Cells and searches
Erica Scappini and Agnes Janoshazi, Ph.D., from the NIEHS Fluorescence Microscopy and Imaging Center, helped demonstrate a process called confocal microscopy. Scientists who want to study the activity of different types of cells may use fluorescent tagging. Similar to a technique used by digital photographers, called focus stacking, the confocal microscope scans thin sections through a sample, then builds a sharp 3-D image.
Outside the lab, each scholar received a one-on-one session with NIEHS Library and Information Services staff. Led by Library Manager Erin Knight, the staff showed the participants how to conduct a search of scientific literature. Building on discussions with individual mentors, the staff worked with the students on searches tailored to what they will each need for their research at the institute.
An asset to NIEHS labs
Martin, who also serves as a mentor for scholars and summer interns in the Viral Vector Core Laboratory, said the students are an asset to the NIEHS labs they work in. "The Scholars Connect students compete to get into the program," she said. "So they join the NIEHS labs motivated, ready to learn, and give full effort to their projects."
That might explain the extent of interest among scientists at the institute. According to coordinator Suchandra Bhattacharjee, Ph.D., from OSED, ten students is the maximum number the program can accommodate. "We wish we could take more," she said. "We had 18 labs interested in serving as mentors."
Scientists in the laboratories interview candidates and review application materials. "The mentors told us the applicants were all very strong, making it sometimes hard to choose between them," Bhattacharjee said.
Her own experience supported that view. "I was impressed with the professionalism of the students, which helped make for a smooth transition into the NIEHS workplace," she said.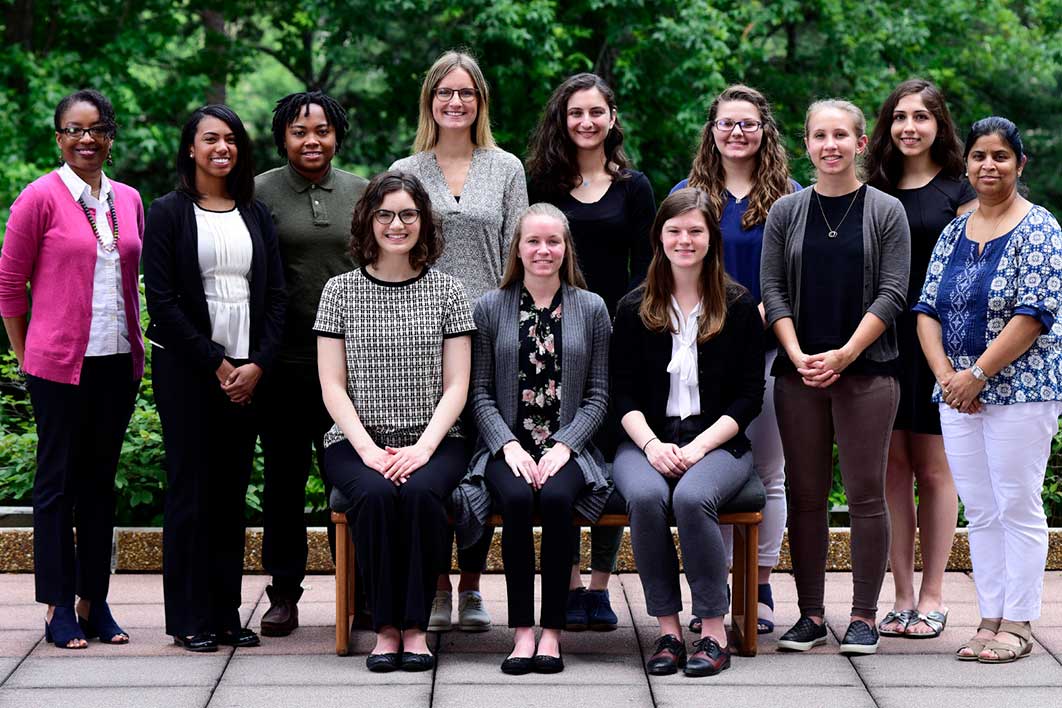 From left, back row, OSED Director Ericka Reid, Ph.D., Lawrence, Parks, Schrader, Hossamy, Potts, Roberts, Qureshi, and Bhattacharjee. Seated from left, Kafer, Russ, and Lola.