Two dozen researchers gathered at NIEHS May 8-9 for the Outstanding New Environmental Scientists (ONES) symposium. Participants from a diverse range of disciplines shared both cutting-edge environmental health research and career advice. The final session featured four of the newest ONES awardees (see sidebar).
Carol Shreffler, Ph.D., leads ONES for the NIEHS Division of Extramural Research and Training (DERT). She said that NIEHS established the ONES grant program to help scientists launch innovative research programs to understand how environmental exposures affect people's health.
"This makes the symposium unique," she pointed out. "Researchers at the start of their careers come — and they all come if they possibly can — to hear from those who have already been through it."
Research talks
A preview of the range of specialties and scientific approaches represented at the symposium came in the first session, moderated by Jonathan Hollander, Ph.D., from DERT.
"We are going to be examining environmental insults from a neuro perspective," he said. The session's speakers study neurological impacts from exposures to substances such as heavy metals, fungicide, and airborne particulate matter.
Their research approaches include models based on nematodes, mammals, and human cell lines, as well as human population studies.
Career advice from NIH
Meena Ananthanarayanan, Ph.D., from the National Institutes of Health (NIH) Center for Scientific Review, participated via video link. He said NIH reviews environmental health research grants for the overall impact of the project. "Overall impact is the likelihood the project will exert a sustained and powerful influence on the research field," he said.
Ananthanarayanan also had advice for applicants who did not receive grants. "You are not alone," he said. "The key to success is try, try, and try again."
Determine logical next steps
Brandon Pierce, Ph.D., who presented a lecture just after the symposium (see text box), shared his perspective seven years after receiving a ONES award.
"Think hard about how to leverage the expertise, tools, data, and results that emerge from your ONES project," he advised. "Look for natural extensions and logical next steps. NIH is really [interested in] that." Pierce has received four additional NIH grants, including one from the National Human Genome Research Institute.
Pierce's early aims involved bridging environmental and epigenetic epidemiology, with an emphasis on arsenic exposure. He then developed next steps to answering his scientific questions and expanding beyond the study population in Bangladesh.
Equipment, collaboration, and expanding horizons
Heather Patisaul, Ph.D., from North Carolina State University, received her ONES award in 2007. She offered practical steps for grantees.
Build a professional network and get good mentors. "Pick a primary [scientific] society and stick with it," she said. "Make it your tribe."
Do not get stretched too thin. Collaborate selectively.
"The equipment piece is totally vital," she said, stressing the importance of a confocal microscope she purchased.
Go to meetings without a poster. Expand horizons by getting to know researchers and vendors.
Watch for new grant opportunities. "Listen to council meetings," she advised, to learn about relevant new NIEHS grant programs.
Read the NIEHS Strategic Plan to understand NIEHS research priorities.
At a ONES symposium several years ago, Patisaul heard a talk on a flame retardant called Firemaster 550. The presenter, Duke University's Heather Stapleton, Ph.D., became Patisaul's next collaborator.
"We had lunch in the NIEHS cafeteria and literally sketched out [a pilot project] on the back of the program," she recalled. That project led to her current research on the effects of flame retardant exposures on social behavior.
Make the most of the advisory committee
Jared Brown, Ph.D., from University of Colorado, studies nanomaterials and the immune system. "He really used his advisory committee, and they had a lot of input to his career," Shreffler said.
Brown explained that the group provided suggestions on his research direction, on negotiations within his department, and career advice.
His research track involved taking a big picture question and narrowing it down to mechanistic questions, Brown said. New directions build on what he and his team have learned about the immune response to nanomaterials. They are working to harness the therapeutic potential as nanotherapeutics.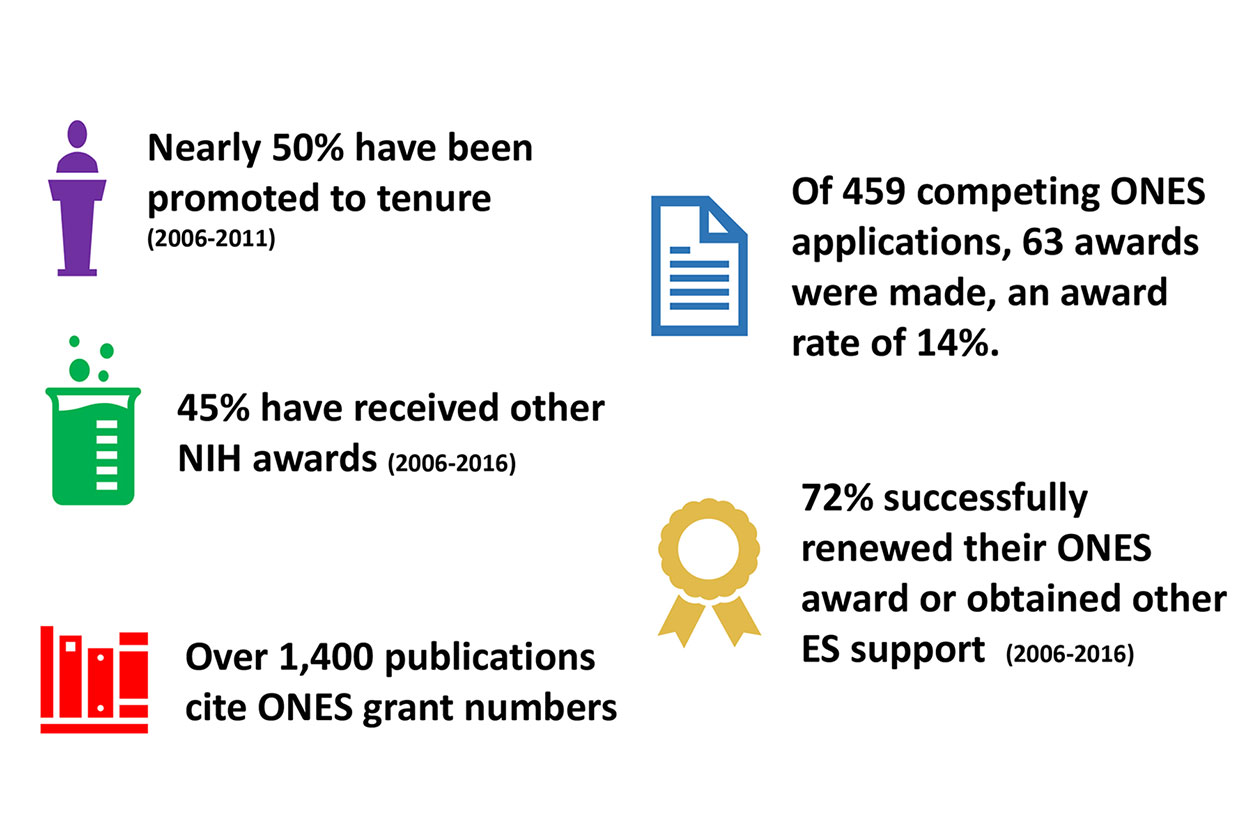 "Our goal is to identify talented early stage investigators who intend to make a long-term commitment to environmental health sciences research," said DERT Director Gwen Collman, Ph.D. The statistics above convey some of the ONES program facts that she shared.
Arsenic and the human genome
As an assistant professor at the University of Chicago, Pierce built on his ONES research to become part of the first group of grantees in the NIEHS RIVER program. Kimberly McAllister, Ph.D., who oversees the RIVER program, introduced Pierce at a talk May 9 for the Keystone Science Seminar Series.
Pierce, who studies interactions between arsenic exposure and the genome, discussed inherited genetic variation and dynamic aspects of the genome. Dynamic features of the genome include changes in telomeres length (see related story) and DNA methylation, among others. DNA methylation an epigenetic change to DNA, which means the changes are heritable but they do not affect the underlying base sequence.
Bangladeshi cohort
Pierce discussed studies of data from an NIEHS-funded, long-term study in Bangladesh, called Health Effects of Arsenic Longitudinal Study (HEALS). "It's a powerful and unique data source for studying genetic impacts on arsenic toxicity," he said.
For example, genetics influences how the liver metabolizes inorganic arsenic to monomethylated arsenic, and then dimethylated arsenic (DMA). "DMA is a form most easily excreted in urine, so the more efficiently the body converts arsenic, the lower the exposure level, or internal dose," said Pierce.
His team conducted whole-genome searches to identify gene variants that affect both arsenic metabolism efficiency and arsenic-related health outcomes. Pierce's studies involving FTCD, an enzyme expressed mostly in the liver, provided additional support for a link between certain aspects of metabolism and arsenic-related disease.
Epigenetic changes and metabolism
Earlier studies linked arsenic exposure with changes to DNA methylation that were dependent on exposure level, duration of exposure, and stage of the life course. Pierce suggested that arsenic exerts its toxic effects through oxidative stress, increased inflammation, and epigenetic dysregulation.
For more information on arsenic and health, see the related health topic.