Seven NIEHS-affiliated postbaccalaureate fellows received outstanding poster honors May 2 at the 2018 National Institutes of Health (NIH) Postbac Poster Day.
NIEHS sent 21 competitors to this year's event, which was held at the NIH Natcher Conference Center. Twelve of them received travel awards from the NIH Office of Intramural Training and Education (OITE) to attend.
One winner, Andrew Trexler, works in the National Cancer Institute (NCI) Toxicokinetics and Toxicology Laboratory, housed at NIEHS and led by NIEHS and National Toxicology Program (NTP) Director Linda Birnbaum, Ph.D.
The NIEHS participation rate represented a significant increase over recent years. From 2015 to 2017, NIEHS sent a total of 22 postbacs to the event. NIEHS currently hosts a total of 40 postbacs.
"I think the increase in attendance is due in large part to the excellent leadership of our new postbaccalaureate program manager, Katy Hamilton," said Tammy Collins, Ph.D., director of the NIEHS Office of Fellows" Career Development. "She organized the postbacs to attend, presented a poster-making workshop, and helped them practice their posters ahead of time."
Beating the odds
This year, 772 posters were presented by postbacs from all 27 NIH institutes and centers. Slightly more than 20 percent of them were judged to be outstanding. With a full one-third of NIEHS participants winning awards, institute postbacs clearly performed above average.
This was the second year of attendance for postbac Lauren Carlson, who said this year's crowd felt much bigger than last year's. "Postbac day is always a great event," she said. "It's one of the few times where postbacs are able to get together to share what we've been working on."
Energy and excitement
NIEHS attendees returned from the event energized. "It is a huge honor to receive an outstanding poster award," Trexler said. "I am grateful to all of my mentors, especially Dr. Cannon and Dr. Birnbaum, for their support and guidance."
"Andrew showed that low concentrations of 2,4,6-tribromophenol [TBP], which is persistent in our environment, inhibit the pumps that keep dangerous molecules out of the brain," said Ronald Cannon, Ph.D., Trexler's mentor. "It is really kind of groundbreaking."
Verda Agan, who received a travel award to attend, dedicated her award to her lab mates in the Reproductive Developmental Biology Group, headed by Humphrey Yao, Ph.D.
"I am honored to have been selected for this very competitive award," said Brian Elgart, who also received a travel award.
Glaire Delancy expressed gratitude to her mentor, Harriet Kinyamu, Ph.D., for challenging her and making her project possible.
Kevin Goslen expressed excitement upon hearing he had won. "I am grateful to Dr. Monica Pillon and Dr. Robin Stanley for giving me the opportunity to contribute to this project and encouraging me to present my work," he said.
Highlighting important contributions
Postbac Poster Days have been held annually since 2001 to highlight the contributions of postbacs to the NIH intramural research program. A judging component was added in 2011.
OITE offers other career and professional development activities to postbacs as well.
Skills workshops on topics such as oral and poster presentations and improving mentoring relationships.
Getting to graduate and professional schools.
Career exploration sessions.
A graduate and professional school fair.
The postbacs who won travel awards were Verda Agan, Whitney Bell, Christine Bowen, Lauren Carlson, Gabrielle Childers, Brian Elgart, Marleny Garcia, Susan Kim, Ahmed Mashal, Adam Miranda, J. Tyler Ramsey, and Alma Solis.
(John Yewell is a contract writer for the NIEHS Office of Communications and Public Liaison.)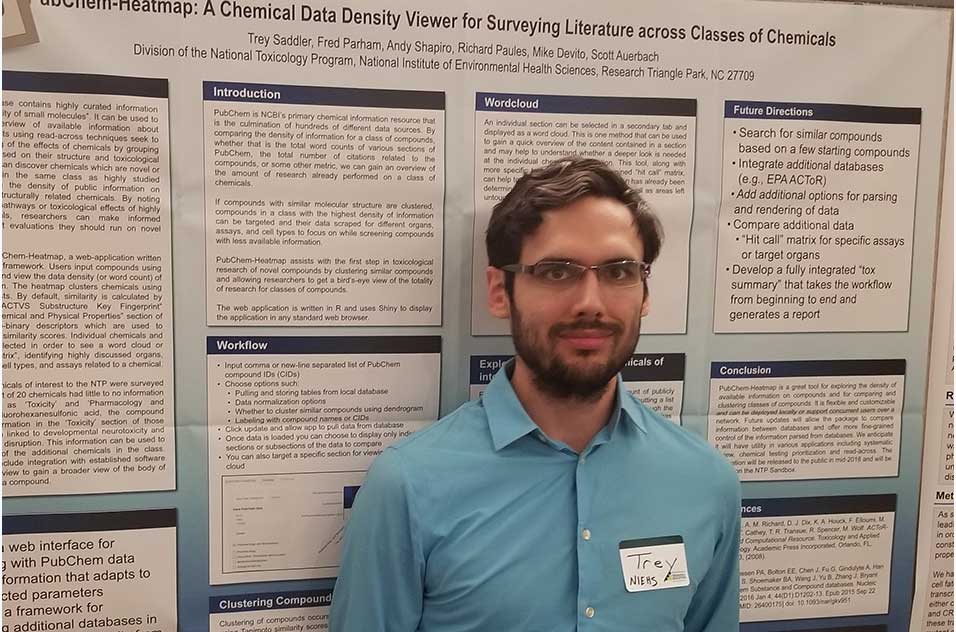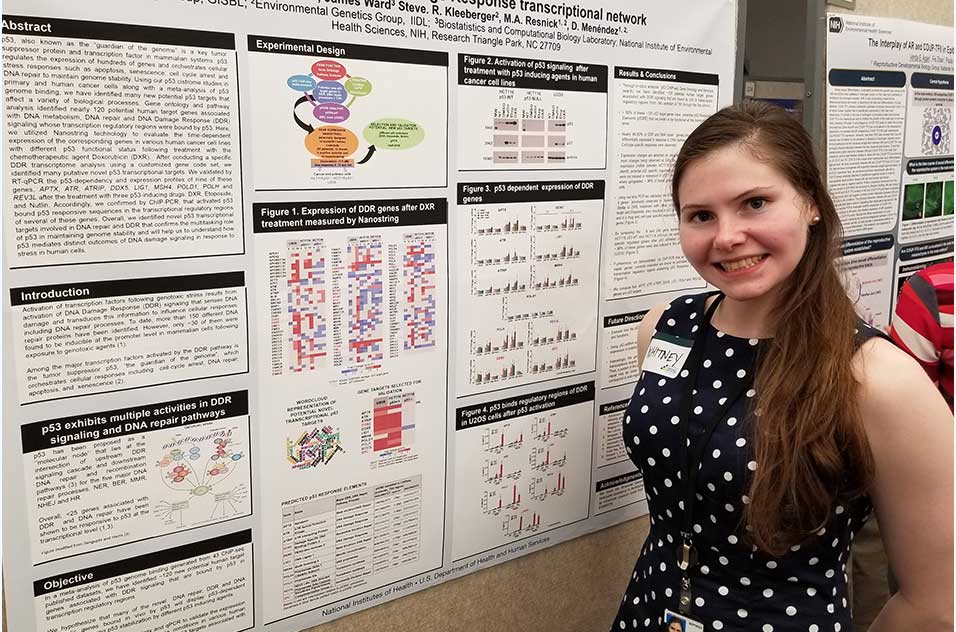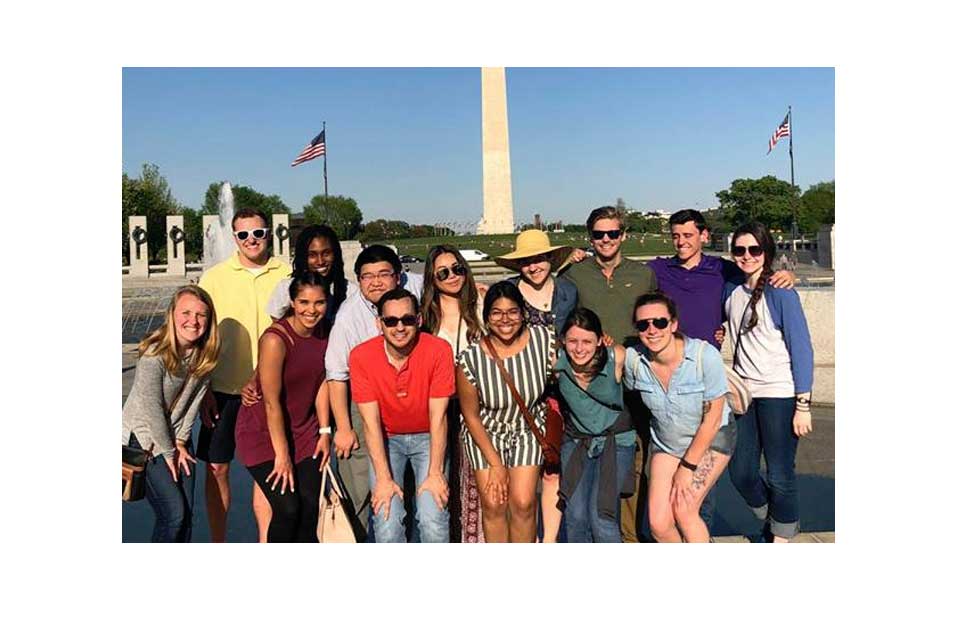 Additional postbac posters
Lauren Carlson, from the University of Pittsburgh, presented "Early Puberty in Girls: What's Body Fat Got to Do with It?" based on her work in the Clinical Research Branch.
Whitney Bell, from Meredith College, presented "Validation of Novel p53 Transcriptional Targets Involved in DNA Damage Response and DNA Repair Signaling," based on her work in the Genome Integrity and Structural Biology Lab.
Christine Bowen, from ASU, presented "A Comparison of Flame Retardant Induction of Neuroinflammation Response," from her work in the NTP Neurotoxicology Group.
Gabrielle Childers, from Virginia Polytechnic Institute and State University, presented "Effects of Organotin Compounds on Inflammasome Activation and Mature IL-1 Beta Release," based on her work in the NTP Neurotoxicology Group.
Phillip Cox, from NCSU, presented "The Role of Pol Zeta in Nuclear DNA Replication in a Yeast pol2-16 Mutant," based on his work in the DNA Replication Fidelity Group.
Marleny Garcia, from Washington State University, presented "Pre and Post Pubertal Uterine IGF1 Responsiveness: Investigating a Potential Time Sensitive Role of Estradiol," from her work in the Receptor Biology Group.
Allen Hsu, from NCSU, presented "An Optimized Workflow for Specimen Preparation, Data Acquisition, and Image Processing in Single-particle Cryo-EM," based on his work in the Genome Integrity and Structural Biology Laboratory.
Christian Hyacinthe, from Duke University, presented "Quantitative Analysis of Mitochondrial Sequence Variation and mtDNA Damage in Smokers," based on work in the Immunity, Inflammation, and Disease Laboratory.
Susan Kim, from UNC, presented "ATPase Activity of SMCHD1 Missense Mutation in Bosma Arhinia Microphthalmia Syndrome, a Rare Craniofacial Disorder," based on her work in the Clinical Research Branch.
Ahmed Mashal, from NCSU, presented "Insights from Utilizing Archival Formalin Fixed Paraffin Embedded Tissues for Next Generation Sequencing Studies," based on his work in the Cellular and Molecular Pathology Branch.
Trey Saddler, from Salish Kootenai College, presented "PubChem-Heatmap: A Chemical Data Density Viewer for Surveying Literature across Classes of Chemicals," based on his work in the NTP Biomolecular Screening Branch.
Alma Solis, from Northern Arizona University, presented "The Microbiome Protects against Pulmonary Fibrosis through TLR5 Activation," based on her work in the Immunity, Inflammation, and Disease Laboratory.
Jemma Strauss, from NCSU, presented "Characterization of Sex Differences in Hippocampus-dependent Cognitive Tasks," based on her work in the Neurobehavioral Core Laboratory.
Nancy Urbano, from St. Mary's University in Texas, presented "In vitro Chemical Screening Approach Based on Interleukin-1 Receptor Activation by Plasma to Assess Pro-Inflammatory Potential," based on her work in the NTP Predictive Toxicology and Screening Group.