NIEHS scientists Christie Drew, Ph.D., and Mike Humble, Ph.D., spent a day on a farm March 24, speaking to local Girl Scouts about environmental health. They took part in the daylong Creekside Spring Agriculture Festival, at Creekside Farms in Johnston County, North Carolina.
"This was a really fantastic group of girls to work with," said Humble, a former high school science teacher and member of the NIEHS Speakers Bureau. "They were so engaged, and so incredibly excited about learning. Christie and I had a blast just being around them."
Visualizing breath and dose
Humble and Drew arrived at the festival first thing in the morning and set up several interactive experiments. For a lung capacity demonstration, kids got to blow through a tube to displace water in a bucket. Measurements were marked on the bucket to show lung volume.
"This experiment allowed us to talk about healthy lungs, healthy air, and respiratory volume," said Drew, chief of the NIEHS Program Analysis Branch and a former Girl Scout.
"The second had two parts, a salt-dose taste test and an illustration of concentration," said Drew. "In the salt test, the first group of cups had no salt, the second a bit, the third a bit more, and the fourth was very salty." The kids put stickers on a chart to mark the cup in which they first tasted the salt. Most tasted it on the third cup, but there were stickers on all three concentrations.
"This helped us explain the concept of dose, and the fact that people are different," Drew explained. "Given our different genetics, it can be difficult to design drugs that work for everyone."
That point was reinforced by the second part of the experiment, in which Humble added the same amount of food coloring to different sized beakers. "This one showed kids how the same-sized dose of a chemical, represented by the food coloring, can have different effects when put into different sized containers, which represented children versus adults."
Drew estimated that roughly 85 parents and kids participated in the experiments, many of whom returned for multiple trips down the table.
(Ian Thomas is a public affairs specialist with the NIEHS Office of Communications and Public liaison, and a regular contributor to the Environmental Factor.)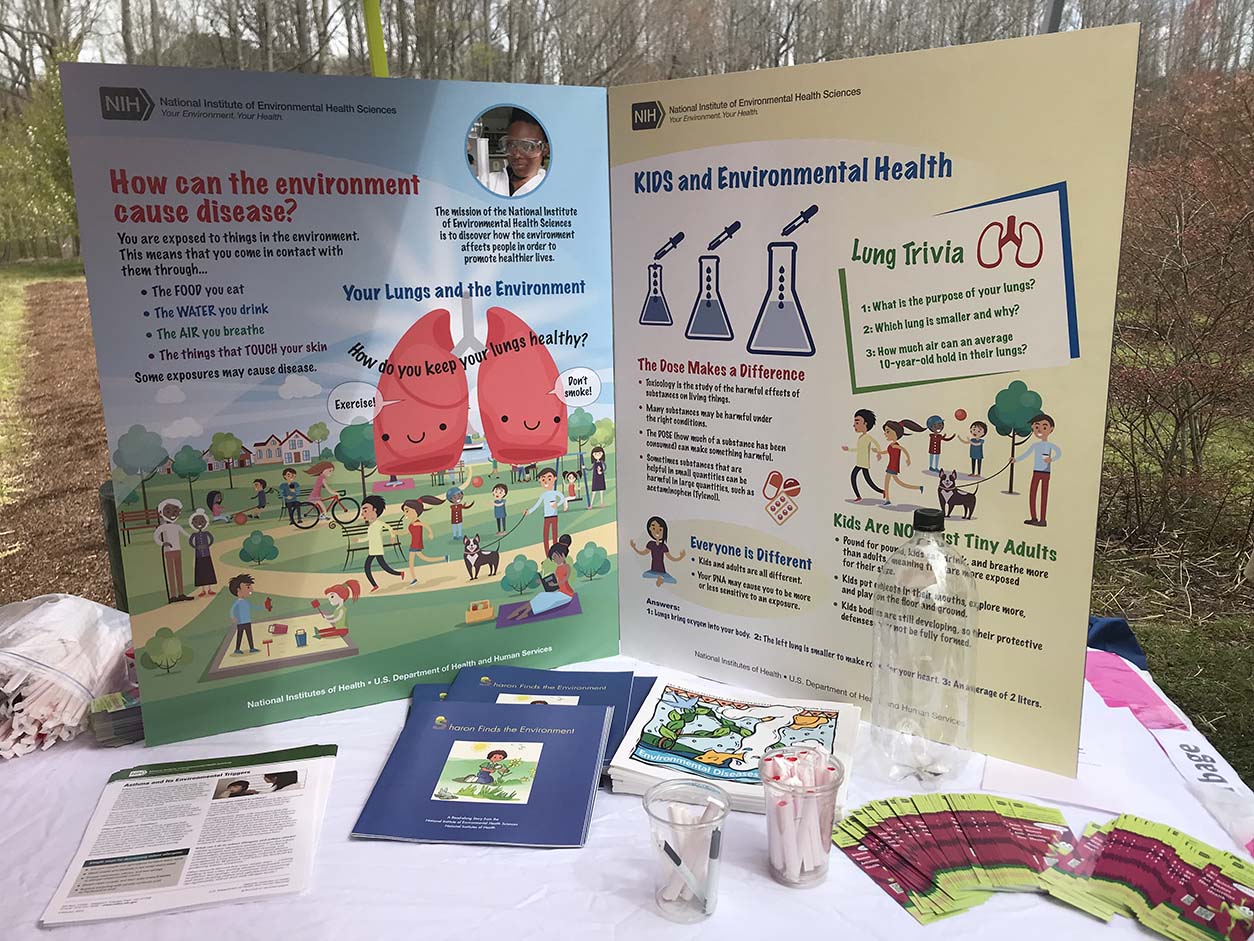 Speakers Bureau volunteers draw upon a variety of informational materials related to environmental health and careers in science.