Beginning May 1, visitors to the NIEHS website will notice a fresh, new look that showcases NIEHS research, grant offerings, and a broad range of scientific and educational tools. With dozens of updates to the website each day, visitors can easily access the most current information about the institute and its many activities and resources.
NIEHS Digital Design Manager, Joe Poccia, led the project, drawing upon the expertise and know-how of the institute's outstanding web design team.

"Each day, NIEHS has something interesting to share — science lectures, new grant opportunities, research findings, journal publications, searchable databases, event announcements, and news articles," said Poccia. "We wanted to give our website visitors a better understanding of all that we offer online and invite them to be a part of it."
To achieve that goal, the website team expanded the amount and type of content on the NIEHS homepage (see sidebar). Redesigned menus allow visitors quick access to material previously buried deeper within the website. For example, visitors may discover an introduction to epigenetics, browse employment opportunities, or watch an event on-line, all from a single webpage. The new format also makes it easier to read, print, or share webpage content.
"I think of the NIEHS website as an active community forum, where anyone can come for timely, reliable and helpful information," said Christine Bruske Flowers, director of the NIEHS Office of Communications and Public Liaison, which oversees web site operations.

"Whether you are a scientist searching for cryo-electron microscopy technologies or a concerned mom who wants to learn about topics trending in social media like GenX and other PFAS — Per- and Polyfluoroalkyl Substances, we want our website to be your first, and best, Internet stop," Flowers said.
Begin with data
The Web team began the project the way any good scientist would — by collecting data. Poccia analyzed results of user surveys and studied metrics on how the website was being searched. He determined which content was most requested and gave priority to making that material easy to find.
NIEHS web manager Cheryl Thompson was quick to point out that the webpage on scientific ethics has long been the institute's most popular page. It is one of the more highly visited webpages among all National Institutes of Health webpages.
New features
Poccia described elements of the new design that will enable quicker updates and priority placement of hot topics. "We're using a modular design, which means that content is housed in boxes that are easy to move around on the webpage, add, or remove," he said. "Or, it can even show up on multiple webpages."
Updates in one place are automatically reflected at the other locations. For example, when information is changed within the module on grant opportunities, those updates will instantly appear on the NIEHS homepage, the main grants webpage, or any grant-related webpage within the Division of Extramural Research and Training.
Thompson highlighted a feature designed to enhance wider use of public educational material on the website. "When a webpage is printed out, it comes with a QR code, which you can scan with your mobile device to get more information," she said. "This makes them great for handouts or course packets."
Thompson also explained that the website is a great source for online events, which are now easier to find right from the homepage. "We are offering remote access to more events every day, allowing users from all over the world to watch really great talks by renowned speakers like Temple Grandin or presentations by our own scientific staff to the National Advisory Environmental Health Sciences Council."
Although the new website looks different now, its foundational structure has not changed. Links and bookmarks from the previous website will continue to work as always.
"This was truly a team effort," Thompson said. "With input from the public and NIEHS thought leaders, our team of contractors and federal staff were able to craft a beautiful new website, which I hope everyone will enjoy."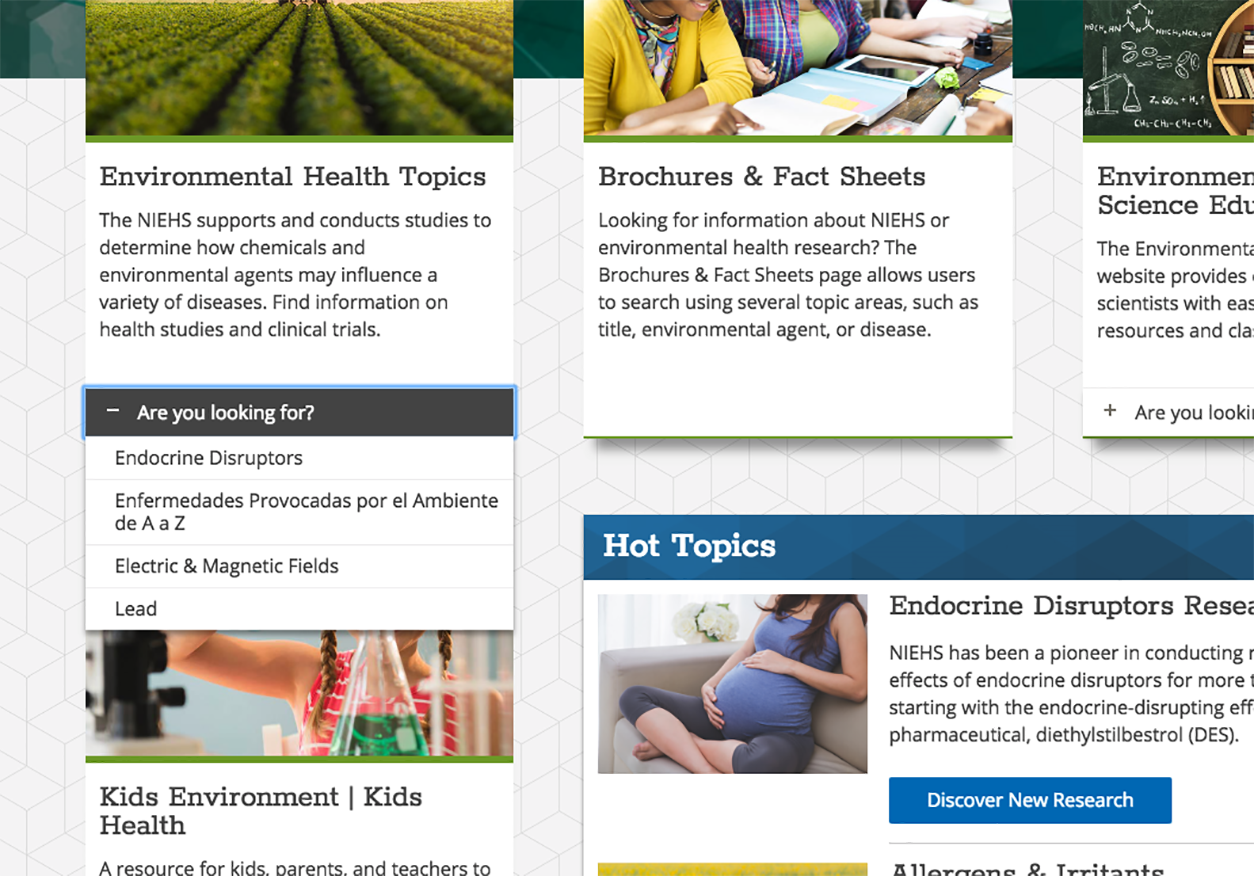 Hot Topics and foldout suggestion boxes give routes for exploration.