Scientists, environmental advocates, and state and county health officials from across North Carolina travelled to NIEHS Feb. 23 to attend the inaugural Endocrine Disrupting Chemical Research in North Carolina (EDC-NC) meeting.
The day-long gathering, which drew approximately 150 people, featured oral and poster presentations on the role of endocrine disruptors on human and ecological health (see text box).
Jerry Heindel, Ph.D., a former health scientist administrator in the NIEHS Division of Extramural Research and Training, led the group of organizers, listed below. Heindel now works with the nonprofit company, Commonweal.
Kimberly Gray, Ph.D., NIEHS health scientist administrator.
Kembra Howdeshell, Ph.D., NIEHS health scientist administrator.
Heather Patisaul, Ph.D., from North Carolina State University (NCSU).
Emilie Rissman, Ph.D., from NCSU.
Christopher Kassotis, Ph.D., from Duke University.
Collette Miller, Ph.D., from the U.S. Environmental Protection Agency (EPA).
Carol Kwiatkowski, Ph.D., from The Endocrine Disruption Exchange.
"The EDC-NC planning committee appreciated NIEHS's willingness to host the first scientific meeting of our new interest group," Howdeshell said. "The institute has been integral to the development of this area of study, by funding academic researchers who study EDCs."
Chemical compounds and health
Endocrine disruptors are naturally occurring or man-made chemicals that may mimic or interfere with the action of the body's hormones. Several speakers studied the ability of certain EDCs to disrupt the normal balance of estrogen and testosterone, and discussed the resulting health effects. Other presented research studies were about the effects of EDCs on immune system function and the potential impact of EDCs on metabolic disease.
David Collier, M.D., Ph.D., of the Brody School of Medicine at East Carolina University (ECU), talked about associations between benzoic acid, a food and beverage additive, with metabolic disease and increasing rates of obesity.
Rowan Beck, a graduate student at the University of North Carolina at Chapel Hill (UNC), reported on arsenic, which is a naturally occurring endocrine disruptor. Exposure to arsenic is associated with defective insulin secretion, leading to arsenic-associated diabetes in humans, mice, and rats.
GenX
The day's final session dealt with GenX and related short-chain perfluorinated compounds, a group of unregulated chemicals used to make nonstick coatings and other products.
GenX garnered a considerable amount of media coverage in North Carolina after the N.C. Department of Environmental Quality and the N.C. Department of Health and Human Services (DHHS) found GenX and other contaminants in the Cape Fear River, in the southeast part of the state.
Residents are concerned because the contamination appears to have been occurring for many years without their knowledge. Some research indicates it may be associated with cancer and other health problems in humans.
Local studies — led by NCSU's Jane Hoppin, Sc.D., and others — on GenX exposure are ongoing. Meeting organizers recognized the extensive public interest in the topic. Therefore, to accommodate those unable to come to NIEHS for the GenX talks and panel discussion, the institute webcast that portion of the meeting.
The discussion touched on air pollution and other routes of GenX exposure; development of methods for detection in environmental and biological samples; and remediation efforts.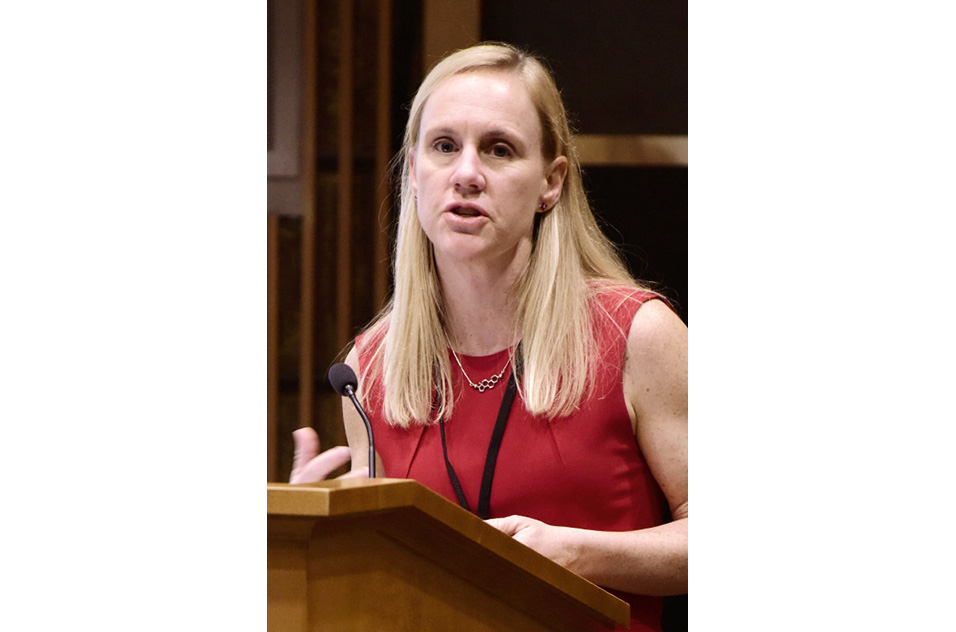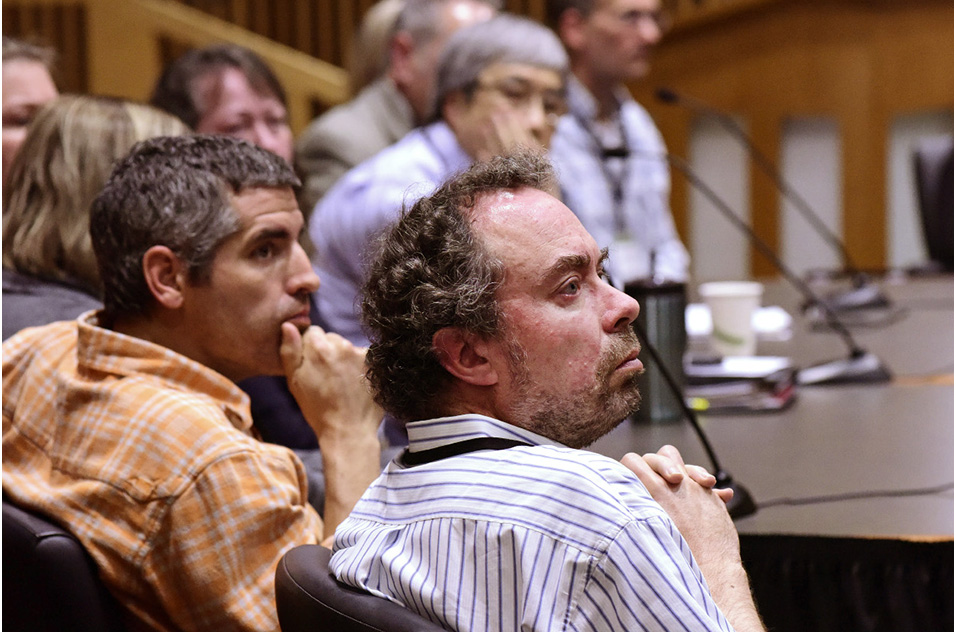 EDC-NC presentations
After Heindel's welcome and opening remarks, each presenter spoke for 15 minutes, followed by five minutes of questions and answers.
EDCs and Brain Function, chaired by Emilie Rissman, Ph.D., from NCSU
Scott Belcher, Ph.D., NCSU — "Cytoprotective Action of Estrogens Increase Childhood Brain Cancer Progression."
Jamie DeWitt, Ph.D., ECU — "How Perfluorinated Chemicals, as EDCs, Fool the Developing Brain's Immune System."
Alzbekta Talarovicova, Ph.D., NCSU — "Paternal Exposures Matter: Effects of Preconception Diethylhexyl Phthalate on Behavioral Outcomes in Offspring."
Alex Tuttle, Ph.D., UNC — "Prospectively Identifying Environmental Risks Associated with Neurodegeneration."
EDCs and Reproduction — Mixtures, chaired by Kembra Howdeshell, Ph.D., from NIEHS
Krista McCoy, Ph.D., ECU — "Mixing It Up: To Find a Protective Therapy Against Endocrine Disruption."
Justin Conley, Ph.D., EPA — "Adverse Effects of a Mixture of 15 Pesticides and Phthalates on Reproductive Tract Development in the Male Rat."
David Aylor, Ph.D., NCSU — "DES and the Collaborative Cross."
Kate Hoffman, Ph.D., Duke University — "Early Life Exposures to Semi-volatile Organic Compound Mixtures and Associations with Children's Growth."
Metabolic Disruption, chaired by Christopher Kassotis, Ph.D., from Duke University; and Collette Miller, from EPA
Vesna Chappell, Ph.D., NIEHS — "Mechanisms for Action for Bisphenols in Adipogenesis."
David Collier, M.D., Ph.D., ECU — "Is Benzoic Acid an Obesogen?"
Rowen Beck, UNC — "Micro-RNAs as Mediators or Biomarkers of Arsenic-Associated Diabetes."
Theresa Guillette, Ph.D., NCSU — "Sex-Specific Differences in Metabolic Responses to CD-1 Mice Exposed to Cadmium During Gestation."
Chasing Emerging Contaminants — GenX and Other Perfluorinated Chemicals in North Carolina, chaired by Heather Patisaul, Ph.D., from NCSU
Andrew Lindstrom, Ph.D., EPA — "Environmental and Chemical Monitoring for Emerging Chemicals."
Jane Hoppin, Sc.D., NCSU — "Answering Human Exposure Questions."
Mina Shehee, Ph.D., NC DHHS — "North Carolina Response to Emerging Contaminants."
GenX Panel Discussion
Chris Lau, Ph.D., EPA
Heather Stapleton, Ph.D., Duke University
Jamie Dewitt, Ph.D., ECU
Detlef Knappe, Ph.D., NCSU
Kemp Burdette, Cape Fear River Keeper
Phillip Tarte, New Hanover County Health Director