A suite of new articles describes the latest science on the fate and effects of mercury. The articles inform activities under the Minamata Convention, a global treaty on mercury that was ratified in August 2017. The papers were published in a special section of the journal Ambio, in the March 2018 issue.
Organizers of the 13th International Conference on Mercury as a Global Pollutant (ICMGP) commissioned the papers. The conference, held during July 2017 in Providence, Rhode Island, attracted more than 1,000 participants from 50 countries.
'Years of research have led us to a more complete scientific understanding of the global mercury problem,' said Celia Chen, Ph.D., who leads the Research Translation Core of the Dartmouth College Superfund Research Program (SRP) Center. Chen and Charles Driscoll, Ph.D., from Syracuse University, co-chaired the conference and, as guest editors, wrote an introduction to the special section.
'These papers provide a rigorous look at the state of scientific research related to mercury, some of which has come out of the Dartmouth SRP Center,' said NIEHS SRP Health Scientist Administrator Danielle Carlin, Ph.D.
The latest international science and policy
In the special issue, four invited papers describe how mercury pollution responds to a changing world. The papers, which are listed below, address how the metal cycles between air, water, and soil; changes that affect availability in water; changes that affect human health and ecological risks; and scientific expertise needed to implement the international agreement.
'There is still much work to do to control mercury pollution going forward, and the contributions of mercury scientists will continue to be needed,' said Chen.
The authors prepared summary fact sheets that explain the forces influencing mercury in the environment and human exposure. (Photo courtesy of ICMGP)
Minamata Convention
The Minamata Convention on Mercury requires those countries to control new and existing sources of mercury and monitor effectiveness.
'We hope these papers will provide a foundation of scientific knowledge to help inform implementation of the Minamata Convention, and to evaluate its effectiveness going forward,' Chen said. 'From the scientific perspective, the ability to effectively implement the Minamata Convention will depend on comparable and consistent global measurements on land, and in air, water, and [living organisms].'
In September 2017, Chen joined delegates from the ratifying and signatory countries in Geneva for the first Conference of the Parties (COP-1). Along with colleagues from Massachusetts Institute of Technology, she distributed summaries of the four new papers.
'The summaries introduced some basic scientific information to nonscientists, to clearly link the science to the policy,' Chen said. 'They were well-received, and we had requests to translate them into other languages.'
Fostering dialogue and collaboration
The papers were featured during plenary sessions of the ICMGP and in a day-long NIEHS-funded workshop before the conference, which attracted 30 scientists and policymakers. The workshop fostered dialogue among scientists, environmental managers, policymakers, and nonprofit organizations.
The Dartmouth SRP team modeled the workshop process on their Coastal and Marine Mercury Ecosystem Research Collaborative, released in 2012.
Citations:
Chen CY, Driscoll CT. 2018. Integrating mercury research and policy in a changing world. Ambio 47(2):111−115.
Eagles-Smith CA, Silbergeld EK, Basu N, Bustamante P, Diaz-Barriga F, Hopkins WA, Kidd KA, Nyland JF. 2018. Modulators of mercury risk to wildlife and humans in the context of rapid global change. Ambio 47(2):170−197.
Hsu-Kim H, Eckley CS, Acha D, Feng X, Gilmour CC, Jonsson S, Mitchell CPJ. 2018. Challenges and opportunities for managing aquatic mercury pollution in altered landscapes. Ambio 47(2):141−169.
Obrist D, Kirk JL, Zhang L, Sunderland EM, Jiskra M, Selin NE. 2018. A review of global environmental mercury processes in response to human and natural perturbations: changes of emissions, climate, and land use. Ambio 7(2):116−140.
Selin H, Keane SE, Wang S, Selin NE, Davis K, Bally D. 2018. Linking science and policy to support the implementation of the Minamata Convention on Mercury. Ambio 47(2):198−215.
(Sara Amolegbe is a research and communication specialist for MDB Inc., a contractor for the NIEHS Division of Extramural Research and Training.)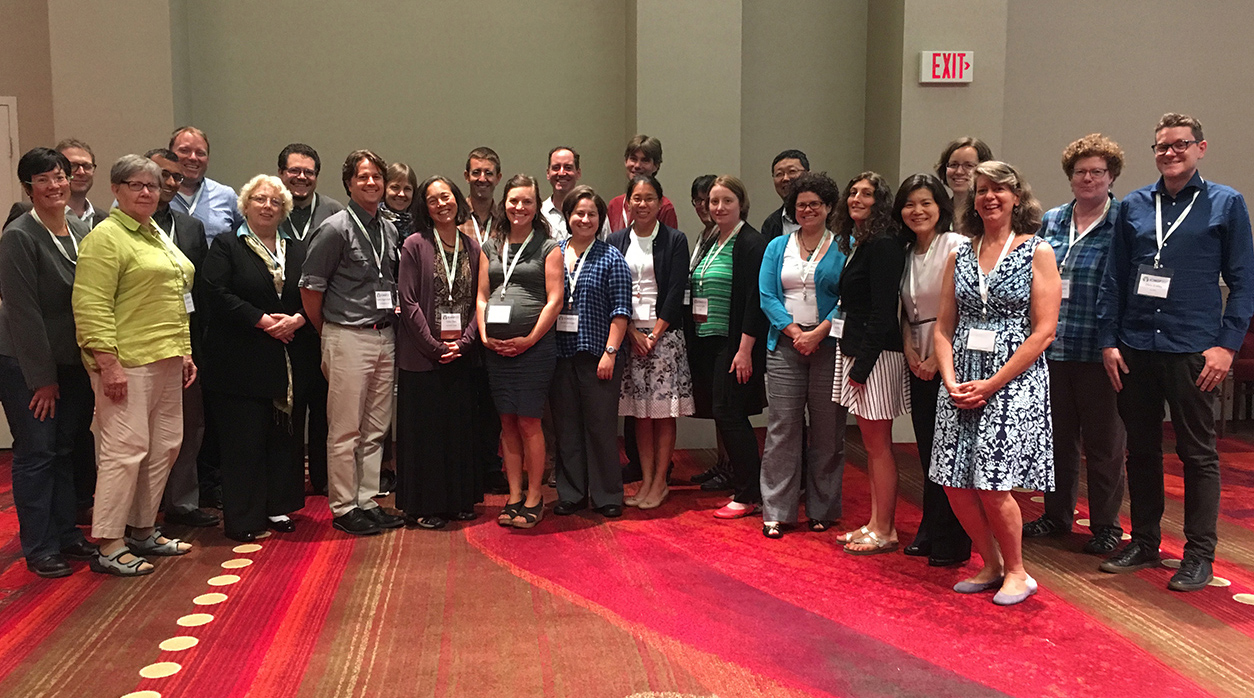 Workshop participants discussed gaps in mercury research and ways to translate the information in the new articles to better inform policies related to mercury.