For three decades, the Superfund Research Program (SRP) Center at the University of California, Berkeley (UC Berkeley SRP) has been at the forefront of important scientific discoveries, launching new programs and research initiatives. At a Jan. 30 event, titled 'Celebrating 30 Years of Science for a Safer World,' researchers and program partners looked back at the center's history and how it has evolved to meet new research needs.
Since its founding in 1987 under the leadership of Martyn Smith, Ph.D., the center has grown and adapted to meet ever-changing environmental and health concerns. Today, as one of 23 multidisciplinary SRP centers, the center aims to understand how the environment contributes to disease, and to create prevention and cleanup strategies that protect human health and the environment.
The program combines basic research, engineering, population studies, research translation, training, and community engagement.
'SRP-funded centers are unique in using problem-based, solution-oriented research to address complex environmental health problems,' said SRP Health Scientist Administrator, Michelle Heacock, Ph.D. 'Looking back over 30 years, it's really remarkable to see how early research questions and discoveries laid the groundwork for some of today's important environmental health research. The center continues to address emerging topics [see sidebar].'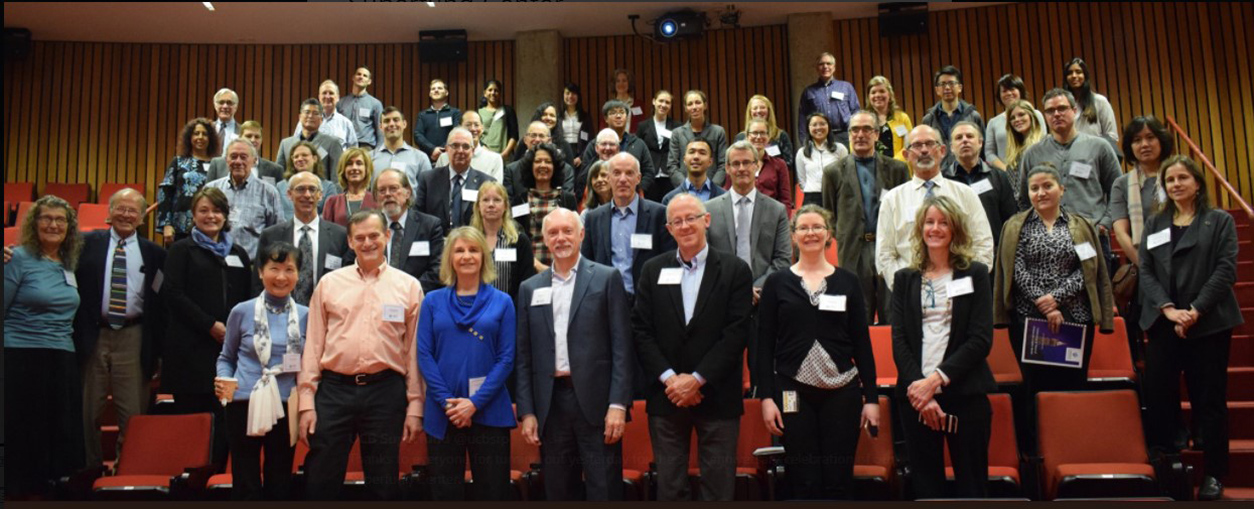 Heacock, right front, joined UC Berkeley SRP Center researchers and trainees at their 30 year celebration. (Photo courtesy of the UC Berkeley SRP Center)
Remediation and human health
In 1988, UC Berkeley SRP added engineering projects to detect, measure, and reduce contaminants at hazardous waste sites. For example, researchers discovered how trichloroethylene can be biologically degraded(https://tools.niehs.nih.gov/srp/researchbriefs/view.cfm?Brief_ID=93) with microbes.
Pioneering work in Chile and Nevada uncovered a high incidence of bladder cancers associated with arsenic exposure. Researchers at the Berkeley SRP Center explained it by demonstrating novel associations between arsenic and genetic damage in bladder cells.
Center scientists were the first to identify an association between early life arsenic exposure and later life mortality, forming the basis of the Arsenic Health Effects Research Program. That program fostered discovery of links between arsenic exposure and a variety of harmful health impacts, as well as genetic differences that may change a person's susceptibility to these effects.
Leaders in children's environmental health
In the early 1990s, the center began studying human health effects of exposure to hazardous pollutants, and then began to focus on children's environmental health research.
Early studies of childhood leukemia sparked development of the Center for Integrative Research on Childhood Leukemia and the Environment (CIRCLE). By the early 2000s, CIRCLE researchers revealed that most childhood leukemias(https://tools.niehs.nih.gov/srp/researchbriefs/view.cfm?Brief_ID=95) are associated with parental chemical exposures and begin before birth.
The early '90s also saw addition of the Children's Environmental Health Network (CEHN), which promotes children's health through workshops, conferences, trainings, and resource guides. Early efforts contributed to the 1997 establishment of Children's Environmental Health Centers, funded by NIEHS and the U.S. Environmental Protection Agency. Today, three of the 13 Children's Centers are located at UC Berkeley.
Exposure science
According to founder Smith, UC Berkeley SRP researchers were the first to invent exposomic and adductomics approaches in exposure science. Exposomics involves the study of all exposures an individual experiences across the lifespan. Adductomics measures substances bound to blood proteins.
Scientists at the center continue to break new ground in exposomics research. A 2017 paper proposed sampling saliva as a simple, noninvasive way to study the human exposome. The authors showed that saliva contains important molecular information and can be measured over time to construct individual exposure histories and discover risk factors for disease.
A new concept to emerge from the center may help explain how disease risk factors interact and combine. The concept goes beyond the traditional model of gene-environment interaction (G x E) and looks at human health and disease by integrating genomics, G x E, developmental origins of health and disease, and the exposome.
Called intrinsic by extrinsic (I x E), the concept represents a leap forward in assessing health risks from multiple environmental stressors. In the years to come, research at the UC Berkeley SRP Center will continue to explore use of I x E to evaluate the impact of all stressors on a population.
Citations:
Bessonneau V, Pawliszyn J, Rappaport SM. 2017. The saliva exposome for monitoring of individuals' health trajectories. Environ Health Perspect 125(7):077014.
Ma X, Buffler PA, Gunier RB, Dahl GV, Smith MT, Reinier K, Reynolds P. 2002. Critical windows of exposure to household pesticides and risk of childhood leukemia. Environ Health Perspect 110(9):955–960.
McHale CM, Osborne G, Morello-Frosch R, Salmon AG, Sandy MS, Solomon G, Zhang, L, Smith MT, Seise L. 2018. Assessing health risks from multiple environmental stressors: moving from G x E to I x E. Mutation Res/Review in Mutation Res. 755:11–20.
Mitra SR, Mazumder DN, Basu A, Block G, Haque R, Samanta S, Ghosh N, Smith MM, von Ehrenstein OS, Smith AH. 2004. Nutritional factors and susceptibility to arsenic-caused skin lesions in West Bengal, India. Environ Health Perspect. 112(10):1104–1109.
Richardson RE, Bhupathiraju VK, Song DL, Goulet TA, Alvarez-Cohen L. 2002. Phylogenetic characterization of microbial communities that reductively dechlorinate TCE based upon a combination of molecular techniques. Environ Sci Technol 36(12):2652–2662.
Smith AH, Goycolea M, Haque R, Biggs ML. 1998. Marked increase in bladder and lung cancer mortality in a region of Northern Chile due to arsenic in drinking water. Am J Epidemiol 147(7):660–669.
Smith AH, Marshall G, Yuan Y, Ferreccio Readi C, Liaw J, von Ehrenstein OS, Steinmaus CM, Bates MN, Selvin S. 2006. Increased mortality from lung cancer and bronchiectasis in young adults following exposure to arsenic in utero and early childhood. Environ Health Perspect 114(8):1293–1296.
Song DL, Conrad ME, Sorenson KS, Alvarez-Cohen L. 2002. Stable carbon isotope fractionation during enhanced in situ bioremediation of trichloroethene. Environ Sci Technol 36(10):2262–2268.
von Ehrenstein OS, Guha-Mazumder DN, Hira Smith MM, Ghosh N, Yuan Y, Windham GC, Ghosh A, Haque R, Lahiri S, Kalman DA, Das S, Smith AH. 2006. Pregnancy outcomes, infant mortality, and arsenic in drinking water in West Bengal, India. Am J Epidemiol 163(7):662–669.
Wiemels JL, Xiao Z, Buffler PA, Maia AT, Ma X, Dicks BM, Smith MT, Zhang L, Feusner J, Wiencke JK, Pritchard-Jones K, Kempski H, Greaves MF. 2002. In utero origin of t(8;21) AML1-ETO translocations in childhood acute myeloid leukemia. Blood 99(10):3801–3805.
(Adeline Lopez is a research and communication specialist for MDB Inc., a contractor for the NIEHS Division of Extramural Research and Training.)