NIEHS and National Toxicology Program Director Linda Birnbaum, Ph.D., brought an environmental lens to global health Feb. 16 during Triangle Global Health Career Day, held at Duke University.
NIEHS supports global environmental health through grant-funded research and its Global Environmental Health program, Birnbaum said. She explained that the NIEHS vision is to provide global leadership for innovative research that improves public health by preventing disease and disability.
"Environmental health problems cross national boundaries, so research to understand these problems serves not only those affected locally, but all people suffering related issues," Birnbaum said.
Understanding the implications of environmental health will be a critical skill for the next generation of global health leaders, according to Claire Neal, Dr.P.H., executive director of the Triangle Global Health Consortium (TGHC), which hosted the event.
"As a society, we are increasingly realizing how interconnected our world is," Neal said.
Panels and speed mentoring fostered interaction
Birnbaum joined a panel titled "Trends in Global Health," during which leaders in the field shared advice on how to prepare for future opportunities and discussed the most valuable skills for success in global health.
"Dr. Birnbaum's insights on becoming a leader in global health and her candid assessment of managing work, life, and family were greatly appreciated by our attendees," Neal said.
Three speed mentoring sessions throughout the day kept the conversations going. Mentors from a range of fields chatted for five minutes at a time with attendees. Participants glimpsed a range of possible careers in global health and made initial connections for in-depth follow-up later on.
TGHC is a nonprofit organization working to establish the Research Triangle region of central North Carolina as an international center for global health, by coordinating the universities, government agencies, businesses, and nonprofit organizations already located in the area.
(Virginia Guidry, Ph.D., is a technical writer and public information specialist in the NIEHS Office of Communications and Public Liaison and a regular contributor to the Environmental Factor.)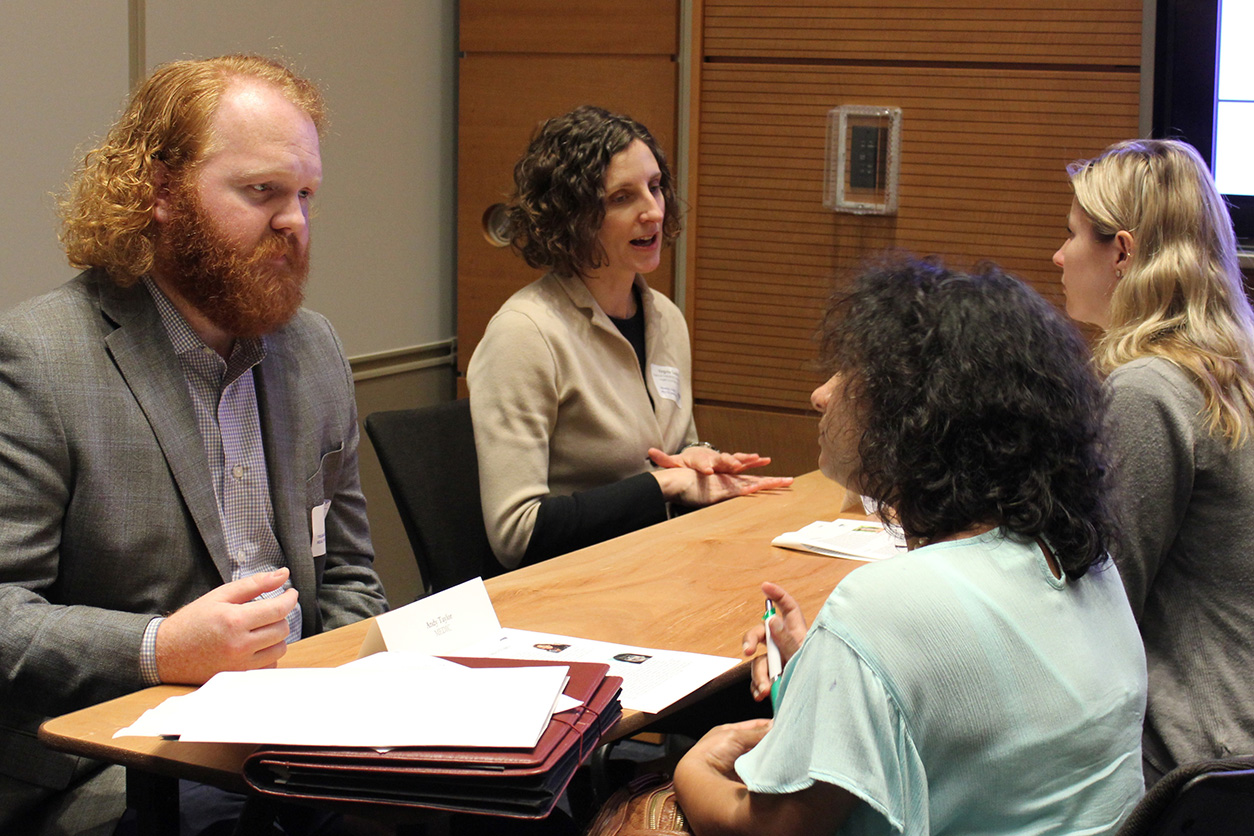 Speed mentors, Andy Taylor, left, president of MEDIC, and Guidry introduced different career options to attendees.