National Toxicology Program (NTP) scientist Warren Casey, Ph.D., joined government scientists from around the world at an Oct. 23-24 meeting on building scientific confidence in new methods for chemical safety testing. Participants identified challenges, such as finding efficient approaches to demonstrating validity of test methods and demonstrating relevance of tests for health outcomes that lack animal data.
"Validation and Establishing Scientific Confidence" was held at the European Commission Joint Research Centre in Ispra, Italy. Casey was joined at the meeting by Anna Lowit, Ph.D., from the U.S. Environmental Protection Agency, and Emily Reinke, Ph.D., from the U.S. Department of Defense.
Lowit and Reinke co-chair the Interagency Coordinating Committee on the Validation of Alternative Methods (ICCVAM). Casey directs the NTP Interagency Center for the Validation of Alternative Toxicological Methods, which provides scientific and administrative support for ICCVAM.
New approaches needed
Validation of a new test method establishes the reliability and usefulness of that method for the intended application, such as identifying eye irritants or skin sensitizers.
International standards for validating regulatory test methods were established in 2005 by the "Guidance Document on the Validation and International Acceptance of New or Updated Test Methods for Hazard Assessment," informally known as "Guidance Document 34." However, according to Casey, practices described in Guidance Document 34 are not easily applied to new chemical testing approaches, such as computational methods or combining multiple types of assay data.
"The current validation process was designed for situations where a single non-animal method was intended to fully replace a single animal method," he explained. "Unfortunately, we've found this process to be time- and resource-intensive. The process also doesn't work very well for cases where you're considering data from multiple sources to reach a decision about chemical safety."
Participants at the October meeting agreed that the core principles of validation set forth in Guidance Document 34 are still relevant. However, to keep pace with scientific innovation and progress, the process of establishing scientific validity needs to evolve.
Input from international governments
The October meeting, organized by the International Cooperation on Alternative Test Methods (ICATM), drew scientists interested in a wide range of chemical use sectors. In addition to ICCVAM from the United States, Canada, the European Union, Japan, South Korea, and Brazil were also represented.
A key element to developing new validation approaches is defining what specific activities are needed to establish confidence in a new method. Such a list could help streamline the lengthy process associated with traditional validation studies.
Participants agreed on several challenges involved in the process.
How to assess that a new method is relevant when there are no animal data for the same endpoints.
How to establish reliability without multilaboratory studies, which are time- and resource-intensive.
How might the concept of performance standards evolve to accelerate the acceptance of new approaches in a regulatory context.
As a follow-up activity, the ICATM participants agreed to conduct a detailed review of Guidance Document 34. The aim is to identify aspects that warrant discussion and to consider modifications that are needed for new approaches to validation.
A white paper outlining steps to be taken to establish new approaches to validation will be prepared by meeting participants.
(Catherine Sprankle, NICEATM Communications Specialist, works for ILS, the contractor supporting NICEATM.)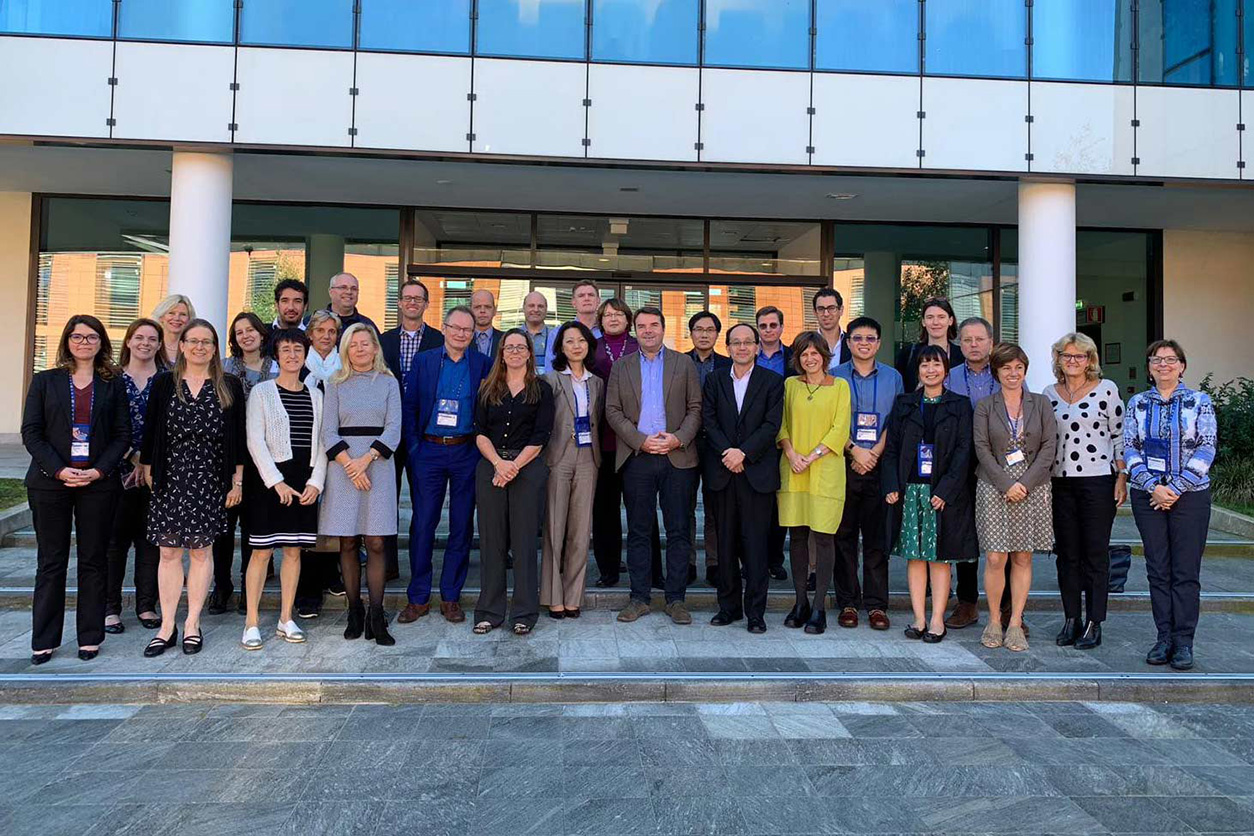 Attendees represented members of ICATM, the European Chemicals Agency; the European Food Safety Agency; the German Federal Institute for Risk Assessment; the Singapore Agency for Science, Technology and Research; and the Organisation for Economic Co-operation and Development. (Photo courtesy of European Union Joint Research Centre/European Union Reference Laboratory for Alternatives to Animal Testing)