Climate change affects the health of all Americans, according to a key message of the Fourth National Climate Assessment (NCA4), which was released Nov. 23. NIEHS Senior Advisor for Public Health John Balbus, M.D., was one of the authors.
The new report, which is actually volume two of the congressionally-mandated study, focuses on human welfare, societal and environmental elements of climate change, and climate variability. Volume one, the 2017 Climate Science Special Report, provides the physical science background.
"Health is given far greater coverage throughout the report than in the past," Balbus said. That prominence is strongly connected to the 2016 Special Report on the Impacts of Climate Change on Human Health in the United States. He emphasized that NCA4 affirms the earlier findings and fills in some of the gaps, such as regional variation in health impacts and adaptations that reduce risks and improve health.
Climate and health intertwined
Balbus' role included helping to write and ensure the quality of Chapter 14: Human Health, and ensure scientific coverage of health was adequately addressed in other relevant chapters, such as Chapter 11: Built Environment, Urban Systems, and Cities, Chapter 13: Air Quality, and Chapter 17: Sector Interactions, Multiple Stressors, and Complex Systems.
"The focus on regional issues is a prominent feature of the fourth NCA, and health is addressed in all the regional chapters," he said. That need arose because different regions face different challenges. In the western United States, droughts are expected to increase, along with food shortages and wildfires. At the same time, southeastern states cope with dangerously high temperatures.
The graphic below summarizes the interplay of factors that influence effects on health outcomes.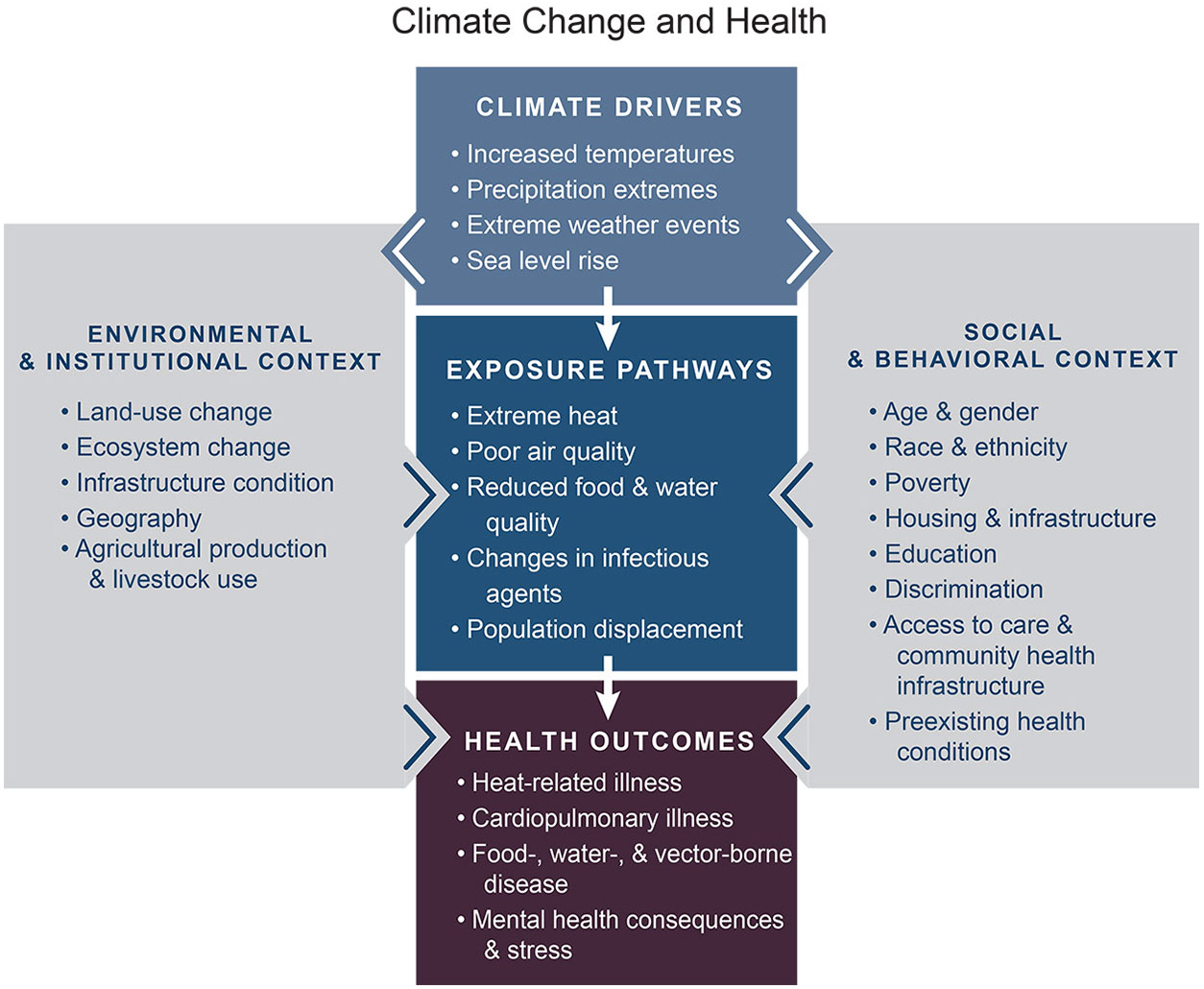 Individual and population vulnerability, exposure to changing weather patterns, and capacity to manage risks all play a role in the extent of climate change that could alter the burden of disease. (Image courtesy of U.S. Global Change Research Program)
Reductions benefit climate and health
Importantly, NCA4 finds that actions to reduce greenhouse gas emissions will likely be accompanied by direct health benefits. Combustion of fossil fuels is a major source of carbon dioxide, sulfur and nitrogen oxides, and particulate matter. These air pollutants are directly harmful to people, and nitrogen oxide is also involved in the formation of ozone.
Thus, measures that reduce the combustion of fossil fuels are expected to reduce carbon dioxide, particulate matter, and ozone air pollution. "This can result in immediate and significant health benefits," said Balbus.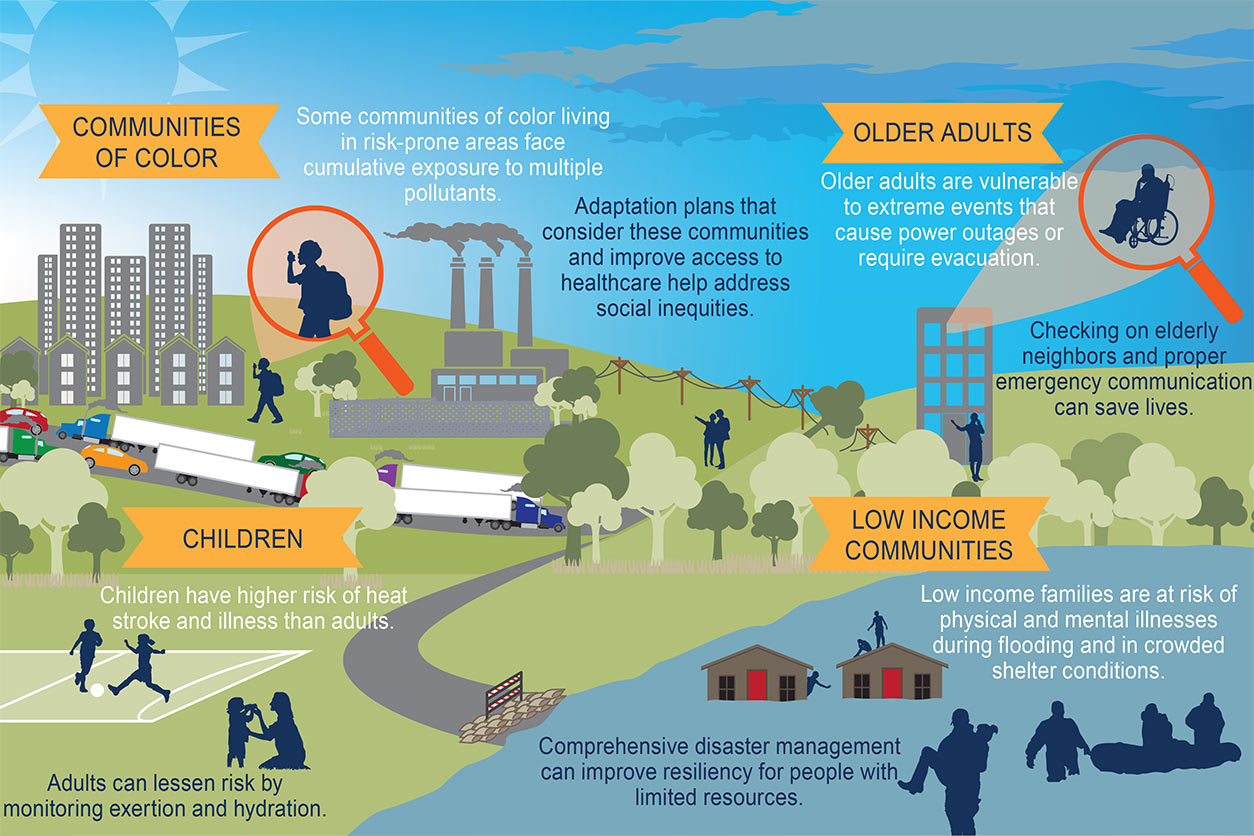 When it comes to climate and health, certain populations are especially vulnerable. White text indicates the risks they face. Dark text indicates actions that can reduce those risks. (Image courtesy of U.S. Environmental Protection Agency)
Adaptations reduce risk
According to NCA4 Chapter 28, planners can no longer assume that climate in the coming years will resemble that of the recent past. Instead, they should anticipate future climate impacts and plan accordingly when zoning, engineering, and building.
This is particularly important for the health care sector — another avenue for health impacts. The report says health care facilities contribute to climate change, and, at the same time, they are critical parts of emergency response systems.
The report cites examples of how health care facilities may achieve both sustainability and resilience goals. "Combined heat and power systems can enhance hospitals' resilience in the face of interruptions to the power grid, while reducing costs and emissions in normal operations," NCA4 states.
Through planning (see sidebar), communities can reduce impacts and bounce back from extreme events. NCA4 cites activities from different parts of the country that strengthened such resiliency and protected health at the same time.
Changes in urban design, such as cool roofs and shade trees.
Heat wave early warnings, cooling centers, and other protective measures.
Improvements in water management.
Emergency preparedness and disaster risk reduction planning.
The National Climate Assessment is carried out every four years and involves immense effort. "A team of more than 300 experts, guided by a 60-member Federal Advisory Committee, produced the report, which was extensively reviewed by the public and experts, including federal agencies and a panel of the National Academy of Sciences," NCA4 states.