The NIEHS Superfund Research Program (SRP) announced Stephanie Kim of Boston University (BU) as the 21st recipient of the annual Karen Wetterhahn Memorial Award. The announcement was made Nov. 29, during the SRP Annual Meeting in Sacramento, California.
Kim was recognized for her research on the effects of exposure to contaminants on cells and molecular pathways that lead to metabolic disorders such as obesity and diabetes. She is pursuing a doctoral degree under the guidance of BU SRP Center researchers Jennifer Schlezinger, Ph.D., and Stefano Monti, Ph.D.
"Stephanie's work exemplifies the transdisciplinary approach and scientific excellence exhibited by Karen Wetterhahn," said SRP Director William Suk, Ph.D. "We are very excited to see what this bright researcher will accomplish in the future."
Understanding the link
Kim studies how exposure to certain chemicals, such as phthalates, change metabolism on a molecular level in human cells and in rodents. Phthalates are often added to plastics to increase their flexibility.
"Obesity and type 2 diabetes have been increasing for the past three decades, and exposure to harmful pollutants are known to contribute to this epidemic," Kim said. "My research aims to fill a critical gap in understanding how these harmful chemical exposures affect cells on a molecular level, to lead to disease."
Specifically, Kim examines how exposure to contaminants affect a nuclear receptor that regulates how fat cells differentiate and function. Through this research, Kim hopes to understand how harmful chemicals disrupt metabolic processes that regulate fat, sugar, and energy balances in the body.
"Stephanie is an excellent scholar, dedicated to scientific inquiry and to improving environmental health," Schlezinger said. "The results of Stephanie's work will revolutionize how we think about exposure to hazardous chemicals contributing to the obesity epidemic and to the increased risk of developing of metabolic disease."
Connecting with community and students
Outside of the lab, Kim mentors high school students as part of the BU Upward Bound Math and Science Program, a college preparatory program that serves low-income and first-generation, college-bound students.
"Through BU SRP's trainee activities and volunteering with my local community, I have learned the importance of being involved and understanding environmental public health concerns," Kim noted. "I have also been inspired by opportunities to connect with young students who will be first-generation college graduates in their families, like I was. My goal is to work hard to be a role model and promote interest in science and math fields to younger generations."
(Adeline Lopez is a research and communication specialist for MDB Inc., a contractor for the NIEHS Division of Extramural Research and Training.)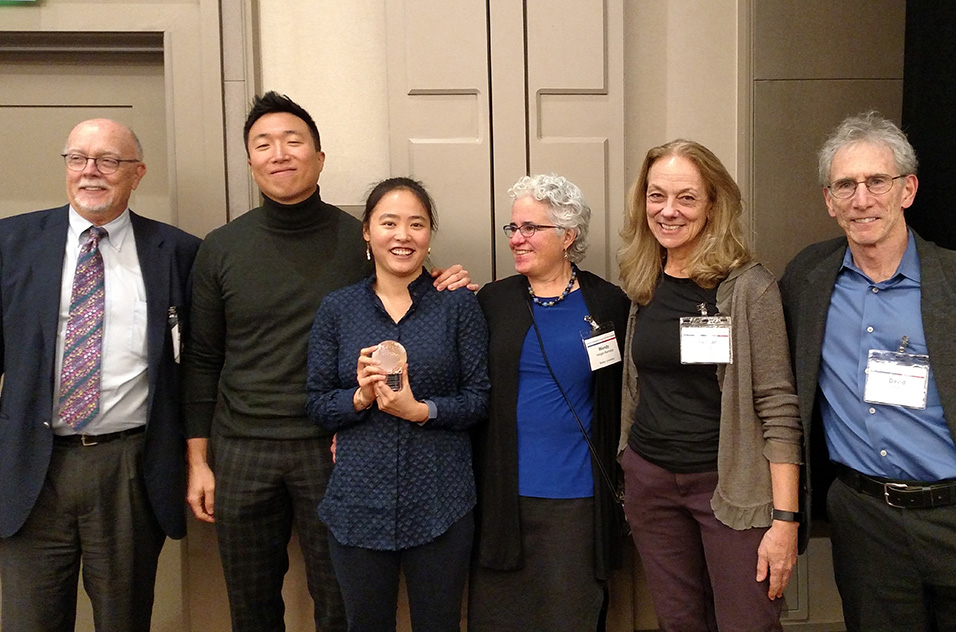 Kim, center, was congratulated by, from left, Suk; her husband, Hyun Kim; the center's Research Translation Core leader Wendy Heiger-Bernays, Ph.D.; the center's Training Core co-leader Jean van Seventer, V.M.D; and the center Director David Sherr, Ph.D. (Photo courtesy of Adeline Lopez)