A dozen students and faculty from Bennett College, a historically black college in Greensboro, North Carolina, launched new connections with NIEHS Dec. 5 during a day-long visit.
The visitors enjoyed a tour of the facility, career panel discussion, speed mentoring with NIEHS staff, and grants advice for faculty. The director of the NIEHS Office of Science Education and Diversity (OSED) provided an overview of diversity in research and training.
Visiting school groups are typically treated to a tour and career panel, organized by OSED Special Assistant for Community Engagement and Outreach John Schelp. For the Bennett College visit, OSED and the National Institutes of Health (NIH) Office of Equity, Diversity, and Inclusion (EDI) built upon that model by adding elements such as mentoring and grants sessions.
Mentoring and career advice
"Mentors can help you figure out what you want to do and what you're actually qualified to do," said Fred Tyson, Ph.D., an NIEHS health scientist. "They are great people to bounce ideas off of."
Tyson spoke as part of a career panel that included Robbie Majors, a grants management specialist, and Mercedes Arana, Ph.D., a biologist in the DNA Replication Fidelity Group. Arana encouraged students to pursue a career they love. "Always think about your passion, and let that be your driving force," she advised.
During the speed mentoring event, students rotated through brief meetings with a wide range of NIEHS staff (see sidebar). Sophomore Aariella Houston, a chemistry and chemical engineering major, said she was inspired. "I felt encouraged to keep pursuing my academic and career goals," Houston said. "I couldn't be more thankful for this amazing opportunity."
Collaboration with NIH
"Coordinating this event with NIEHS has been a great experience," said Gerard Romans from EDI. "NIEHS has a solid diversity program in place, and we wanted to showcase their success."
NIEHS works closely with surrounding school systems, historically black colleges and universities (HBCUs), and other higher education institutions. "We are honored and pleased to provide access and opportunity to students and faculty from nearby colleges and universities," said OSED Director Ericka Reid, Ph.D.
EDI complements the effort by providing further partnership and networking opportunities. Romans, who is based at NIEHS, collaborated with Victoria Gross, from the EDI office in Bethesda, Maryland. "We hope to showcase this successful example of a collaborative effort with other NIH institutes and centers," he added.
According to Gross, data shows that NIH has a lower than expected representation of black scientists, including tenured and tenure track researchers. So Gross seeks opportunities to build connections with students at HBCUs. "Our goal is to go beyond a one-time visit," she said. "We want to encourage relationships that foster information sharing, networking, and collaboration."
The power of networking was evident in the origins of the event, which arose from the suggestion of Alexis Branch, an intern in Gross's office. "She was a Bennett graduate, and she thought it would be great to arrange a visit to NIEHS," Gross explained.
Inspiring future interns
"I know we're going to have at least 10 students applying for [summer and academic-year] research internships," said Michael Cotton, associate professor of biology at Bennett and a co-organizer of the event. "We are looking forward to developing and sustaining this relationship."
"I think our students are very excited," added Willietta Gibson, Ph.D., also an associate professor of biology at Bennett.
OSED already facilitates an exchange effort with Fayetteville State University, which is another HBCU, and the University of North Carolina, Greensboro.
(John Yewell is a contract writer for the NIEHS Office of Communications and Public Liaison.)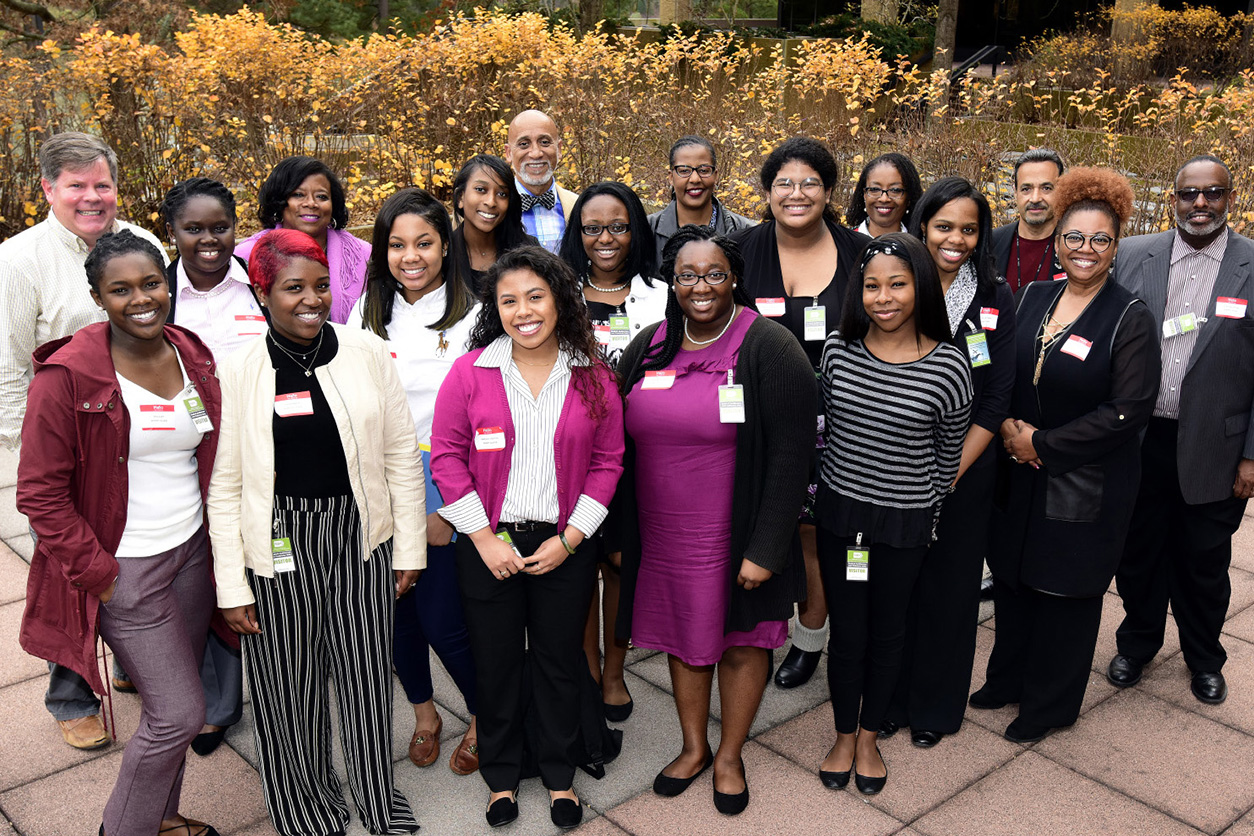 NIH and Bennett participants marked the event with a group photo. "They melded their different voices and experiences," said Schelp, back left. "It was fun to see it all come together."