In a ceremony attended by some two dozen dignitaries and NIEHS staff, and watched by many more via webcast, the new environmentally friendly NIEHS warehouse was dedicated Dec. 11.
Known as a net-zero energy building because of its ability to produce at least as much energy as it uses, the facility is the only one of its kind in the U.S. Department of Health and Human Services (HHS).
"I'm proud that NIEHS can be a leader and a role model for thoughtful, environmentally friendly design," said Linda Birnbaum, Ph.D., director of NIEHS and the National Toxicology Program.
No ordinary warehouse
"To some people, dedicating a warehouse might not seem too exciting," said U.S. Rep. David Price, Ph.D., whose district includes NIEHS. "But this is not an ordinary warehouse." He also attended the groundbreaking in April 2016.
Others were also on hand to assist in the ribbon cutting.
Michael Regan, secretary of the North Carolina Department of Environmental Quality.
Durham Mayor Steve Schewel, Ph.D., who took office Dec. 4.
Dan Cushing, senior architect with the National Institutes of Health Office of Research Facilities (ORF).
Scott Levitan, the new president and CEO of the Research Triangle Foundation.
Victor Stancil, ORF project engineer.
Sen. Richard Burr was represented by staff member Betty Jo Shepheard. NIEHS Project Manager Debi Del Corral was unable to attend, but received praise for her work.
"It really means so much to have all levels of government represented here today," Birnbaum said. "We want to continue this close working relationship between federal, state, and local interests."
Building designed for top ratings
The technological milestones brought together in one building were lauded by many, including Regan. "Such achievements were once the plots of science fiction," said Regan, "but NIEHS has proven that it is a worthy and obtainable goal."
The warehouse was designed to meet standards for LEED (Leadership in Energy and Environmental Design) Platinum certification from the U.S. Green Building Council (see sidebar). Certification, which involves evaluation of construction practices and operations, should be completed by May.
"We are hopeful that it will earn a LEED Platinum rating," said Birnbaum, referring to the highest possible rating. Net-zero certification is a separate process, and should be completed within a year, according to project engineer Stancil.
Providing space, security
The new warehouse will help keep pace with the institute's needs, said Birnbaum, especially for specialized IT equipment storage. It eliminates the need to continue leasing offsite storage space and can be expanded should more storage space be needed.
Schewel, whose term began the previous week, complimented planners on the building's form, as well as its function. "This building clearly demonstrates that building green can be attractive as well as energy efficient and sustainable," Schewel said.
The remote site, a short distance north of the main campus, once housed temporary offices for NIEHS. "We recycled almost 400 tons of material, including Freon, and cleared out mercury," said NIEHS Executive Director Chris Long. "The environmental footsteps began before construction."
The location provides security advantages, with one access road, and no connection to the rest of the campus. "The new warehouse strengthens security by routing commercial delivery vehicles away from the NIEHS workforce, critical infrastructure, the data center, and the child care center," Birnbaum noted.
Setting an example
"Everyone working in this facility has been trained on its features and their role in keeping it net zero, healthy, and green," Long said. "That includes simple things like turning off computers and printers. Our behavior is really the key to our success."
In addition to the building's use of advanced environmental technology, speakers also highlighted the institute's leadership by example in protecting health through environmentally sustainable operations.
"Our commitment to this project goes well beyond just building a new warehouse," said Long. "We built a sustainable facility that can serve as a model for healthy building in the future."
(John Yewell is a contract writer for the NIEHS Office of Communications and Public Liaison.)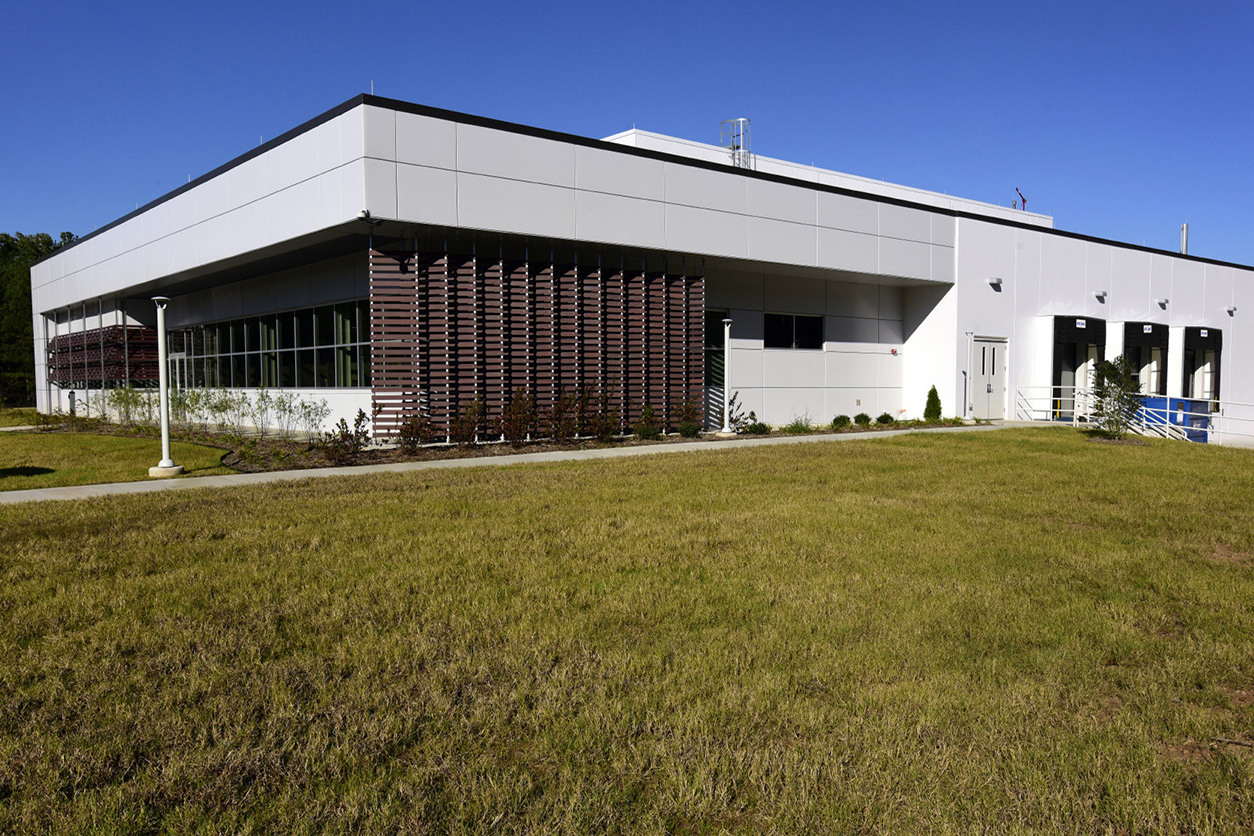 The warehouse features south-facing office space for solar heating. Louvers admit winter light and shade the hot summer sun.