NIEHS joins forces with the Salvation Army of Durham each holiday season for Angel Tree, an annual effort to provide toys, clothes, and other items to less fortunate families in the Triangle community.
NIEHS sought donations for 100 families in 2017 — a goal it met in full Dec. 4 when bikes, helmets, dolls, and more were loaded onto trucks outside the Rall and Keystone buildings.
"A lot of people are struggling just to feed and clothe their families this time of year," said Myra Westmoreland, an administrative officer with NIEHS. "Financially speaking, toys aren't even on their radar, because they frankly can't afford them. That's where we come in."
Westmoreland was the co-organizer of this year's Angel Tree drive with Kristen Fisher, Marsha Johnston, Ericka Reid, Veronica Robinson, and Diane Spencer.
The Angel Tree program began in 1979 when Majors Charles and Shirley White of the Salvation Army in Lynchburg, Virginia joined with a local shopping mall to provide clothing and toys to children for the holidays. The tradition expanded across the nation and is now the cornerstone of The Salvation Army's Christmas efforts.
Today, organizations take part in Angel Tree by placing holiday trees in their facilities, along with tags assigned to children from local families. Every tag contains a list of items, along with size and age, the family would love for the child to receive.
Employees pick a tag, purchase the items, and leave them beneath the tree for Salvation Army officials to pick up.
"In all the years that I've served in this program, I've never once seen us miss our goal," said Westmoreland. "That's a real tribute to the heart of our people here at NIEHS."
(Ian Thomas is a public affairs specialist with the Office of Communications and Public Liaison, and a regulator contributor to the Environmental Factor.)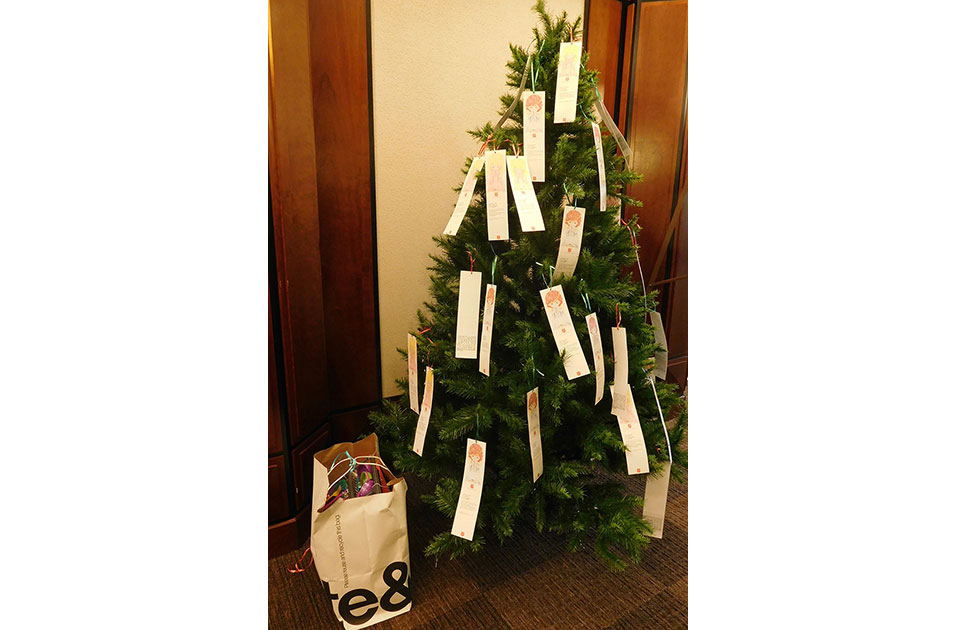 Just a day after the Keystone Building's Angel Tree was set up, one child's gifts were already waiting.