The NIEHS Superfund Research Program (SRP) selected Angela Gutierrez, from the University of Kentucky SRP Center(https://tools.niehs.nih.gov/srp/programs/Program_detail.cfm?Project_ID=P42ES007380), as the 20th recipient of the Wetterhahn Memorial Award. The announcement of the 2017 winner was made at the Dec. 7 SRP 30th Anniversary Annual Meeting in Philadelphia.
Gutierrez is pursuing a doctoral degree at the University of Kentucky under the mentorship of Zach Hilt, Ph.D., and Thomas Dziubla, Ph.D. She was recognized for her innovative research to develop magnetic nanoparticles coated with polyphenols from plants. The nanoparticles are designed to capture and remove polychlorinated biphenyls (PCBs) from water.
The award recognizes an outstanding trainee who demonstrates the qualities of scientific excellence exhibited by Karen Wetterhahn, Ph.D. NIEHS Division of Extramural Research and Training Director, Gwen Collman, Ph.D., presented the award to Gutierrez.
"Angela's work is a tribute to the legacy of Karen Wetterhahn," Collman said. "She has taken an interdisciplinary approach to solving community problems, and bringing accessible solutions to the people."
Cost-effective green remediation technology
"There is a growing need for technologies for water and wastewater treatment that can meet global water demands and be used in low-resource settings," Gutierrez said. "This remediation technology maintains low production costs and is reusable, allowing it to be easily applied in current Superfund sites as well as in developing countries, such as my home country of Colombia."
The technology developed by Gutierrez and colleagues binds and removes PCBs from contaminated water. By combining magnetic iron oxide nanoparticles made in the lab with naturally occurring polyphenols from plants, such as green tea and berries, this technology is much cheaper than traditional methods.
"Angela is keenly interested in making sure that innovations in the lab are matched with stakeholders' needs and available resources," noted University of Kentucky SRP Center Director Bernhard Hennig, Ph.D. "Her approach ensures that the water remediation technology can be applied not only in Kentucky, but around the world in a variety of settings."
Mentoring future science leaders
Outside of the lab, Gutierrez is actively involved in scientific communication and outreach. She strives to be a positive role model for future generations, particularly for young women of Hispanic descent, who are underrepresented in the science, technology, engineering, and mathematics, or STEM, fields.
"I hope to help form the next generation of researchers who can tackle the challenges of hazardous waste management through interdisciplinary hands-on research and close relationships with local and national stakeholders," Gutierrez said.
Gutierrez plans to continue her work in environmental remediation as an academic researcher and hopes to follow in Wetterhahn's footsteps by using holistic approaches to meet public health needs.
(Adeline Lopez is a research and communication specialist for MDB Inc., a contractor for the NIEHS Division of Extramural Research and Training.)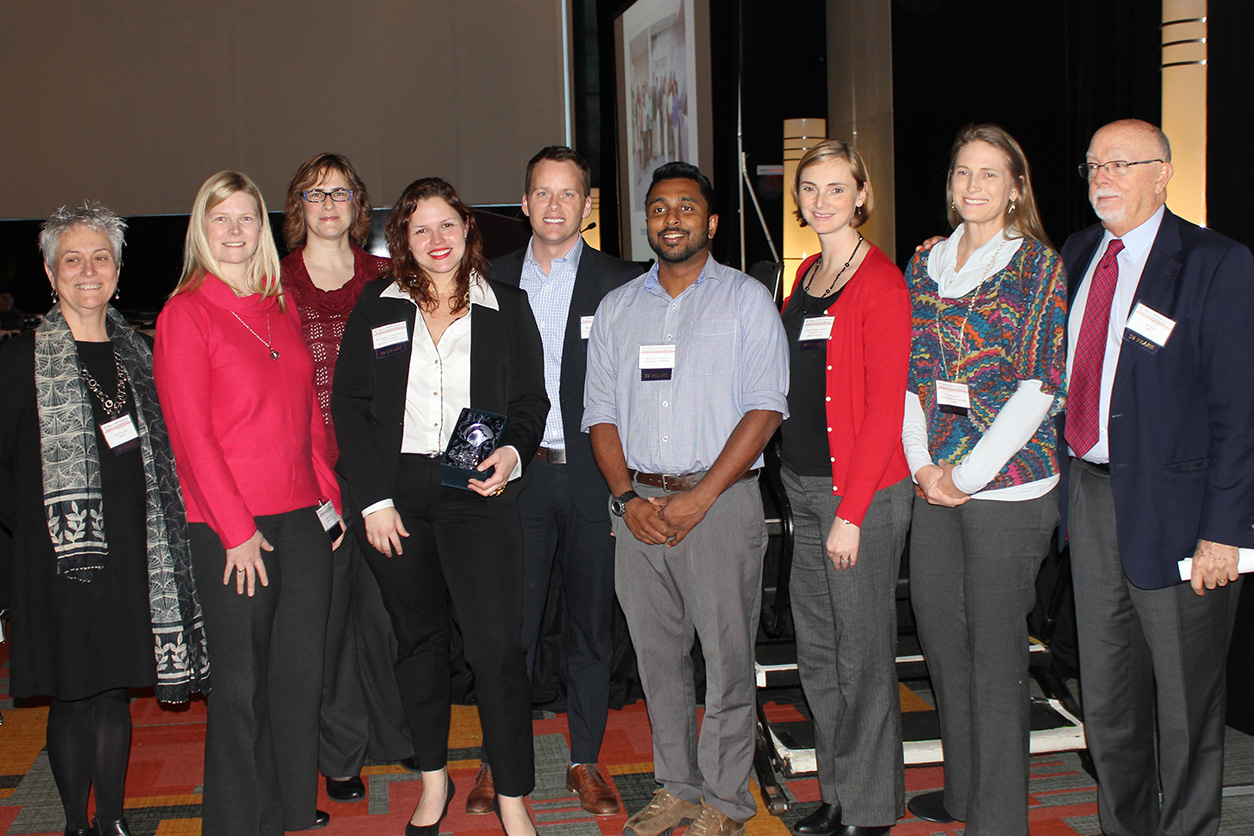 Collman, far left, and Bill Suk, Ph.D., far right, joined other Wetterhahn winners for a photo. From left, Karrie Radloff, Ph.D.; Laura Senier, Ph.D.; Gutierrez; Bradley Newsome, Ph.D.; Nishad Jayasundara, Ph.D.; Alicia Timme-Laragy, Ph.D.; and Elena Craft, Ph.D.