Members of the NIEHS Environmental Health Sciences Core Centers shared research visions, community engagement successes, and suggestions for strengthening collaborative science during their annual meeting June 7-9 at Emory University in Atlanta.
Based at 20 universities across the U.S., each core center provides a highly specialized research infrastructure that includes scientific equipment, laboratory services, and even best practices for working with communities. Such centralized support is vital to individual scientists. As hubs of scientific expertise, the cores exemplify the NIEHS priority of promoting innovative environmental health science research.
The HERCULES: Health and Exposome Research Center at Emory, led by Gary Miller, Ph.D., hosted the meeting, which featured a new interactive format. Center members provided brief visionary talks on topics such as advanced exposure assessment technologies, precision environmental medicine, citizen science, and reporting research results back to study participants.
"We really wanted to integrate and highlight the intersection of community engagement and center science," said Claudia Thompson, Ph.D., head of the NIEHS Population Health Branch in the Division of Extramural Research and Training (DERT). "We were pleased with how it stimulated new collaborative opportunities across the programs."
Susan Pinney, Ph.D., from the University of Cincinnati Center for Environmental Genetics said the meeting format promoted interaction between different interest areas. "What I appreciated most was the mix of questions and comments in the discussion period for each session — some were related to science, some to community engagement, and some integrated the two," she said.
Integrating science and community engagement
At Wayne State University in Detroit, the Center for Urban Responses to Environmental Stressors (CURES) supports research on the health effects of long-term exposure to chemical pollutants like lead, as well as nonchemical stressors such as living in a low-income neighborhood.

A CURES-funded study was one of the first to show that when women are exposed to lead during pregnancy, epigenetic changes occur in the DNA of their grandchildren. Epigenetics changes affect the function of DNA without changing the underlying amino acid sequence.
At CURES, the community engagement core (CEC) — a required component of the centers — complements the research with mobile community outreach on topics such as lead, indoor air quality, and the importance of eating fresh fruits and vegetables.
These topics reflect the resurgence of environmental interest in Detroit, where residents want to garden safely and limit everyday exposure to toxicants, according to CURES Director Melissa Runge-Morris, M.D. "CURES is looking to build environmental health resilience," she said.
Shared services and facilities
At HERCULES, laboratory services and data science consulting help researchers measure the exposome, or the accumulation of exposure to environmental stressors that people receive throughout their lives.
"The exposome is the environmental equivalent of the human genome, and a way to insert the environment into human health studies," Miller said. HERCULES helps Emory researchers measure more than 20,000 chemical signals in biological samples such as blood or urine, and data scientists help them analyze the resulting complex, large-volume data.
A range of engaged communities
Each CEC interacts with groups ranging from clinicians looking for environmental health training to local decision makers seeking to better understand environmental health impacts.
For example, the Environmental Health Sciences Research Center at the University of Iowa hosts environmental health summits. In past meetings, scientists shared research findings directly with local officials, regulators, and planners, on subjects such as renewable energy, lead, mold in housing, asthma, and making schools more environmentally sustainable.
Addressing local environmental health concerns
In return, community outreach activities inspire new studies. The Southwest Environmental Health Sciences Center at the University of Arizona helps scientists research dust storms, which can sometimes include mine tailings that contain toxic metals.
"Local plants have evolved to pick up metals, which is a problem for crops," said Director Nathan Cherrington, Ph.D. He described an innovative study that is measuring exposure to metals such as arsenic in traditional Native American foods.
Marti Lindsey, Ph.D., director of the CEC, said it is important for people to be able to find and use environmental health information as part of environmental health literacy. "I want to improve people's ability to make their own decisions, and those on behalf of friends and family," she said.
(Virginia Guidry, Ph.D., is a technical writer and public information specialist in the NIEHS Office of Communications and Public Liaison and a regular contributor to the Environmental Factor.)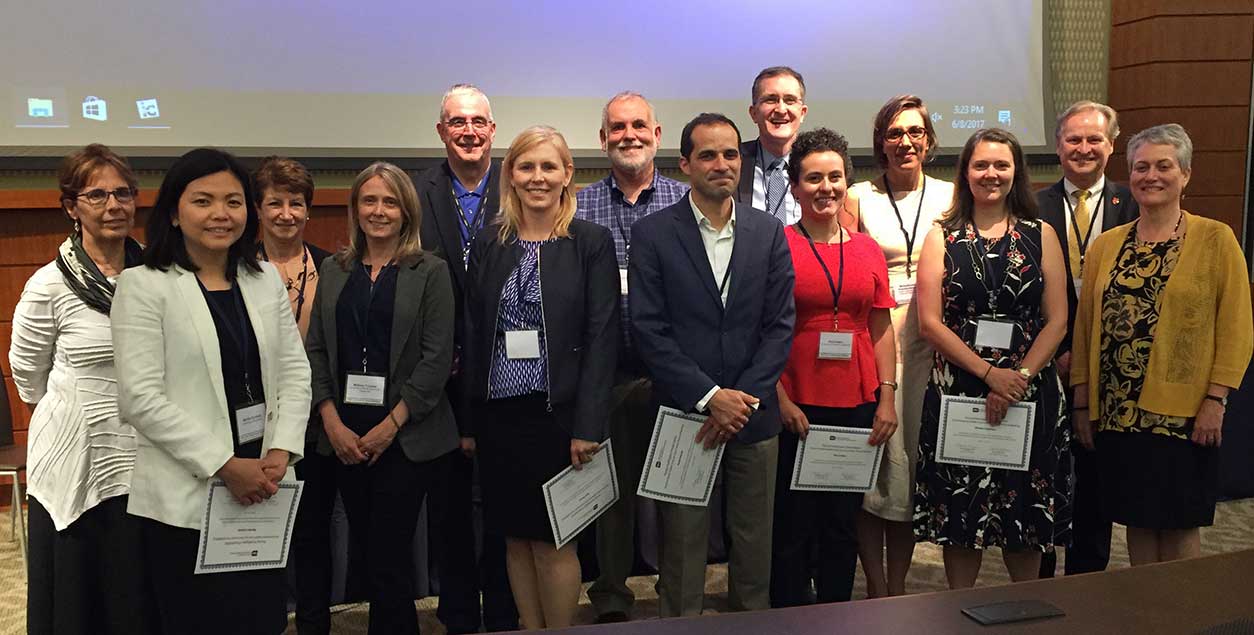 Six researchers recognized for their early career scientific contributions (see text box) posed with center directors; DERT Director Gwen Collman, Ph.D., far right; and Thompson, far left.
Young investigators pursue new frontiers
Outstanding presentations by six young researchers were a highlight for many attendees. The engaged audience responded with detailed questions about their science.
Marianthi-Anna Kioumourtzoglou, Sc.D., Center for Environmental Health in Northern Manhattan at Columbia University —"Environmental Mixtures Methods for Targeted Interventions and Policymaking."
Phoebe Stapleton, Ph.D., Research Center in Environmental Health Science at Rutgers University — "Gestational Engineered Nanomaterial Exposure Impairs Microvascular Function of Pregnant Dams and Offspring."
Martha Susiarjo, Ph.D., Environmental Agents as Modulators of Disease Processes at the University of Rochester — "Endocrine-Disrupting Chemicals Exposure Perturbs Epigenetic Regulation of Tryptophan-Catabolizing Enzymes and Is Associated With Adverse Pregnancy Outcomes in Mice."
Rima Habre, Sc.D., Environmental Exposures, Host Factors, and Human Disease Center at the University of Southern California — "mHealth and Pediatric Asthma: The Los Angeles PRISMS Biomedical REAl-Time Health Evaluation (BREATHE) Platform."
Samir Kelada, Ph.D., Center for Environmental Health and Susceptibility at the University of North Carolina, Chapel Hill — "Exploiting Mouse Genetic Diversity to Identify Mechanisms of Environmentally-Induced Airway Disease."
Sara Pinney, M.D., Center of Excellence in Environmental Toxicology at the University of Pennsylvania — "Development Origins of Metabolic Disease Through Studies of In Utero Exposures in Humans and Mice."