"It all began on bring your child to work day — the parents saw what we were doing, and we haven't stopped since," said Natasha Clayton, a supervisor in the National Toxicology Program (NTP) Cellular and Molecular Pathology Branch. In the nearly two decades since Clayton's first day of sharing science with students, she has played a crucial part in helping NIEHS meet its strategic plan goal of strengthening science education and inspire the next generation of environmental health scientists.
The NIEHS Office of Science Education and Diversity (OSED), which leads the institute's education outreach activities, regularly welcomes teacher and student groups to the institute. Most recently, a group of Durham Public Schools (DPS) students spent April 10-13 — most of their spring break — at NIEHS.
A gifted teacher and leader
Huei-Chen Lao, Ph.D., OSED K-12 science education program manager, knows Clayton's effectiveness firsthand. She has sent visitors ranging from high school students to education professionals in their 70s to Clayton's lab. "Natasha is a great teacher, great communicator, and very outgoing," said Lao. 
By providing memorable experiences for students and teachers, Clayton helps spark interest in science and environmental health. "Natasha is a very gifted leader due to her ease in connecting with people and knowledge of the subject material," said Clayton's supervisor Ron Herbert, D.V.M., Ph.D. Herbert leads the NTP Pathology Support Group, a set of core labs within the NTP Cellular and Molecular Pathology Branch.
Clayton supervises the necropsy, histology, and immunohistochemistry support groups. Immunohistochemistry involves staining tissues to make certain cells or cell components visible, which is a key tool in toxicology research.
Hands-on experience
Clayton began her NIEHS career as a contractor and worked her way into a supervisory position, where she began to share her love for helping people. Over the years, Clayton has refined her skills, so she can quickly change the day's curriculum, to fit time slots from 30 minutes to three hours. "She is so accommodating and always comes out with a beautiful product," Lao said.
To provide a better understanding of work in a pathology lab, Clayton allows visitors to be active in scientific tasks. They can observe a necropsy or prepare slides of dust taken from their clothing. Groups may view a whole mouse organ, then look through microscopes at tissue sections or their own slides.
Encouraging new scientists
Individual mentoring is another of Clayton's passions, and she has helped at least two students remain in scientific programs from which they might have withdrawn. A wall in her office displays letters from students who have benefited from her excitement for science and teaching.
When she visits career days at the YMCA or local high schools, Clayton stresses that there is no cookie-cutter look for a scientist. "You don't have to look like Einstein," she says, adding that there are other career paths that contribute to science for those who choose not to pursue graduate studies. "She breaks the stereotypes of what the kids think of as a scientist, which leaves a lasting impression," said Lao.
A team effort
"We couldn't do it without my staff," said Clayton, pointing out their roles in the sessions. Willie Cunningham, lead technician for necropsy, expressed enthusiasm echoed by others on the staff. "It's a great experience having the kids come in here," Cunningham said. "We enjoy sharing what we do with people."
The benefits extend to NIEHS as well. Herbert said that doing outreach helped the support groups work together — an essential feature of immunohistochemistry, because each step builds upon earlier steps done by another team member.
(Cody Nichols, Ph.D., is an Intramural Research and Training Award fellow in the NIEHS Genetics, Environment, and Respiratory Disease Group.)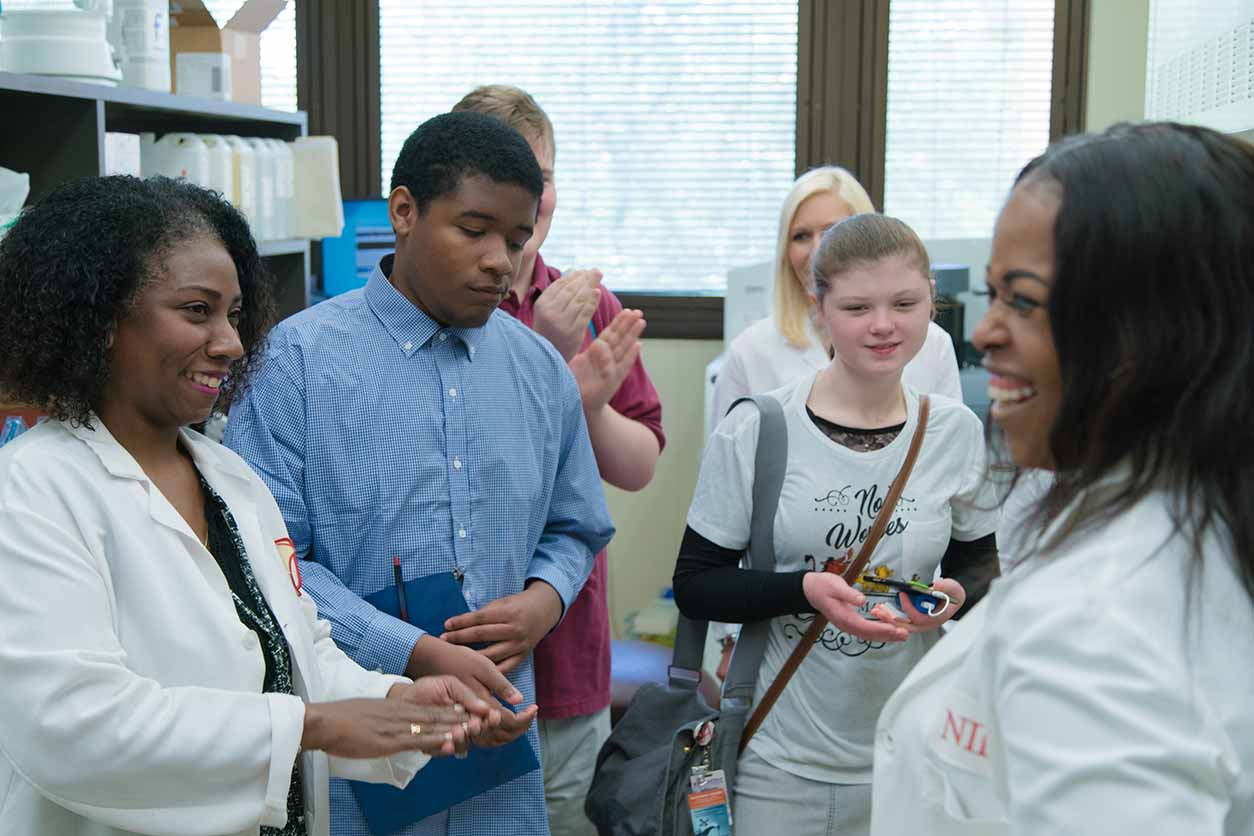 Clayton, right, and Pamela Ovwhigho, lead biologist for the Histology Support Team, kept the tone upbeat as they wrapped up the students' visit.