According to Janine Clayton, M.D., director of the National Institutes of Health (NIH) Office of Research on Women's Health (ORWH), sex is an extremely important biological variable that should be addressed in both research design and published findings. She presented an NIEHS Office of the Director Seminar May 13 titled, "Better with Both: Frontiers for Discovery."
Clayton, who is also associate director for research on women's health across all of NIH, said that when ORWH was founded in 1990, women were not equally included in clinical research. "Because women were not being included in clinical studies, it wasn't appropriate to apply [to women] the findings of clinical studies done in men," she said, underscoring the theme of her talk, as well as the purpose of the office.
Although clinical research improved, inequities remained in preclinical and basic research. This led Clayton and NIH Director Francis Collins, M.D., Ph.D., to publish a statement in the journal Nature in 2014, calling for preclinical studies to address both sexes.
"Today, just over half of NIH-funded clinical-research participants are women," they wrote. "There has not been a corresponding revolution in experimental design and analyses in cell and animal research — despite multiple calls to action."
Research on women improves women's health
In the 1990s, NIH launched the Women's Health Initiative, a landmark clinical trial and observational study, to study the effects of menopausal hormone therapy. Its surprising results showed adverse health effects of the treatment. According to Clayton, the $250 million spent on the study led to $37 billion in net economic return. "It spared 75,000 women from heart disease and prevented 125,000 women from getting breast cancer," she said.
Clayton also cited studies documenting sex-based differences in health effects of pharmaceuticals, pollutants, and other substances. A paper in the May issue of the journal Neurotoxicology reported sex-dependent effects of lead in the brains of mice.
Another example documented the opposite effects of a stroke intervention in male and female mice — an important finding that would have been obscured if researchers had combined the data for both sexes in their reporting.
Such findings underscore the need to study both sexes and report the results by sex, Clayton said. "For scientific method reasons, for rigor, and reproducibility, that information is very important," Clayton said. "If we don't have that information, how can we interpret their conclusions?"
Janet Hall, M.D., head of the NIEHS Reproductive Physiology and Pathophysiology Group, responded to the perception that studying both males and females places a burden on researchers. "Actually, it is an amazing opportunity, because the differences are trying to teach us something," she said.
Inclusive research by diverse researchers
NIH has a number of strategies to accelerate research that includes both sexes, whether conducted on humans, animals, tissues, or cell cultures. At the same time, the agency is working to diversify the research workforce. Grant mechanisms, establishment of centers of research on women's health, and examining the biomedical career trajectory are some of the steps taken by Clayton's office in recent years.
She highlighted the work of the NIH Working Group on Women in Biomedical Careers, which includes NIEHS and National Toxicology Program Director Linda Birnbaum, Ph.D., who hosted Clayton's talk.
Citations:
Clayton JA, Collins FS. 2014. Policy: NIH to balance sex in cell and animal studies. Nature 509:282-283.
McCullough LD, Zeng Z, Blizzard KK, Debchoudhury I, Hurn PD.. 2005. Ischemic nitric oxide and poly (ADP-ribose) polymerase-1 in cerebral ischemia: male toxicity, female protection. J Cereb Blood Flow Metab. 25:502-512.
Schneider JS, Anderson DW, Kidd SK, Sobolewski M, Cory-Slechta DA. 2016. Sex-dependent effects of lead and prenatal stress on post-translational histone modifications in frontal cortex and hippocampus in the early postnatal brain. Neurotoxicology 54:65-71.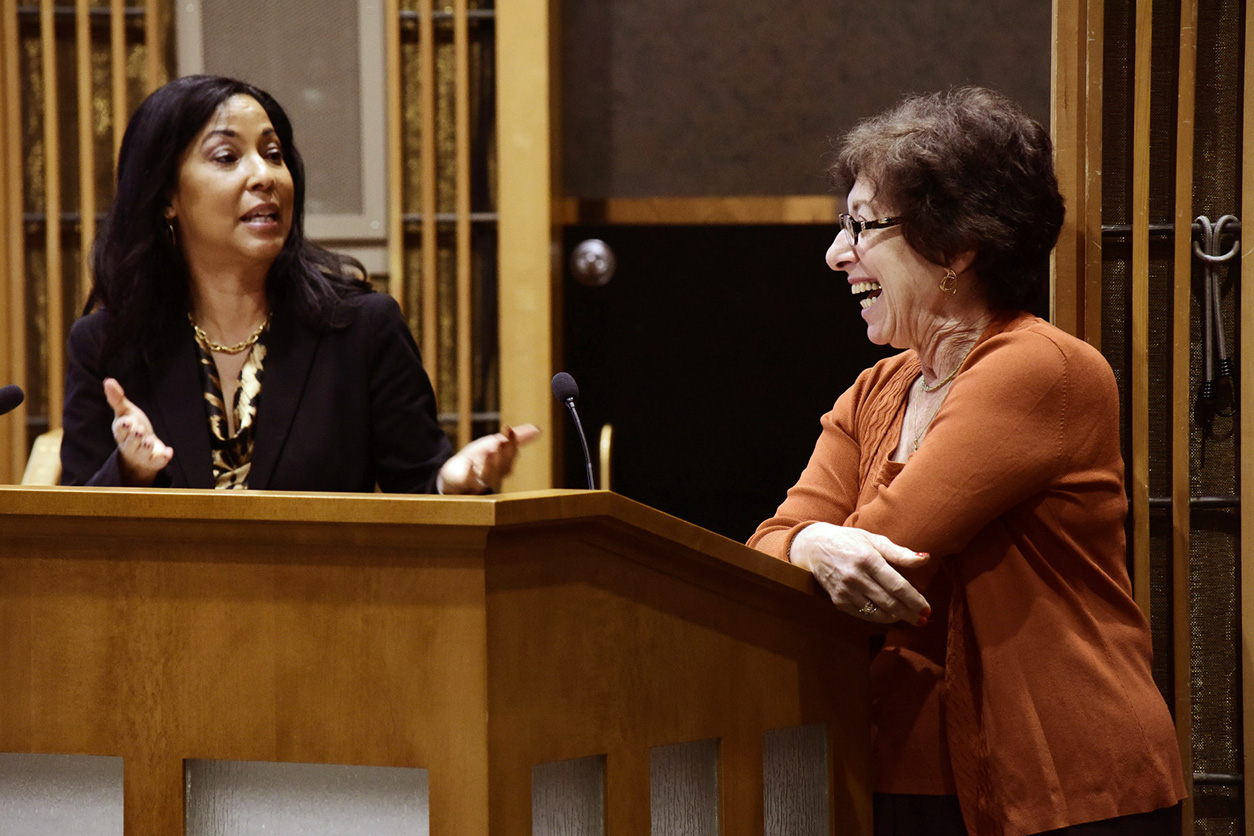 Clayton and Birnbaum co-chaired the NIH search committee for the director of the new Environmental Influences on Child Health Outcomes program, and the camaraderie between the two leaders was evident. "I can't think of any one I would rather have shared that work with. She was really terrific," Birnbaum said.